Charlie Hebdo: 14 suspects on trial over Paris massacre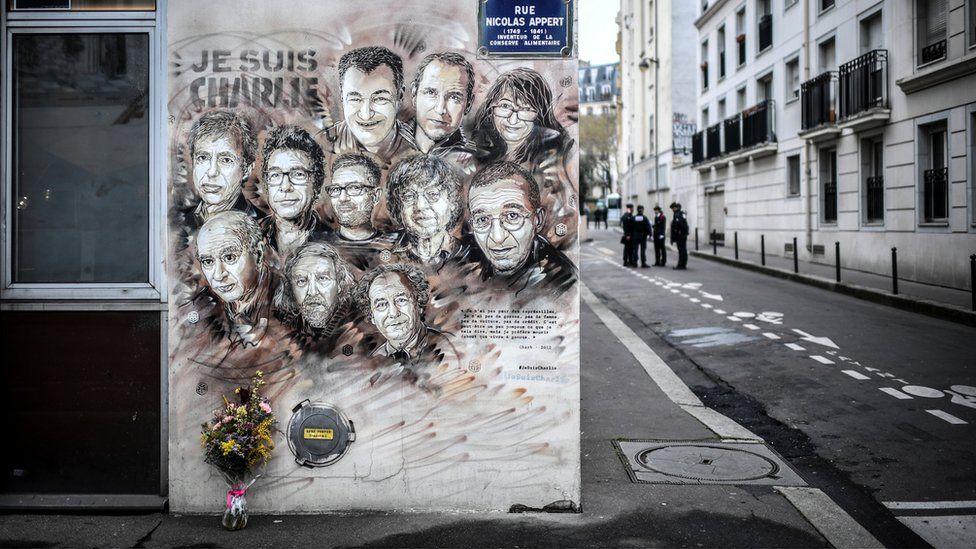 Fourteen people are on trial in France over the deadly attack on the satirical magazine Charlie Hebdo in 2015.
Most of the alleged accomplices are in court in Paris, but three are being tried in absentia.
They are accused of helping the militant Islamist attackers who shot dead 12 people in and around Charlie Hebdo's Paris office in January 2015.
In a related attack, a third gunman shot dead a policewoman, then attacked a Jewish store, killing four people.
The 17 victims were killed over a period of three days. All three attackers were killed by police. The killings marked the beginning of a wave of jihadist attacks across France that left more than 250 people dead.
In the days following the January 2015 attacks, millions of people took part in solidarity marches across France and around the world under the slogan "Je suis Charlie" (I am Charlie).
The magazine has marked the start of the trial by reprinting controversial cartoons of the Prophet Muhammad that sparked protests in several Muslim countries.
President Emmanuel Macron has since defended the freedom of the press and the French "freedom to blaspheme, which is linked to freedom of conscience".
What is happening at the trial?
Eleven of the defendants were present in the courtroom on Wednesday. They gave their names and occupations, and all confirmed they intended to answer questions from the court.
Survivors and relatives of the victims were also in court. Gala Renaud, the wife of one of the journalists killed, told reporters that you could "already feel the tension".
"I wanted to see the defendants in the box to see what they look like," she said, adding that she wanted to know "what their motivations were, why this complicity and of course why innocent people were killed".
The trial has been delayed by almost four months because of the coronavirus pandemic. In March, the presiding judge said France's lockdown measures had made it impossible to bring together "all the parties, witnesses and experts under the necessary sanitary conditions".
The alleged accomplices are accused of obtaining weapons and providing logistical support for the attack on Charlie Hebdo's office on 7 January 2015, as well as the subsequent attacks on a police officer and the Hyper Cacher supermarket.
Three of the suspects are believed to have disappeared in northern Syria and Iraq and will be tried in absentia. Some reports suggest at least two of them were killed in bombing campaigns against the Islamic State group (IS). All three remain the subject of international arrest warrants.
There are about 200 plaintiffs in the trial and survivors of the attacks are expected to testify.
On Monday, anti-terror prosecutor Jean-François Ricard dismissed the suggestion that it was just "little helpers" who were facing justice.
"It is about individuals who are involved in the logistics, the preparation of the events, who provided means of financing, operational material, weapons [and] a residence," he told France Info radio. "All this is essential to the terrorist action."
Among those present in court is Lassana Bathily, a Malian-born Muslim employee of the Jewish supermarket who hid customers from the attack and was later granted French citizenship.
The trial is expected to last until November.
Eleven defendants are in the courtroom at the start of this 49-day trial, sitting under heavy guard in two glassed cubicles. All are in masks, so it is hard to read their emotions.
For family members of the 17 victims, these are emotional moments. More than five years have passed, but much remains to be explained about how the attacks were prepared.
The full extent of any co-operation between the Charlie Hebdo attackers and the supermarket gunman, for example, is not at all apparent. Nor is it clear what co-ordination there was with leaders of the groups to whom they paid allegiance - al-Qaeda in the Arabian Peninsula and Islamic State.
Another aspect that will be highlighted is the link between Islamist terror and petty delinquency in the high-immigration suburbs.
On 7 January that year, two French Muslim gunmen - brothers Chérif and Saïd Kouachi - stormed the Paris offices of Charlie Hebdo in the Rue Nicolas-Appert before opening fire on its staff.
The gunmen were eventually killed by security forces after a lengthy manhunt. Their victims were eight journalists, two police officers, a caretaker and a visitor.
In a related attack just days later, jihadist gunman Amedy Coulibaly killed three customers and an employee in a hostage siege at the Hyper Cacher Jewish supermarket in Porte de Vincennes in the east of Paris.
He had earlier shot dead a policewoman in the city.
Security forces eventually stormed the supermarket before killing him and freeing the remaining hostages.
They include 35-year-old Ali Reza Polat, who is seen as the main link between the two attacks and is believed to have had a key role in obtaining the weapons used. He subsequently attempted to flee to Dubai, Lebanon and Syria but without success.
Mickaël Pastor Alwatik's DNA was found on two guns discovered at Coulibaly's home and a glove at the scene. Mohamed Fares has told investigators he was a middleman involved in the sale of the assault rifle used in the supermarket attack, while Amir Ramdani, Samir Makhlouf, Willy Prevost and Christophe Raumel are accused of having provided support.
Two people in Belgium - garage owner Metin Karasular and his associate Michel Catino, an unemployed Italian in his 60s - and two more in north-eastern France - garage owner Miguel Martinez and his associate Abdelaziz Abbad - are accused of supplying "assault rifles, automatic pistols, rocket launchers, chargers and ammunition, bulletproof vests" to the three gunmen.
On trial in absentia is Hayat Boumedienne, Coulibaly's partner. She fled France for Syria a week before the attack. Previously believed killed in a US air strike last year, French media reports now suggest she may still be alive.
A female French jihadist questioned by security services as she tried to re-enter France told them that she had seen Hayat Boumedienne in the al-Hol camp for IS detainees last October and that Hayat Boumedienne had then escaped from the camp.
Mohamed and Mehdi Belhoucine are accused of helping Hayat Boumedienne get to Syria. Both are believed to have been killed in Syria or Iraq. Mohamed Belhoucine also provided email addresses used by the other defendants.
Why was Charlie Hebdo targeted?
The radical weekly magazine was well known for taking swipes at the French establishment and religion and has long drawn controversy.
Cartoons of the Prophet Muhammad brought Charb death threats as well as 24-hour police protection prior to his death. There was also a petrol bomb attack on the magazine's offices in 2011.
The publication has also been seen as a beacon for free speech, with many of its defenders using the hashtag #JeSuisCharlie to defend it.
Charb strongly defended the Prophet Muhammad cartoons as symbolic of freedom of speech. "I don't blame Muslims for not laughing at our drawings," he told the Associated Press in 2012. "I live under French law. I don't live under Koranic law."
It added: "To reproduce these cartoons in the week the trial begins over the January 2015 terrorist attacks seemed essential to us."
On Wednesday, Egypt's top Islamic authority, al-Azhar University, said publishing the "offensive cartoons" was a "criminal act".
Their publication "reinforces hate speech and will whip up the feelings of believers", al-Azhar's Observatory for Combating Extremism said.
The observatory also reiterated its "strong condemnation" of the Charlie Hebdo attack.