Russian opposition makes gains in local elections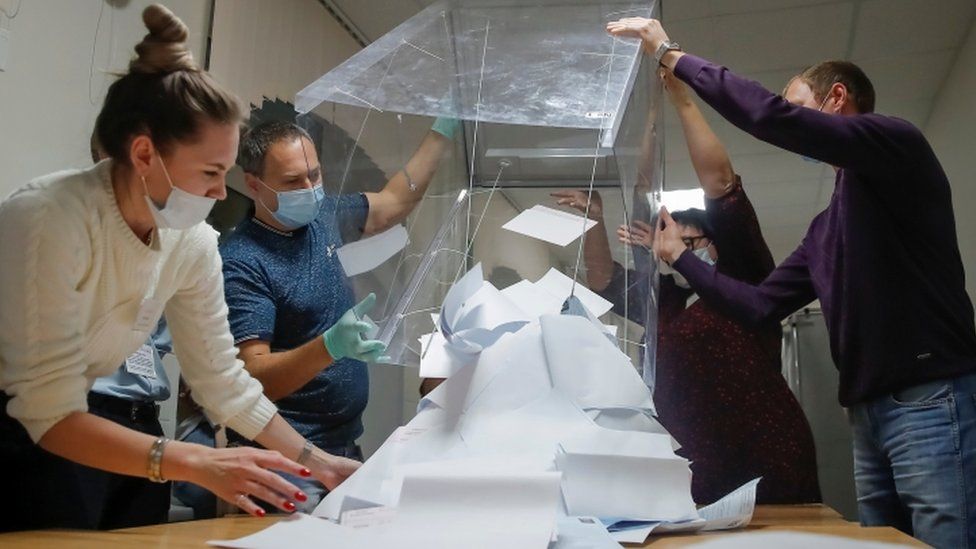 Opposition candidates have won council seats in two Siberian cities where anti-corruption blogger Alexei Navalny campaigned before being poisoned.
The pro-Kremlin United Russia party lost its majorities on the city councils in Novosibirsk - Russia's third largest city - and in Tomsk.
But it has claimed a clear win overall in the local polls, seen as a big test of its popularity.
Mr Navalny collapsed on a flight from Tomsk on 20 August.
Most results in the elections have now been counted. But there have been many reports of irregularities. The independent monitoring group Golos said observers had been obstructed by officials at some polling stations and there were reports of ballot-stuffing.
Voting was spread across three days; this was defended by the organisers as necessary to curb coronavirus infections. The opposition, however, argued that the extra time made it easier for results to be fabricated.
Economic hardship, exacerbated by the pandemic, has eroded support for United Russia in opinion polls.
The party did get its candidates elected governor in most of the regions where elections took place.
But in Novosibirsk, the party dropped to 44% on the city council, with 22 seats out of 50, whereas before it had 33.
Sergei Boiko and four other allies of Mr Navalny won seats there, along with nine other independent candidates.
In Tomsk, two Navalny supporters won seats.
His team had been urging Russians to vote tactically against United Russia.
The Anti-Corruption Foundation had pledged support for candidates it saw as best placed to unseat incumbents of the ruling party, which it describes as the "party of crooks and thieves".
Mr Navalny's camp believes this campaign could be why he was attacked, the BBC's Sarah Rainsford in Moscow says.
His team allege he was poisoned on the orders of President Vladimir Putin - the Kremlin denies any involvement.
The German government says labs in France and Sweden have confirmed that the poison was Novichok nerve agent.
He remains in intensive care in Berlin's Charité hospital, but is no longer in a medically induced coma and he has been reacting to speech, the doctors say.
They are also seen as a dry run for elections to the national parliament next year.
The authorities were then accused of a heavy-handed response to the rallies, which saw some of more than 1,000 people arrested receive sentences of up to four years in prison.