Belarus protests: Putin pledges $1.5bn loan at Lukashenko meeting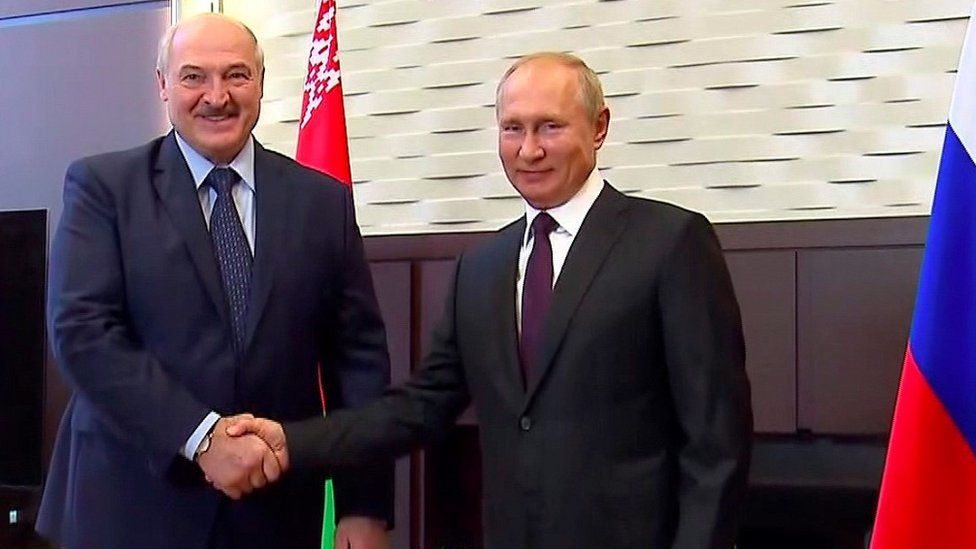 Russian President Vladimir Putin has granted a $1.5bn (£1.2bn) loan to Belarus, in face-to-face talks with the embattled Belarusian leader, Alexander Lukashenko, at a Black Sea resort.
The meeting in Sochi was their first since anti-Lukashenko protests escalated in Belarus last month.
Mr Lukashenko's 9 August re-election has been widely disputed.
Mr Putin said "we want Belarusians themselves... to sort out this situation calmly and through dialogue".
Belarusians should "find a common solution", he said.
Belarusian opposition leader Svetlana Tikhanovskaya said she regretted Mr Putin's "dialogue with a dictator".
The Russian president recognises Mr Lukashenko as the legitimate leader of Belarus, but for five Sundays running at least 100,000 people have protested in the capital Minsk over what was widely seen as a rigged election.
Mr Putin says he has a Russian police force ready to intervene if the protests get out of control. And in Sochi he reiterated the importance of defence co-operation with Belarus.
Earlier, Kremlin spokesman Dmitry Peskov said oil and gas co-operation, state debts and other economic ties in the Belarus-Russia "union state" would be discussed in the meeting between the two leaders, but no joint documents would be signed.
The two countries are traditionally very close, though Mr Lukashenko has resisted Russian pressure to deepen their union. His crackdown on opponents has left him isolated in Europe.
In Sochi, he thanked Mr Putin and all Russians "who were involved in supporting us during this post-election time".
The meeting came as a joint military exercise was starting near the western Belarusian city of Brest.
On Sunday, huge crowds again thronged Minsk and other cities to demand that Mr Lukashenko resign. Police said they detained about 400 people.
Ms Tikhanovskaya, living in Lithuania after being forced into exile, said on her Telegram channel: "I want to remind Vladimir Putin, whatever you agree on in Sochi will not have legal force.
"Any agreements signed with illegitimate Lukashenko will be revisited by a new government because the Belarusian people no longer trust Lukashenko and did not support him in the elections. I regret that you have decided on dialogue with a dictator and not with the people of Belarus."
Mr Lukashenko has been in power for 26 years. Western governments agree with the opposition that the election was tainted by many irregularities.
Mr Lukashenko has insisted that he won fairly with 80% of the vote and has painted the protests as Western-backed and anti-Russian.
His opponents, however, say their dispute is with him, and insist they are not anti-Russian.
Alexander Lukashenko wants this meeting to demonstrate to protesters back home that Russia has his back: a fresh reminder that Vladimir Putin's watching what's happening in Belarus, and could send in his security forces.
In return, he's been busy signalling to Moscow that he is the man to keep Belarus in its orbit, painting the protesters as anti-Russian and backed by the West.
Some have speculated that Mr Putin will push for deeper economic and political ties with Minsk as the price of his support.
Only that risks increasing tensions, not stabilising things like Moscow wants - and there's no guarantee that a weakened Mr Lukashenko could even deliver on any promises.
So there is a growing sense here that Moscow will back him in public - for now - while beginning talks behind the scenes on a transition plan.
How any such deal would play out with the crowds of protesters demanding Mr Lukashenko go now is another matter.