Belarus: Mass protests after Lukashenko secretly sworn in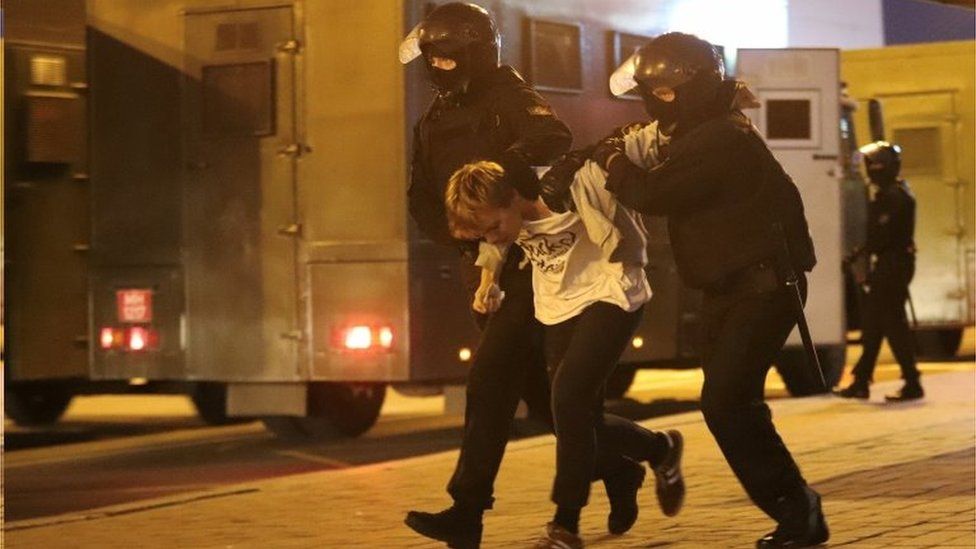 Mass street protests are continuing in Belarus's capital Minsk, following the inauguration of President Alexander Lukashenko at an unannounced ceremony.
Several hundred people earlier attended Mr Lukashenko's swearing-in ceremony for a sixth term. One opposition member described it as a "thieves' meeting".
The opposition says last month's poll was rigged in Mr Lukashenko's favour.
The country's electoral commission said Mr Lukashenko won more than 80% of the vote, triggering weeks of mass protests across the country.
Several EU countries and the US say they do not recognise Mr Lukashenko as the legitimate president of Belarus.
Analysis by Jonah Fisher, BBC News
The inauguration of Alexander Lukashenko on Wednesday morning appears to have changed the mood of both Belarus's demonstrators and the security forces.
In the capital Minsk protesters were more confrontational, blocking roads and at times chasing the police vehicles away.
In response, water cannon was used and masked riot police used tactics that haven't been seen since the violent days immediately after the disputed election in August.
Video posted to Telegram channels shows batons being used on crowds and both men and women with bloody injuries to their heads.
During his inaugural address, Mr Lukashenko spoke as if the protests that followed the election were over. That's clearly not the case.
How was Wednesday's inauguration different?
Presidential inaugurations are normally publicised well in advance as major state occasions.
Instead, state news agency Belta reported on Wednesday: "Alexander Lukashenko has taken office as President of Belarus. The inauguration ceremony is taking place in these minutes in the Palace of Independence."
Mr Lukashenko, who has ruled the former Soviet republic for 26 years, said Belarus needed security and consensus "on the brink of a global crisis", an apparent reference to the coronavirus pandemic, Belta reported.
"I cannot, I have no right to abandon the Belarusians," he added.
How has the opposition reacted?
The opposition Nexta Live channel on the Telegram messaging app called for street protests from 18:00 local time (15:00 GMT) and urged drivers to block roads and create traffic jams.
"Starting from this very day, he [Lukashenko] officially becomes a bandit and fraudster who is not recognised anywhere in the civilised world," the channel said.
On Wednesday evening, protesters marched to the centre of Minsk, some wearing fake crowns to mock the inauguration. One placard read: "The king has no clothes!"
But there is a heavy police presence and a number of people have been detained.
Mr Lukashenko's main political rival, Svetlana Tikhanovskaya, who fled to neighbouring Lithuania amid mass arrests, said "after today [he] is neither a legal nor a legitimate head of Belarus".
Fellow opposition politician Pavel Latushko posted on social media: "Where are the jubilant citizens? Where is the diplomatic corps?"
"It is obvious that Alexander Lukashenko is exclusively the president of the Omon (riot police) and a handful of lying officials."
He called for "an indefinite action of civil disobedience".
Meanwhile, Lithuanian Foreign Minister Linas Linkevicius described the inauguration as a "farce" and "illegitimate" on Twitter.
Mr Lukashenko, 66, claimed a sixth term as president in the widely disputed election of 9 August. He insisted that he had won fairly with 80% of the vote and depicted the protests against him as a Western-backed plot. Earlier this month, he secured a $1.5bn (£1.2bn) loan from Russia.
Ms Tikhanovskaya claims to have won 60-70% in places where votes were properly counted.
Many opposition figures are now in self-imposed exile in neighbouring countries amid a wave of arrests.
Despite the crackdown, anti-government protests show no signs of diminishing. On Sunday, a crowd of about 100,000 people staged another rally in the capital, demanding that Mr Lukashenko step down