Cardinal Becciu: Vatican official forced out in rare resignation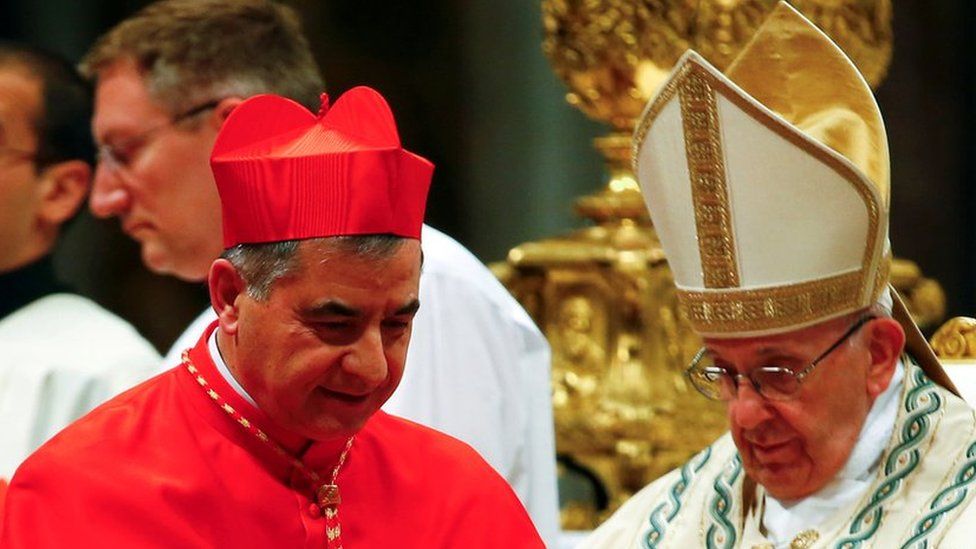 High-ranking Vatican official Cardinal Giovanni Angelo Becciu has unexpectedly resigned but has revealed he was told to do so by Pope Francis.
He said he was suspected of giving Church money to his brothers, and denied any wrongdoing.
Cardinal Becciu was a close aide to the Pope and previously had a key job in the Vatican's Secretariat of State.
He became involved in a controversial deal to invest in a luxury London building with Church funds.
That investment has since been the subject of a financial investigation.
Resignations at this level of the Vatican are extremely rare and the Holy See said little in its communique released late on Thursday.
"The Holy Father accepted the resignation from the office of Prefect of the Congregation for the Causes of Saints and from the rights connected to the Cardinalate, presented by His Eminence Cardinal Giovanni Angelo Becciu," a statement said.
But the cardinal, 72, told Italian website Domani he was being forced out because he was suspected of giving Church money to his brothers. "I didn't steal even one euro. I am not under investigation but if they send me to trial, I will defend myself," he was quoted as saying.
Speaking later at a news conference, the cardinal said his removal had come "like a bolt out of the blue". He said the Pope "was suffering" when he delivered the news.
"It's all surreal. Up until yesterday... I felt I was a friend of the Pope, the faithful executor of the Pope.
"Then the Pope told me that he no longer had faith in me because he got a report from magistrates that I committed an act of misappropriation."
Cardinal Becciu insisted there had been "a misunderstanding", adding: "I am ready to explain everything to the Pope. I have not done anything wrong."
Cardinal fired and stripped of his rights
"I said to the Pope: why are you doing this to me, in front of the whole world?"
The anguished words of one of the Church's most senior cardinals - now fired and stripped of his right to choose the next Pope. Giovanni Angelo Becciu had served as Deputy Secretary of State - a role with unfettered access to Pope Francis - and was latterly head of the department that chooses future saints.
But on Thursday evening, he was summoned for a reportedly tense meeting with his boss. Cardinal Becciu had managed a controversial €200m (£180m) purchase of a London property with Church funds, including alms money. Other reports allege he propped up a failing Roman hospital which employed his niece.
"The Holy Father explained that I had given favours to my brothers and their businesses with Church money… but I am certain there are no crimes", he told new Italian newspaper Domani.
But his denial was not enough. It's been dubbed an "earthquake at the Vatican".
The choreography of his dismissal may seem cloak-and-dagger - but it is a reminder yet again that the scandal and corruption that beset governments across the world also reach the highest echelons of the Holy See.
Giovanni Angelo Becciu, who is Italian, spent the early years of his career in the Vatican's diplomatic service.
Then, from 2011 to 2018, he had the powerful role of Substitute for General Affairs in the Secretariat of State, when he met the Pope on a daily basis.
It was Pope Francis who made him cardinal in 2018, when he took up a new role of running the department that looks after sainthoods and beatifications.
"It's a blow for me, my family, the people of my country. I've accepted out of a spirit of obedience and love of the Church and the Pope," Italian media quoted the cardinal as saying on Friday morning.
What is known of the London property deal?
It was during the cardinal's time as Substitute for General Affairs that he was linked to a luxury property deal in a wealthy area of London.
The $200m (£155m) purchase of the apartment block in Sloane Avenue was bought out of Church money through offshore funds and companies.
Five members of staff were suspended last year following a raid of the offices of the Secretariat last year. Vatican police officers seized documents and computers.
Then, in June, Italian businessman Gianluigi Torzi was arrested by Vatican police on suspicion of extortion and embezzlement.
Earlier this year, Cardinal Becciu defended the purchase.
"An investment was made on a building. It was good and opportune occasion, which many people envy us for today," he said in February. He also denied that money collected for the poor, called Peter's Pence, had been used in the deal.
The cardinal's sudden departure may not just be linked to the London deal. In his interview on Friday, the cardinal said the Pope confronted him over Church money he had given to co-operatives and businesses run by his brothers.
A co-operative in Sardinia, run by his brother Tonino Becciu, provided help to migrants and the cardinal said all the money had been accounted for. Other funding was used to renovate the Holy See's building in Cuba.
Italian reports also suggest the Pope was unhappy with the use of Peter's Pence funds for other investments.
Last year, Italian weekly L'Espresso published a report from the Vatican's anti-corruption authority alleging more widespread speculative investments amounting to $725m.
Cardinal Becciu will keep his title despite his resignation from the congregation. However, he will not be able to vote for the next Pope.
The last cardinal to give up his right to vote for a new Pope was Scottish Cardinal Keith O'Brien who resigned in 2013 amid a sex scandal. He died five years later.