Armenia says its fighter jet 'shot down by Turkey'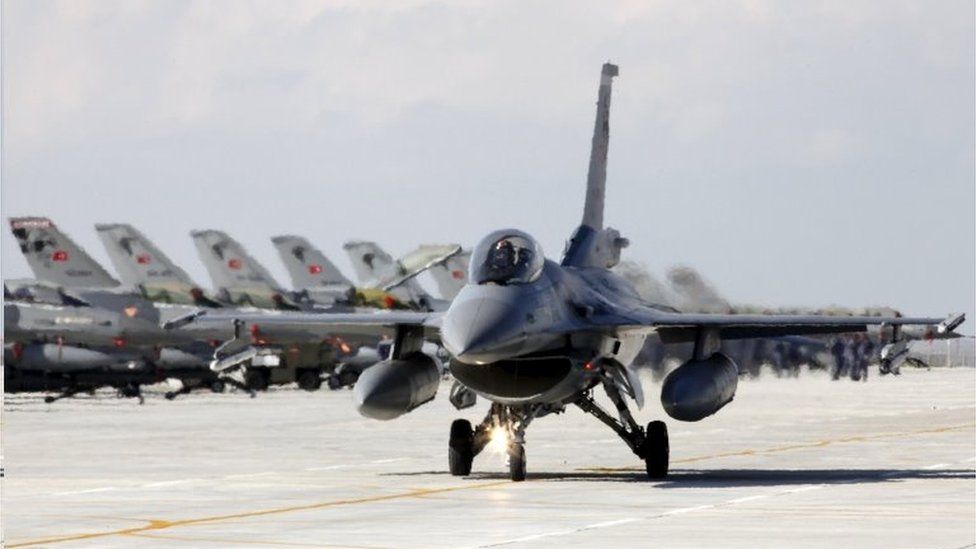 Armenia says one of its fighter jets was shot down by a Turkish jet in a major escalation of the conflict over the disputed Nagorno-Karabakh region.
The Armenian foreign ministry said the pilot of the Soviet-made SU-25 died after being hit by the Turkish F-16 in Armenian air space.
Turkey, which is backing Azerbaijan in the conflict, has denied the claim.
Nearly 100 people, including civilians, have died in three days of fighting over the disputed mountainous region.
The enclave is internationally recognised as part of Azerbaijan, but has been run by ethnic Armenians since a 1988-94 war between the two former Soviet republics.
Azerbaijan has repeatedly stated that its air force does not have F-16 fighter jets. However, Turkey does.
The fighting that started three days ago now appears to be spilling out of Nagorno-Karabakh, with Armenia and Azerbaijan trading accusations of direct fire into their territories.
They also blame each other for starting the conflict.
While Turkey openly backs Azerbaijan, Russia - which has a military base in Armenia but is also friendly with Azerbaijan - has called for an immediate ceasefire.
What's happened to the jet?
Armenian Defence Ministry spokeswoman Shushan Stepanyan said the Armenian SU-25 was shot down on Tuesday morning and the pilot "died heroically".
In a Facebook post, she said the Turkish F-16 was 60km (37 miles) deep into Armenian air space.
Turkey immediately denied the claim as "absolutely untrue".
"Armenia should withdraw from the territories under its occupation instead of resorting to cheap propaganda tricks," Turkish President Recep Tayyip Erdogan's aide Fahrettin Altun said.
No material evidence about the jet has yet been released. Azerbaijan has called for Armenia to provide it.
What is the latest from the battlefield?
Earlier on Tuesday, both Armenia and Azerbaijan said that heavy fighting had continued overnight in Nagorno-Karabakh.
The region's self-proclaimed authorities said 87 of their military personnel had been killed and 120 wounded since the fighting began on Sunday, according to the Armenpress news agency.
They put the number of deaths on the Azerbaijani side at nearly 400, saying that one aircraft, four helicopters and a number of tanks had been destroyed.
Azerbaijan has released no figures on its military casualties, but says 12 civilians were killed by Armenian fire.
Azerbaijan's defence ministry was quoted by news agencies as saying that Armenian troops had repeatedly tried and failed to regain lost positions in the Fuzuli-Jabrayil and Aghdere-Terter areas.
The ministry said that a column of Armenian armoured and other combat vehicles had been destroyed, adding that the enemy had suffered heavy losses.
The casualty claims by Armenia and Azerbaijan have not been independently verified.
What chance of a ceasefire?
There appears to be little at the moment.
Armenian Prime Minister Nikol Pashinyan told Russian media the atmosphere was not right for talks while military operations were ongoing.
Azerbaijan's President Ilham Aliyev, also speaking to Russian outlets, ruled out any talks given Armenia's current stance.
Analysis by Emre Temel, BBC Turkish
Diplomatic relations between Turkey and Azerbaijan have always been strong. When fighting erupted over Nagorno-Karabakh on Sunday, Turkey immediately extended its support "both on the field and at the negotiation table", in the words of its foreign minister.
They share a similar history, language and heritage and their leaders often refer to "one nation and two states". Turkey's border with Armenia has been closed since 1993 as a gesture of support over Nagorno-Karabakh.
President Erdogan has vowed to stand by Azerbaijan "with all its resources and heart". But it's still unknown whether Turkey has supplied Azerbaijan with military experts, drones and warplanes, as Armenia alleges.
And yet it is Russia, not Turkey, that holds the key to the region. Russia has a mutual defence pact with Armenia and a military base there. Turkey is already at odds with Russia over Syria and Libya, and the Caucasus could open a new front.
Standing up to Russia would be too risky for Turkey economically and militarily. Russia is Turkey's prime energy supplier and a key trading partner.
Nagorno-Karabakh - key facts
A mountainous region of about 4,400 sq km (1,700 sq miles)
Traditionally inhabited by Christian Armenians and Muslim Turks
In Soviet times, it became an autonomous region within the republic of Azerbaijan
Internationally recognised as part of Azerbaijan, but majority of population is ethnic Armenian
Self-proclaimed authorities are not recognised by any UN member, including Armenia
An estimated one million people displaced by war in 1988-94, and about 30,000 killed
Separatist forces captured some extra territory around the enclave in Azerbaijan
Stalemate has largely prevailed since a 1994 ceasefire
Turkey openly supports Azerbaijan
Russia has a military base in Armenia
In 1988, towards the end of Soviet rule, Azerbaijani troops and Armenian secessionists began a bloody war which left Nagorno-Karabakh in the hands of ethnic Armenians when a truce was signed in 1994.
Tens of thousands died in fighting, and many ethnic Azerbaijanis were forced to flee their homes.
It is now a de facto independent region, relying heavily on support from Armenia. But it is not recognised by any UN member, including Armenia.
Swathes of Azeri territory around the enclave are also under Armenian control.
Negotiations have so far failed to produce a permanent peace agreement, and the dispute in the region remains one of post-Soviet Europe's "frozen conflicts".
Karabakh is the Russian rendering of an Azeri word meaning "black garden", while Nagorno is a Russian word meaning "mountainous". Ethnic Armenians prefer to call the region Artsakh, an ancient Armenian name for the area.
Over the years both sides have had soldiers killed in sporadic breaches of the ceasefire. Landlocked Armenia has suffered severe economic problems due to the closure of borders with Turkey and Azerbaijan.
Russia, France and the US co-chair the Organization for Security and Co-operation in Europe's Minsk Group, which has been attempting to broker an end to the dispute.