Coronavirus: Paris to shut bars and raise alert to maximum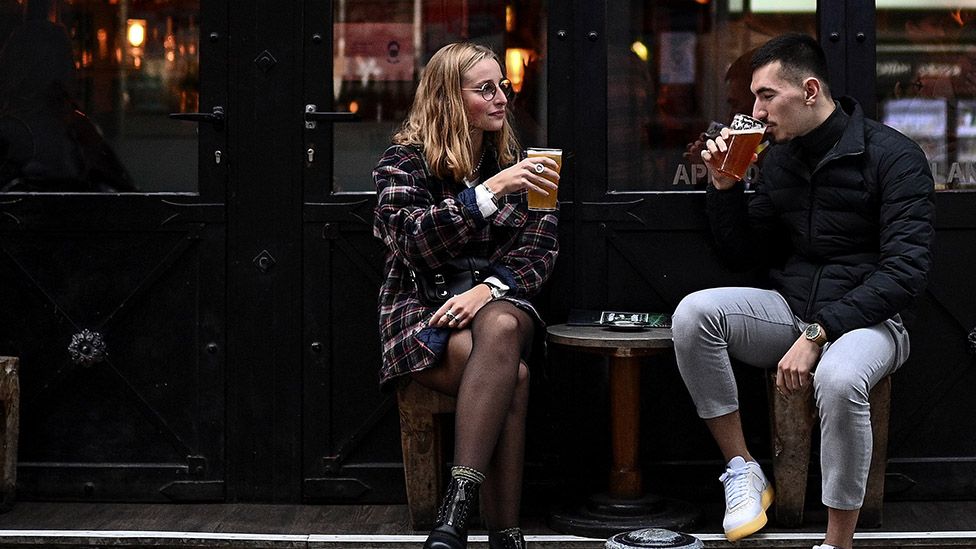 Paris will shut all bars completely from Tuesday after the French government raised the city's coronavirus alert to maximum following a period of high infection rates.
Bars, gyms and swimming pools will all be closed for two weeks in a bid to curb the spread of the virus, the city's police chief said.
But restaurants will remain open if strict hygiene rules are in place.
On Sunday France reported 12,565 cases of Covid-19.
"These are braking measures because the epidemic is moving too fast," police chief Didier Lallement said during a press conference on Monday.
"We have to slow it down so that our health system is not overwhelmed," he added.
France's maximum alert level comes into force when the infection rate in a locality exceeds 250 infections per 100,000 people and at least 30% of intensive care beds are reserved for Covid-19 patients.
There are 203 active coronavirus "clusters" in the wider Paris region, health officials say.
"These measures, indispensable in the fight to curb the virus' spread, will apply to Paris and the three departments immediately surrounding it, for a duration of two weeks," the prime minister's office explained earlier.
Restaurants in the city will have to put in place new sanitary arrangements in order to stay open and university lecture halls must be no more than half-full.
But restaurants and bistros that serve food as well as alcohol can stay open, as long as they register contact details from customers and shut their doors at 22:00.
Working from home must be prioritised "now more than ever", the statement said.
Interior Minister Gerald Darmanin acknowledged closing bars would be difficult for Parisians. "We are French, we love to drink, to eat, to live, to smile and to kiss each other," he told French TV channel LCI and Europe 1 on Sunday.
On 26 September Marseille, France's second city, closed all bars, restaurants and gyms for two weeks. Public venues including theatres, museums and cinemas have also had to close unless they could introduce strict anti-viral measures.
The measure prompted anger from local officials who said they were not consulted.
The government says it doesn't want to order another nationwide lockdown, but will enforce tougher measures in those cities where the virus is concentrated, BBC Paris correspondent Hugh Schofield explains.
What else is happening in Europe?
A state of emergency has been introduced in the Czech Republic as the government struggles to control a resurgence in coronavirus. The measures will be in place for two weeks, including closing secondary schools and limiting restaurants and bars to six customers per table. Over the past two weeks the Czechs had the second highest number of new cases per 100,000 in Europe after Spain, and the fourth highest number of deaths
In the Russian capital, Moscow, schoolchildren will have to stay at home for two weeks and firms have been told to keep at least 30% of staff working from home. The country's daily infection rate has risen to 10,888 - the highest since May.
In Spain, the capital Madrid entered a local lockdown over the weekend. Its three million people are only able to travel outside their neighbourhoods for essential journeys. Bars and restaurants cannot serve after 20:00 and people cannot meet in groups larger than six. Spain has the highest infection rate of any country in Europe
The Italian health minister said on Sunday the government would probably introduce new measures to control the virus in the coming week. A rise in infections in the south of the country is concerning officials, Roberto Speranza said. The restrictions could include obligatory mask-wearing outdoors across the country and new restrictions on the size of social gatherings