In pictures: Fighting rages in Nagorno-Karabakh conflict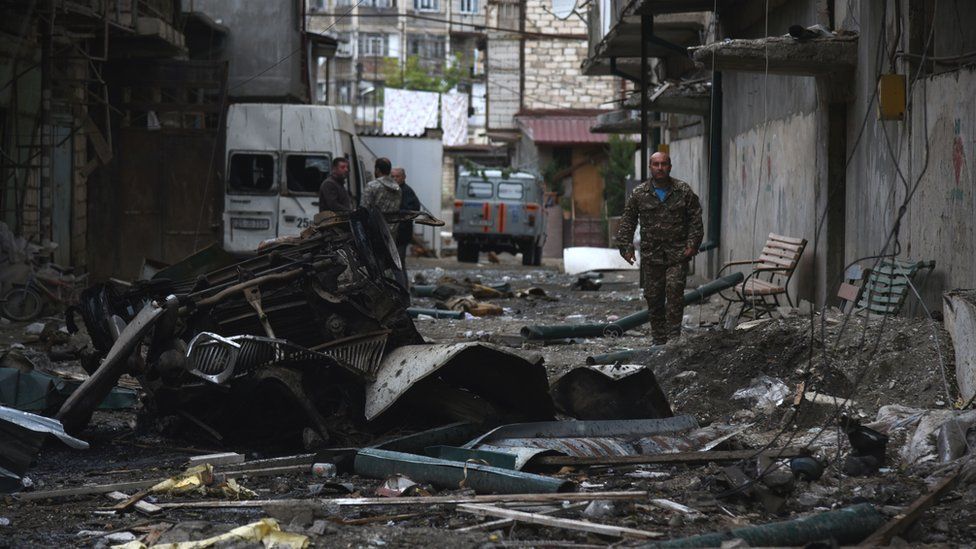 Fighting between Armenia and Azerbaijan, two former Soviet republics in the Caucasus region, has flared up in recent days.
The two countries are clashing over the disputed Nagorno-Karabakh enclave, which is officially part of Azerbaijan but is run by ethnic Armenians.
The current fighting is the worst seen in decades, and both sides have blamed each other for the violence.
Armenia and Azerbaijan went to war over the region in 1988-94 and eventually declared a ceasefire. But they have never reached a settlement over the dispute.
This image, released by the Armenian Defence Ministry, shows one of the country's gunners during renewed clashes earlier this week.
Both sides have deployed heavy artillery fire, and some homes and buildings have been destroyed in civilian areas.
Here, residents of Nagorno-Karabakh are served food after they fled to an Armenian border town.
Azerbaijani forces shelled Nagorno-Karabakh's capital, Stepanakert.
Heavy casualties were reported in the city, which was left without electricity according to the Armenpress news agency.
This woman is seen outside her home there.
Meanwhile, Nagorno-Karabakh's authorities said they had shelled a military airport in Azerbaijan's second-largest city, Ganja.
Firefighters were deployed to Ganja and other towns and villages to put out fires.
There are fears that the actual death toll among the militaries from all sides as well as civilians could be much higher, as casualty claims have not been independently verified.
This woman was admitted to hospital in Ganja earlier this week.
Azerbaijan's military says its forces have retaken control of several villages, while Nagorno-Karabakh says its troops have "improved" their frontline positions.
The use of heavy artillery has left scars on the city streets, such as here in Stepanakert.
And this building in Ganja was severely damaged be shellfire.
The Azerbaijani government has said "civilian infrastructure and ancient historical buildings were harmed" in recent fighting.
Homes have been destroyed, damaged and left empty on both sides of the conflict.
Personal items have been pictured strewn amongst the debris. Here, the top floor of an apartment building in Nagorno-Karabakh is seen after a strike.
All pictures subject to copyright.