France plans punishment for 'virginity tests'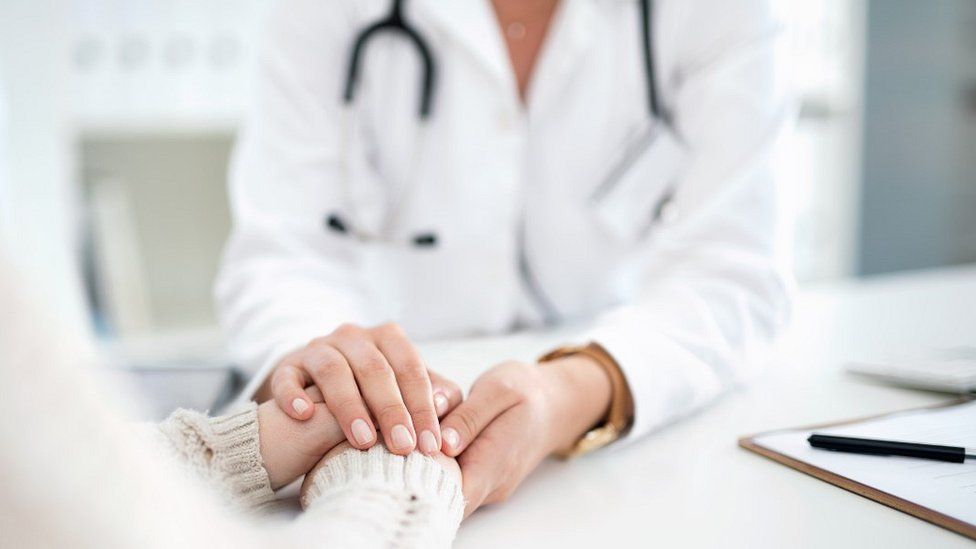 The French government plans to introduce jail terms and fines for doctors who provide controversial so-called "virginity certificates" for traditional religious marriages.
It is part of draft legislation aimed at reinforcing French secular values and combating what President Emmanuel Macron calls "Islamist separatism".
But the French abortion advice group ANCIC says stopping "virginity tests" requires broader educational work.
The UN says such tests must be stopped.
The French Interior Ministry says the bill - not yet fully debated by French politicians - proposes a year in jail and fine of €15,000 (£14,000) for any medical professional who issues a "virginity certificate".
According to France 3 TV news, about 30% of French doctors say they have been asked for such certificates and most of them refuse.
The World Health Organization says the practice of inspecting the hymen visually or with fingers cannot prove whether a woman or girl has had vaginal intercourse or not. It also violates her human rights, the WHO says.
How widespread is the practice?
Gynaecologist Dr Ghada Hatem told France Inter news that "in France this doesn't affect thousands of women - I am asked by about three women maximum [for certificates] each year". Often it is girls from the Maghreb - Muslim-majority north-west Africa - who ask for them, she said.
She told France 3 TV that she provided such certificates for women and girls who feared physical violence from relatives or family dishonour.
"If they say 'my brother will beat me up, my dad will strangle me, my in-laws will ruin my family's reputation' I have no reason to disbelieve them."
"Virginity tests" have been documented in many countries by the UN, Human Rights Watch and other organisations. They are done not only on religious grounds, but sometimes in rape investigations or in recruitment to security forces.
Last year BBC Arabic reported that such tests were most common in North Africa and the Middle East, India, Afghanistan, Bangladesh and South Africa.
A UN statement in October 2018 urged governments to ban such tests, but also called for awareness campaigns to educate communities and "challenge myths related to virginity and harmful gender norms that place emphasis on control of women's and girls' sexuality and bodies".
Marlène Schiappa, French Minister Delegate in charge of Citizenship, said the bill - to be presented to parliament in December - should also include punishment for those who demand "virginity tests", such as parents or fiancés.
Muslim women can face rejection by their families and local community, and some have even been killed, for having had sex before marriage.
Many other traditional faith groups also require women and girls to be "pure" before marriage.
In a speech on Friday President Macron spoke out against radicalisation in some French Muslim communities, saying a minority of France's estimated six million Muslims were in danger of forming a "counter-society".
Ms Schiappa said the new law ought also to ban "certificates of convenience unrelated to a person's health", such as "a so-called certified chlorine allergy, generally used to keep girls away from sports activities and the swimming pool".
ANCIC, a French association providing advice on contraception and abortion, said it supported the government's stand against "virginity tests", but warned that in some cases women were in real danger and "a ban would simply deny the existence of such community practices, without making them disappear".
"We think this question must be tackled quite differently, so that women and men free themselves and reject the weight of these traditions," ANCIC said.
"There needs to be educational provision, to inform, discuss, prevent and give support."
Under existing French law, foreigners can be refused an extension of their residency permits if they are in polygamous marriages, but Ms Schiappa said the new law would also go further, enabling polygamists to be expelled from France.
Current protections against forced marriage would also be tightened, she said. The bill would enable a third party to alert a civil servant if there were suspicions that a marriage was going ahead without both partners' consent.
The civil servant would then interview each partner and, if a forced marriage was still suspected, the matter could be passed on to prosecutors.