Coronavirus: Checkpoints set up amid new Irish restrictions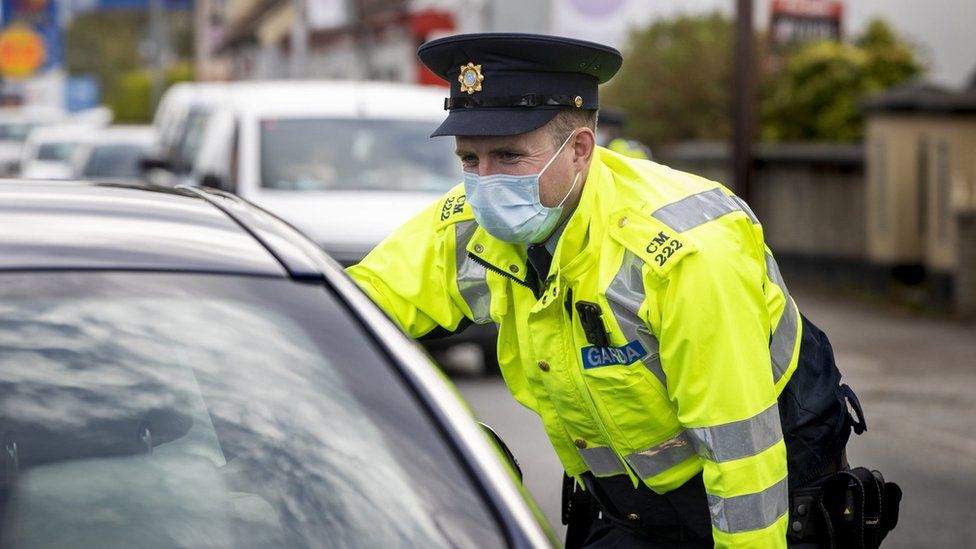 More than 100 Garda (Irish police) checkpoints have been set up across the Republic of Ireland.
The measures came into force as of midnight on Tuesday as the whole country was placed under level three coronavirus restrictions.
The checkpoints are to encourage people to remain in their own counties and only undertake essential journeys.
However, Gardaí have not be given additional powers to restrict people's movements.
The move, Operation Fanacht, is an effort to help curb the rising number of Covid-19 cases in the country.
The level three restrictions will remain in place until midnight on 27 October, at which point the situation will be reviewed by the government, based on public health advice.
According to Irish broadcaster RTÉ, static checkpoints are in place on the outskirts of Dublin at Balbriggan, Finglas, Blackchurch and the Blessington Road on Wednesday.
Although Garda officers do not have the legal power to stop people breaking level three restrictions, traffic will likely be delayed as Gardaí question motorists.
They will assess whether motorists' journeys are essential and who is to be asked to turn back.
The checkpoints will be in place on the country's main arterial routes while the operation will also include the deployment of thousands of mobile checkpoints.
Garda Commissioner Drew Harris has insisted their approach will remain community based.
Mr Harris said: "An Garda Síochána's priority is keeping people safe. This will be a major policing operation across the country with high visibility of Garda members to support public health measures."
He said that thousands of Gardaí are also available to offer support, reassurance and assistance to the elderly, the vulnerable, those living alone or anyone who needs help.
One further death was recorded in the Republic of Ireland on Tuesday, taking the country's total number of deaths linked to coronavirus to 1,811.
There were also 432 new confirmed cases and 150 people are currently in intensive care.