German ex-chancellor Schröder under fire for Putin link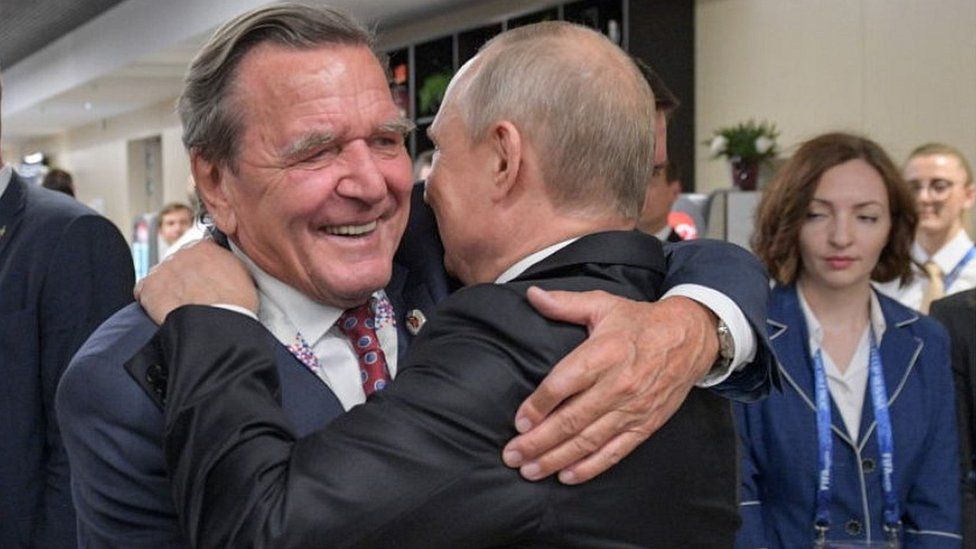 German ex-chancellor Gerhard Schröder - close to the Kremlin - has come under fire in Germany for refusing to accept that Russia was behind the poisoning of Kremlin critic Alexei Navalny.
Mr Navalny, recovering after a knife-edge struggle for life in a Berlin hospital, himself lashed out at Mr Schröder in a Bild newspaper interview.
Mr Schröder chairs the boards of Russian state oil firm Rosneft and the Nord Stream 2 gas pipeline firm.
Russia denies targeting Mr Navalny.
Norbert Röttgen, a close aide to Chancellor Angela Merkel in the Christian Democrat Party (CDU), accused Mr Schröder of helping to obscure Russian responsibility for the poisoning.
"This behaviour by Mr Schröder fills many in Germany with shame, I think in his party and outside his party," Mr Röttgen told Bild, noting that the ex-chancellor was paid by Russian state energy firms.
The Kremlin rejects the Western conclusion that Mr Navalny was attacked with the nerve agent Novichok, saying it has seen no evidence.
Novichok is an extremely toxic chemical weapon developed by Soviet scientists in the Cold War, and experts say the Russian state controls those weapon stockpiles.
The UK government says Novichok was also used against Russian ex-spy Sergei Skripal and his daughter Yulia in Salisbury in 2018.
In a podcast on 30 September Mr Schröder said "of course I'm also concerned about an attack with poison", but he then added: "what is happening now is really speculation, because there are no substantiated facts, at least regarding who is responsible for this attack on Mr Navalny."
In the Bild interview, Mr Navalny accused Mr Schröder of being "an errand boy for Putin". The anti-corruption campaigner - a fierce critic of President Putin - also called for Western sanctions targeting "profiteers of the [Putin] regime".
Mr Navalny also criticised Valery Gergiev, the Russian chief conductor of the Munich Philharmonic, saying the music maestro must choose between loyalty to Mr Putin and staying in the EU, but he could not have both.
The orchestra later said Gergiev did not wish to comment on Mr Navalny's Bild interview.
Many of Mr Putin's close associates, including billionaire oligarchs, are already under Western sanctions because of Russia's military intervention in Ukraine.
On Tuesday the inter-governmental Organisation for the Prohibition of Chemical Weapons (OPCW) confirmed that the poison used on 20 August was a Novichok-type nerve agent.
German Foreign Minister Heiko Maas told parliament that if Russia failed to provide clear information about the poisoning of Mr Navalny, "targeted and proportionate sanctions against those responsible are unavoidable".
He said a list of Russian individuals could be drawn up quickly, jointly with Germany's EU partners.
There is speculation that the Nord Stream 2 project, set to deliver vast new quantities of Russian gas to Germany and other European customers, could also be hit by sanctions. Russian state gas monopoly Gazprom is the main investor in it.