Varosha: Turkey reopens deserted Cyprus resort but tourists will wait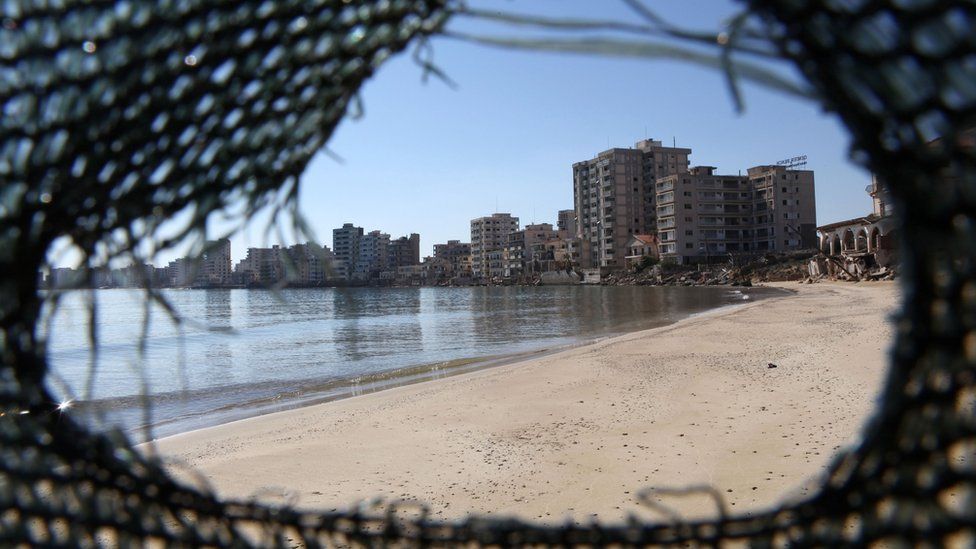 It was once a tourist paradise, attracting holidaymakers and film stars to its sun-kissed beaches.
Varosha was Cyprus's own Riviera until conflict split the island in two in 1974 and the resort's Greek-Cypriot community fled, leaving a ghost town.
But on Thursday Turkey's military took down the fencing in this ghost-town resort and reopened the beachfront.
It makes for striking photographs, but has done little to bring an end to almost 50 years of division.
Varosha has lain abandoned and decaying since it was graced by Hollywood actors such as Elizabeth Taylor and Richard Burton and French model Brigitte Bardot.
Reopening the resort was the brainchild of Turkish Cypriot Premier Ersin Tatar, who announced the plan during a press conference with Turkish President Recep Tayyip Erdogan two days before.
Streams of Turkish Cypriots went through the fences to have a look at the deserted suburb of Famagusta on Thursday.
But the move has inflamed passions across the board, prompting protests from Greek Cypriots who gathered at a checkpoint. A UN buffer zone separates the two sides.
While Turkish Cypriots have seen reopening Varosha as a potential incentive for talks on the future of Cyprus, Greek Cypriots have held out hope that the resort will be returned before they can restart.
Tensions in the Eastern Mediterranean have been high for months and the European Union's foreign policy chief warned the reopening would "cause greater tensions". Greece appealed to Turkey not to go ahead with the idea and Russia said it was unacceptable.
Cyprus's internationally recognised government has condemned the move as a violation of international law, and in Turkish-occupied northern Cyprus not everyone is happy either.
The Turkish president gave his support, but other figures in northern Cyprus were less than impressed, seeing a political move ahead of elections in the north on Sunday.
Leader Mustafa Akinci said it was a "mistake that will put the Turkish Cypriot people in a difficult situation on the international stage".
Without a settlement on the island's future, hopes of rebuilding the resort and bringing the tourists back seem distant.
Turkish troops invaded Cyprus in 1974, after a coup inspired by Greece's ruling military junta.