Berlin Liebig 34 squat: German police evict dozens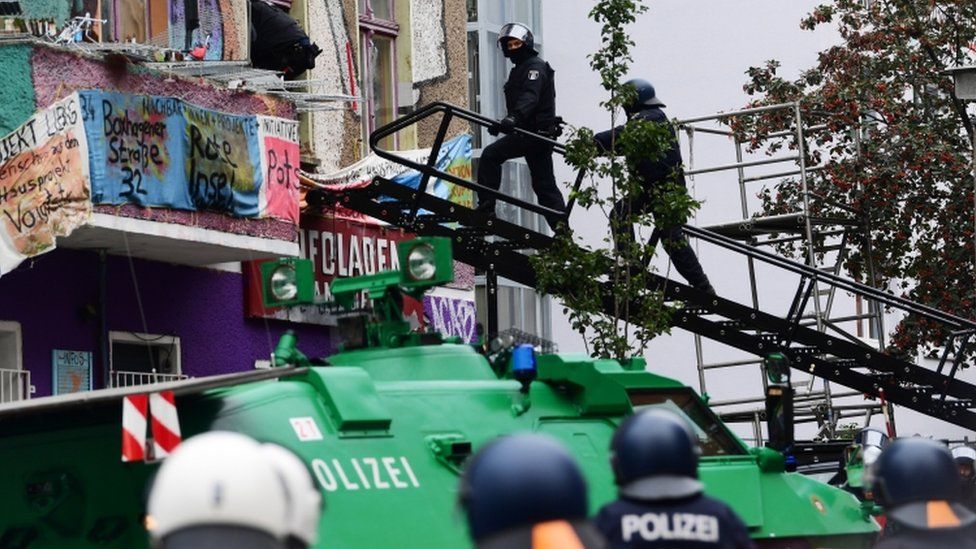 Police in Berlin have cleared one of the city's last remaining squats.
More than 1,500 officers evicted about 50 residents at Liebig 34 - a now-rare symbol of the German capital's radical-left alternative community.
The graffiti-covered building, located in a gentrified part of former East Berlin, had housed an "anarchist-queer-feminist" community since 1999.
The owner decided not to renew the lease two years ago, and sued the occupants when they refused to leave.
Police began enforcing the eviction order early on Friday. A few hundred people held a protest as officers removed residents from the four-storey building one by one.
A lawyer for the squatters told AFP news agency: "It goes against human rights to throw people out on to the street in the middle of a pandemic, when they cannot pay their rents."
After the fall of the Berlin Wall in 1989, many students, young people and radical anarchist groups moved to occupy derelict buildings in eastern parts of the city.
But many owners reclaimed properties as neighbourhoods became trendy and house prices soared over the next two decades.
Evictions often led to clashes with police. However Friday's operation at Liebig 34 was largely peaceful.