Khabarovsk: Police in Russia's far east break up anti-Kremlin protests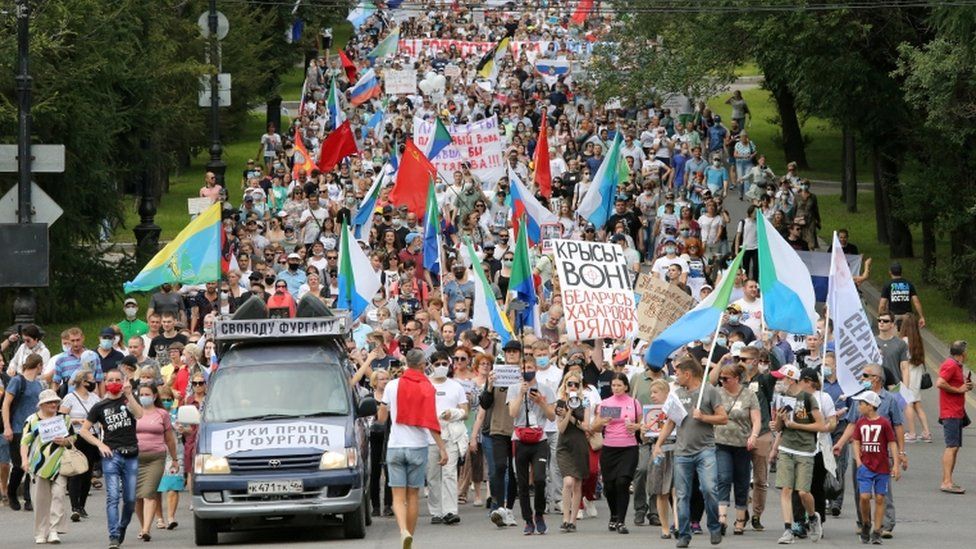 Police in the far east of Russia have used force to break up anti-government demonstrations.
Twenty-five people were arrested in the city of Khabarovsk on Saturday, according to local reports.
The city has seen months of protests over the arrest of a popular governor, who is accused of involvement in multiple murders.
Sergei Furgal denies the charges against him, and his supporters say the case is politically motivated.
Although the protests have been unsanctioned, they were previously tolerated by authorities.
Saturday's dispersal reportedly began after demonstrators began attempting to erect tents in a central part of the city, which lies close to Russia's border with China.
The mayor's office said around 500 people had taken part in the initial rally, while opposition groups put the number at 1,000, according to Russian news agency Interfax. Protesters gathered again in the evening, Interfax reported.
Footage shared online by opposition leader Alexei Navalny on Saturday showed protesters being beaten with batons and being dragged into police vans.
"When half of the people in Khabarovsk took to the streets, they hid like cockroaches," he wrote on Twitter on Saturday, referring to the police.
"They waited three months, the number of people grew less, they grew bolder, and they then went out and began to beat people for no reason."
Unrest in Khabarovsk was sparked by the arrest of Sergei Furgal in July, with mass rallies reported in the weeks that followed.
Mr Furgal was taken to the Russian capital Moscow after his detention on charges of ordering the killing of several business people 15 years ago.
He became Khabarovsk's governor in 2018, when he defeated a candidate from President Vladimir Putin's United Russia party.
Mr Furgal's party, the ultra-nationalist Liberal Democrat Party of Russia, is usually seen as loyal to the Kremlin.