Belarus: Dozens arrested as police blast protesters with water cannon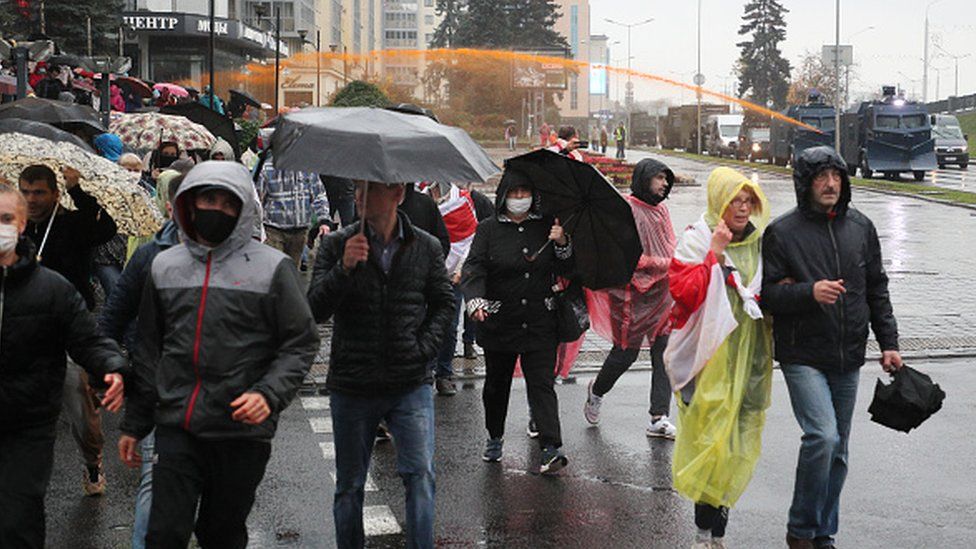 Belarusian riot police have used water cannon and stun grenades to break up the latest mass protests against President Alexander Lukashenko.
Protests have swept the eastern European country since Mr Lukashenko claimed victory in an August election widely viewed as rigged.
Dozens of protesters were detained during the latest rallies on Sunday.
In the capital Minsk, police blasted protesters with coloured water to mark them out for arrest.
Critics of Mr Lukashenko said Sunday saw police use some of the most brutal tactics against protesters since the immediate aftermath of August's disputed presidential election.
Many opposition activists have been beaten up by police and thousands have been arrested during months of unrest. They are demanding the release of all political prisoners and a free and fair re-run of the election.
The EU, the UK and the US have refused to recognise Mr Lukashenko's new term. Mr Lukashenko denies fixing the poll and has received support from Russia, his country's closest ally.
Svetlana Tikhanovskaya emerged as the main opposition leader after standing against Mr Lukashenko in August's election, arguing she would have won had it not been rigged.
Ms Tikhanovskaya was forced to go into exile in Lithuania after receiving threats following the disputed vote. She has repeatedly appealed to the international community to put pressure on Mr Lukashenko so that a democratic transition can be launched by negotiation.
Opposition hopes of a peaceful resolution were raised on Saturday after Mr Lukashenko held an unexpected meeting with political opponents in the jail where they are currently detained.
State media reported that the president called the meeting to discuss constitutional reform with his imprisoned opponents.
What happened at Sunday's protests?
In now-familiar scenes, thousands of pro-opposition protesters gathered in Minsk and other major cities for the ninth successive Sunday of demonstrations against Mr Lukashenko.
Wearing coats and carrying umbrellas on a rainy afternoon, protesters called for the resignation of 66-year-old Mr Lukashenko, Belarus's leader since 1994.
Footage shows the security forces, dressed in black and armed with batons, rounding up peaceful protestors congregating in Minsk city centre and taking them to waiting vehicles. 
Police used stun grenades and water cannon against demonstrators in Minsk, a spokeswoman for Belarus's interior ministry told AFP news agency.
They sprayed plain and coloured water at demonstrators, covering them in what appeared to be orange dye.
Some defiant protesters remained unmoved, using their umbrellas to shield themselves from the blast.
A local news website described police using tear gas on crowds and said police were herding people into courtyards. 
In videos posted online, police can be seen beating protesters with batons and snatching their white-and-red flags - a symbol of nationalist opposition to Mr Lukashenko.
Some protesters fought back and pelted police with bottles and other objects.
The Viasna rights group, which monitors detentions at political protests, said at least 140 people had been detained in Minsk and other cities.
Journalists covering the demonstrations were among those detained, including those from Russia's Tass agency and the state Belarusian news agency BELTA.
Is Lukashenko's resolve weakening?
Jonah Fisher, BBC Ukraine correspondent
Sunday's demonstrations in Belarus's capital Minsk now follow a familiar course.
Tens of thousands of people march through the streets demanding President Lukashenko step down. Then, he responds by sending his security forces to arrest as many of them as possible.
What makes this weekend different, however, is that on Saturday President Lukashenko held a long meeting with a group of political prisoners in jail.
It's the first indication - after more than two months of protests - that he just might be willing to negotiate with the opposition.
What happened at Saturday's meeting?
The president's press office said participants had agreed to keep the four-and-a-half-hour conversation "secret".
However, a photo posted by the press service shows Mr Lukashenko sitting at a table with 11 political figures, all of whom look pale and unsmiling.
Among them is Viktor Babaryko, a banker who was initially seen as Mr Lukashenko's strongest rival in the election, but was barred from running and jailed in July.
Liliya Vlasova, a lawyer and member of the opposition's Coordination Council, is also in the photo, as is Vitali Shkliarov, a Belarusian-American strategist who worked on US Senator Bernie Sanders's presidential campaign.
A short video clip shared by the press service also shows Mr Lukashenko saying to the group: "I am trying to convince not only your supporters but the whole of society that we need to look at things more broadly."
Apparently referring to the ongoing protests, he added: "You can't rewrite the constitution on the streets."
Opposition figures suggested meeting was a sign of Mr Lukashenko's weakness, perhaps signalling a newfound eagerness to compromise with the protest movement.
But in a social media post, Ms Tikhanovskaya said "you can't have dialogue in a prison cell".