Coronavirus: Europe tightens measures amid sharp rise in cases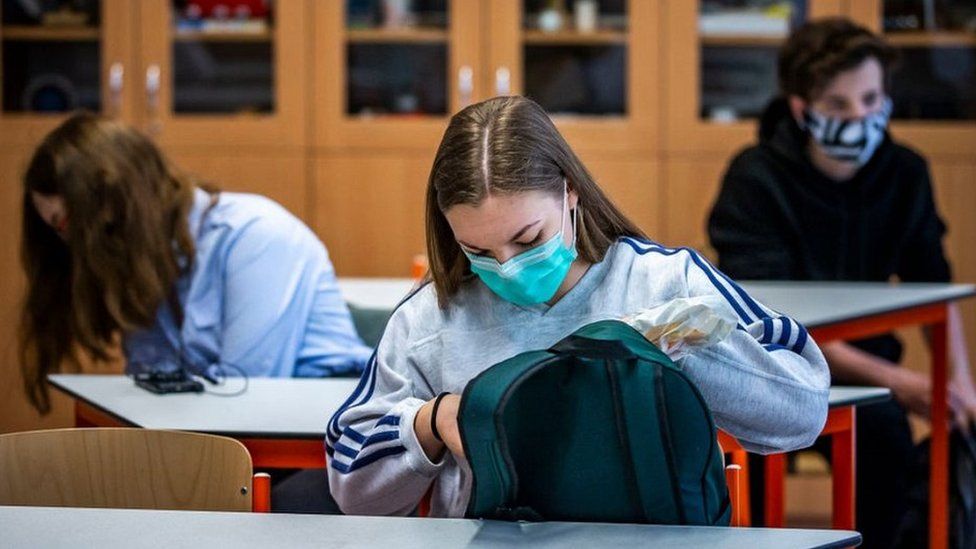 The Czech Republic is imposing a three-week partial lockdown shutting schools, bars and clubs, as Europe struggles to contain a sharp rise in Covid-19 cases.
The country has the region's highest new infection rate per 100,000 people. Restaurants will be closed and public consumption of alcohol is banned.
In the Netherlands, a partial lockdown was announced, and masks have become compulsory in public indoor spaces.
Meanwhile, hospital admissions are rising fast again in many countries.
President Emmanuel Macron is expected to announce further restrictions in a televised address on Wednesday. Local media reports suggest that cities considered hotspots, including Paris, could face evening curfews.
Earlier, German Chancellor Angela Merkel said she was "watching with great concern" the situation in Europe, and added: "I must say the situation continues to be serious." German health officials reported more than 5,000 new cases on Wednesday, for the first time since April.
What was announced in the Czech Republic?
Schools, bars and clubs will be closed until 3 November while restaurants will be restricted to deliveries and takeaways, until 20:00.
University dorms are also being closed temporarily, and all school lessons will continue at home via the internet. Kindergartens will stay open and special provision will be made for the children of critical care workers.
Masks, already being worn in shops and on public transport, will also have to be worn at tram stops and on train platforms. The maximum for people gathering in a group, whether indoors or outside, will be six.
There have been 1,106 deaths from Covid-19 in the Czech Republic since 1 March, when the country identified its first cases. The highest number of deaths in one day - 55 - was reported on Monday and more than 8,000 new cases were announced on Wednesday, for only the second time since the pandemic began.
In March the Czech Republic was quick to impose a strict lockdown, shutting its borders and making mask-wearing compulsory.
By Rob Cameron, BBC correspondent in Prague
There is a touch of Kremlinology to interpreting the official Covid response here. Statements must be viewed through a prism of political realities, in a land governed by a coalition of rivals.
But every so often a statement is so sobering it is difficult to dismiss it as point-scoring. On Monday it was provided by Czech Interior Minister Jan Hamacek: "80,000 active cases is a problem, 120,000 is the point of no return. We're now at 61,000." Those cases are now rising faster than anywhere else in Europe.
Mr Hamacek has been among those calling for a full lockdown; the new rules have instead been described as "soft lockdown". But will they be enough? The sense amongst those who must obey them is no. And if this is not enough, and Mr Hamacek's warning of "mobile morgues in car parks" becomes true, who is to blame?
Not, it seems, Prime Minister Andrej Babis. The man accused of overruling tougher measures in September was asked if he now felt a sense of responsibility for the country's current predicament. "No," he replied, at the close of an increasingly testy online press briefing. "My conscience is clear."
What was announced in the Netherlands?
The four-week partial lockdown will see bars, restaurants, terraces and cannabis cafes being shut from Wednesday night, and only takeaway services will be allowed. Grocery stores are banned from selling alcohol after 20:00.
"It hurts but it's the only way, we have to be stricter," Prime Minister Mark Rutte said in a news conference.
But there will be no changes to schools' activities. People are being asked to work from home and use public transport for essential journeys only.
Infections in the country have gone up 60% with almost 44,000 new cases in a week. Mr Rutte warned that 75% of regular hospital care would have to be cancelled if the numbers kept increasing.
On Tuesday, the country reported a daily record of nearly 7,400 new infections.
What is happening elsewhere in Europe?
An Austrian report into the Ischgl ski resort outbreak that affected more than 6,000 European tourists in March has criticised the local mayor, regional authorities and even Chancellor Sebastian Kurz. Skiing was allowed to continue for three days too long, and when evacuation came it was rushed and disorganised, the report says
A new Italian decree bans school trips and amateur contact sports such as football in the park. Private parties are banned and Italians are strongly urged to limit home visits to six people
Russia reported record high daily cases - almost 14,000 - and deaths, 244, but the authorities said they did not plan to impose lockdowns across the country