Belarus opposition threatens Lukashenko with mass strike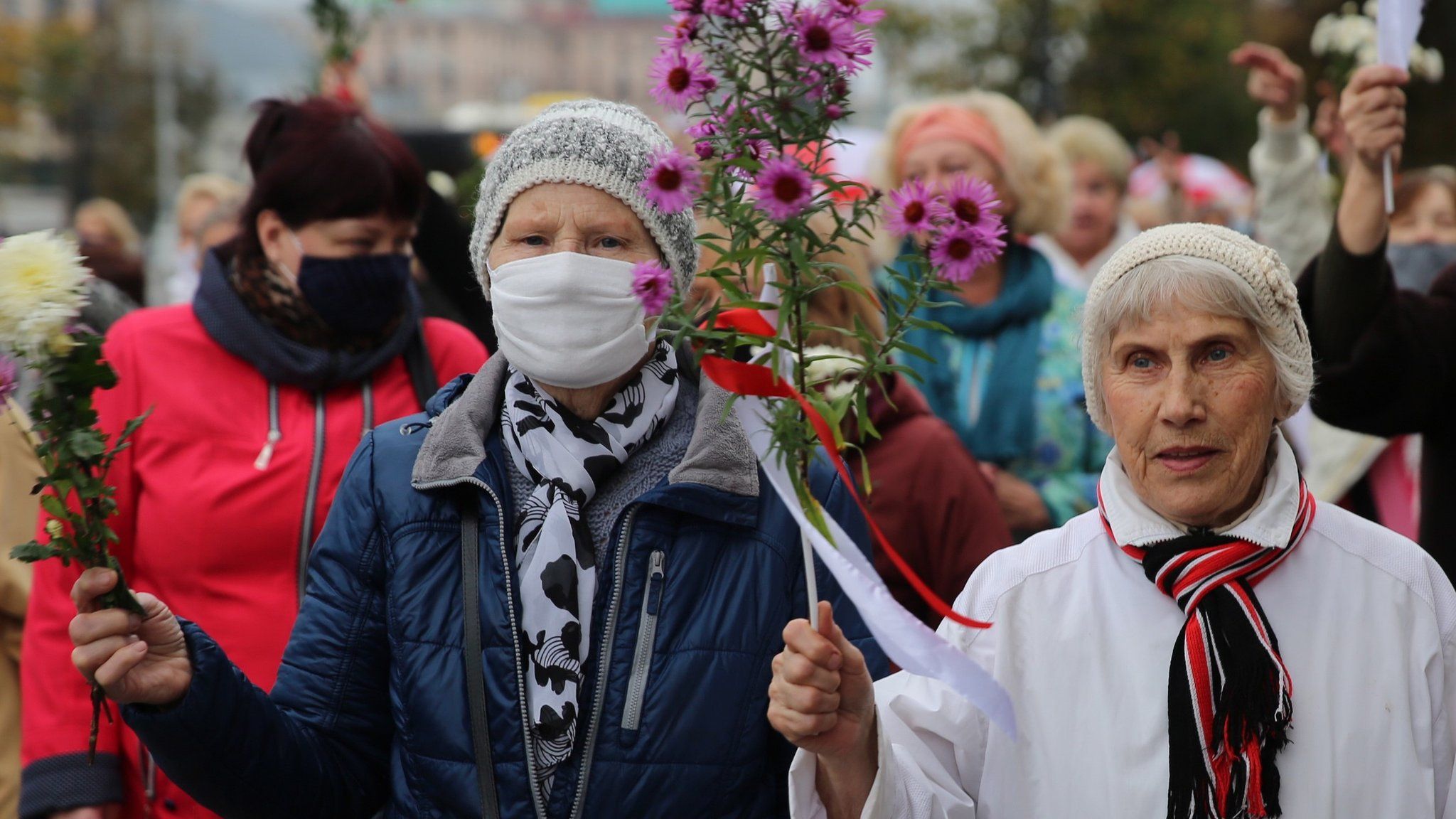 Belarus's opposition leader has threatened a mass walkout by workers if President Alexander Lukashenko does not resign in the next 13 days.
Svetlana Tikhanovskaya also threatened a huge nationwide protest in her ultimatum to the long-serving leader.
On Monday EU officials agreed to impose sanctions against Mr Lukashenko.
Protests have swept the country since Mr Lukashenko claimed victory in an August poll widely viewed as rigged.
He has ruled Belarus for 26 years and is often described as "Europe's last dictator".
On Tuesday, Mrs Tikhanovskaya said Belarus had "had enough" after two months of "political crisis, violence and lawlessness".
She issued three demands from Lithuania, where she has been in exile since August.
Violence against protesters must stop and political prisoners must be released, Mrs Tikhanovskaya said, a day after police were authorised to use lethal weapons against protesters.
If the demands, including Mr Lukashenko's departure from office, are not met by 25 October, his opponents will mobilise a national protest and strike, she said.
"On 26 October all enterprises will begin a strike, all roads will be blocked, state-owned stores will no longer have any sales," Mrs Tikhanovskaya wrote on social media app Telegram.
The opposition are calling the demands "the people's ultimatum" and they come after Mr Lukashenko visited political prisoners in a jail where Mrs Tikhanovskaya's husband is behind bars.
"We have said more than a few times that we are ready for dialogue and negotiations. But holding talks [with opponents] behind bars is not a dialogue," she said on Tuesday.
"Everyone who has not yet made the decision to switch to the side of the people is an accessory to terror. Declare publicly that you no longer support the regime," Mrs Tikhanovskaya continued in what many consider her strongest statement to date.
The ultimatum is an attempt to increase the political pressure on Mr Lukashenko but it also seems intended to inject new energy into the street protests, explains BBC Moscow correspondent Sarah Rainsford.
Meanwhile, an Olympic athlete whose brother was detained and beaten by police has urged authorities to stop their violence against protesters and begin dialogue.
"People want to be heard. Everyone should calm down and discuss everything. It will probably take us closer to the point," four-time Olympic biathlon champion Darya Domracheva wrote on Facebook.
On Monday European leaders agreed that Mr Lukashenko will face travel bans and asset freezes over his regime's continued violence, joining 40 of his officials already sanctioned by the EU.
What's the latest in the protests?
August's disputed election saw unprecedented street protests by Belarusians who say they want "freedom".
Belarusian authorities have been accused of brutality and torture in their suppression of the demonstrations.
On Monday, the interior ministry confirmed police fired stun grenades and tear gas during an unauthorised rally in the capital, Minsk, which involved a large number of pension-age protesters.
A spokesperson said action was taken after "citizens started to show aggression". An unconfirmed number of demonstrators were also arrested.
Authorities say more than 186 were detained on Monday, according to Russian news agency TASS.
Those protests followed demonstrators taking to the streets on Sunday for the ninth successive weekend.
Critics of Mr Lukashenko said police used some of the most brutal tactics against protesters since the crackdown in the immediate aftermath of the election.
Riot police again used water cannon and stun grenades to break up the latest rally in Minsk, and many protesters were beaten with police batons.
International observers including the European Union have characterised the demonstrations as peaceful.