Coronavirus: Berlin ad sticks middle finger to mask rule breakers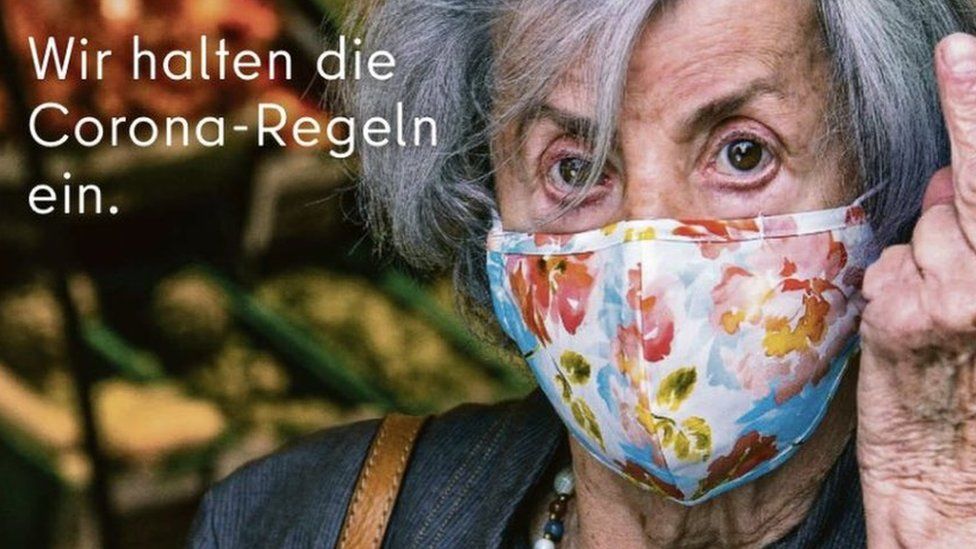 Berlin's tourism authority has launched an ad campaign featuring an elderly woman giving the middle finger to people who refuse to wear masks.
"The raised index finger for all those without a mask," reads the poster, alongside a photo of the masked woman.
Visit Berlin has said the campaign is to highlight the importance of protecting the health of the elderly.
But the campaign has proved controversial, with some in Germany calling it insulting.
The "We obey the corona rules" ad, launched by the Berlin Senate and Visit Berlin, initially appeared on Tuesday in a local newspaper, but it quickly spread on social media.
Christian Tänzler, spokesman for Visit Berlin, said the poster - which is part of a wider campaign - is to remind people to follow rules in the city.
"Most Berliners and our guests respect and follow the corona rules but some people don't. These people risk the lives of older people and people from the at-risk community," he told the BBC.
"We wanted to give attention to this problem. For this reason we have chosen this provocative motif."
The ad has a distinctly Berlin tone, Mr Tänzler added.
"Berliners are very well known for their direct communication," he said, adding that he thought many Brits would appreciate the humour.
"We use it in a very direct way to communicate to exactly the people who are not respecting the rules."
But the campaign has not been to everyone's taste.
Lorenz Maroldt, editor-in-chief of Berlin's Der Tagesspiegel newspaper, was not a fan.
"I think the ad is in a way 'classic Berlin' and would work out well without the dysfunctional corona-politics of the Senate as a contrast to it," he said.
"The Senate seem to think that insulting people is more successful than strict, clear rules with efficient controls. They failed with that completely."
Some have also been confused as the text says "index finger" while the woman is raising her middle finger. Visit Berlin has said the contradiction is deliberate.
Others have pointed out that some people cannot wear masks for health reasons.
"Our target group was people who are not respecting the lives of others," Mr Tänzler said.
"If some people feel personally attacked because they are not able to wear a mask, that was not our aim. I apologise for that," he said.
Reporting by the BBC's George Wright.