Danish submarine killer Madsen caught in prison escape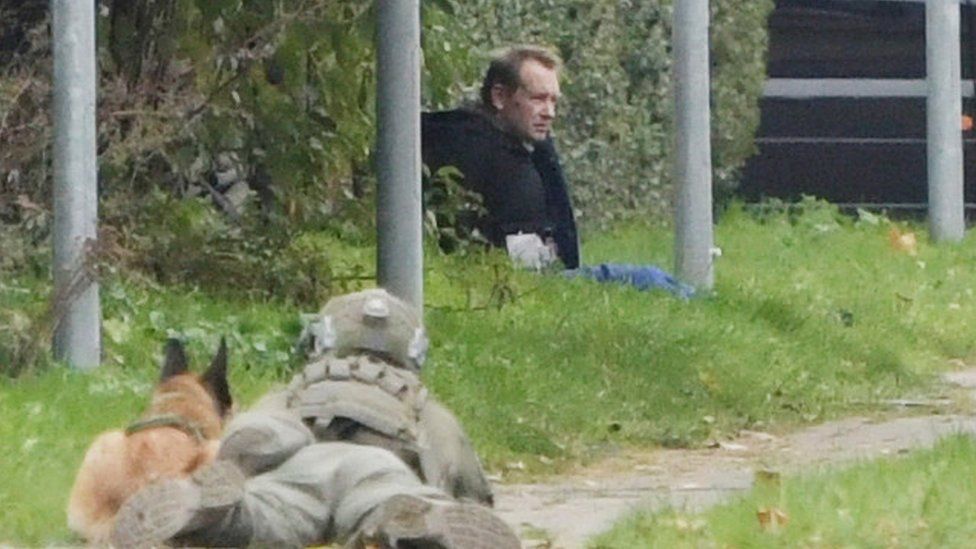 Danish submarine builder Peter Madsen, who murdered the Swedish journalist Kim Wall, has been caught after trying to escape from jail.
Pictures from the scene showed armed police surrounding him near the prison west of Copenhagen.
Police said Madsen had got out after threatening a prison employee and was arrested nearby a few minutes later.
He was jailed for life for the 2017 murder of Kim Wall, who had boarded his homemade submarine for an interview.
Her mutilated body was discovered on a beach by a passer-by 11 days later.
News of Madsen's escape was confirmed when a video emerged showing the convicted killer propped up against a hedge with a belt around his waist, on a residential street close to the jail in Albertslund.
Madsen clearly had an object around his waist and armed police waited at a distance for bomb disposal specialists to arrive before he was taken into custody.
Madsen's claim that the journalist's death on board his submarine in 2017 was an accident was rejected at his trial. He later admitted to a journalist that he was to blame.
Kim Wall was a freelance journalist who reported around the world, from North Korea to Uganda, for a variety of quality publications.
When she climbed on Madsen's 40-tonne submarine, it was supposed to be a final Danish story before moving to the Chinese capital Beijing with her Danish partner.
What happened at the prison?
West Copenhagen police initially said little about what had happened at Herstedvester jail, only that a man had been arrested while trying to escape.
At a news conference later they detailed the events in the minutes after 10:21 (08:21 GMT) on Tuesday:
After threatening a prison worker, apparently with a pistol-like object, Madsen managed to flee
Prison staff followed him and he was soon traced by police a few hundred metres away
Madsen got into a white van in an attempt to avoid arrest
As he was being detained, he threw away a pistol-type object but police noticed a belt around his waist and backed away
At that point Madsen sat down beside a hedge until a remote-control bomb disposal robot known as Rullemarie arrived.
The convicted killer was surrounded by armed police for about an hour-and-a-half before they moved to take him into custody.
Madsen was serving a life sentence for murder, which normally would mean up to 17 years in jail, according to Danish public TV.
Denmark's problem with jailbreaks
Police refused to confirm a report that Madsen had tried to escape from Herstedvester prison in the past.
The number of jailbreaks in Denmark is relatively high, from closed as well as open prisons.
Last November an organised crime figure escaped from a hospital's psychiatric ward in the town of Slagelse after guns were smuggled in inside a cake box.
Justice Minister Nick Haekkerup said he had asked the prison service for an explanation of how Madsen was able to get out of jail.
"It goes without saying that prisoners on life sentences who have committed the worst crimes imaginable should not be able to slip out of the hands of authorities," he said in a statement.