Nagorno-Karabakh: The Armenian-Azeri 'information wars'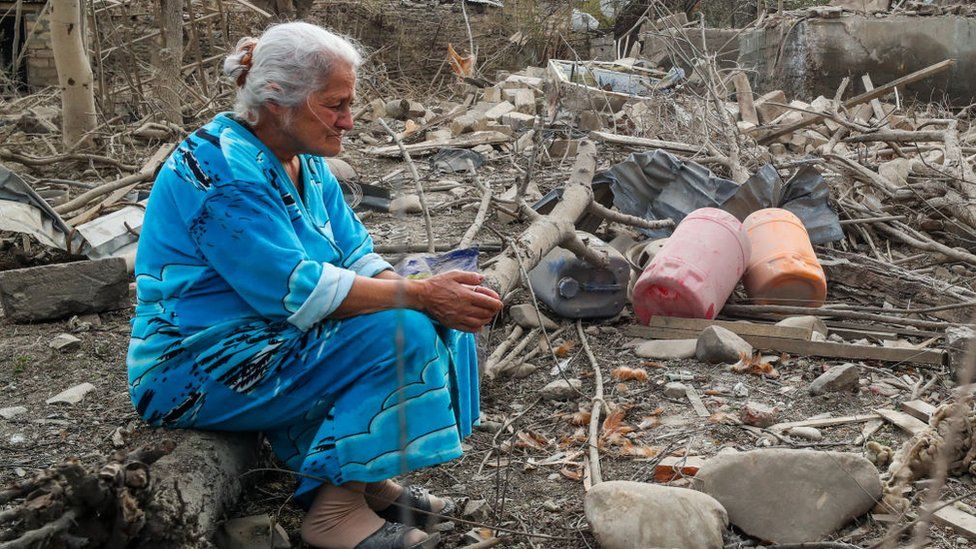 The conflict that has raged for weeks over the disputed region of Nagorno-Karabakh has fuelled the spread of misleading social media content.
Despite a ceasefire agreed at the weekend, the fighting has continued and hundreds have died.
Armenia's prime minister has said there is no diplomatic solution "at this stage" to the Karabakh issue. The enclave is internationally recognised as part of Azerbaijan but is under Armenian control.
We've found re-edited and old video footage wrongly labelled as portraying recent events.
Disinformation in conflicts is not uncommon, where accessing accurate information can prove difficult.
The current clashes in the South Caucasus region are no different, and few journalists have gained access to the frontline, leaving people to rely on government media and footage from mobile phones, as well as rumours that spread unverified on social media.
We've also identified efforts to amplify politicised hashtags and posts.
While the majority of online media being shared is either news reports, official government information or campaign slogans and images, there is also plenty of doctored or old footage.
Some of the most widely-spread content involves dramatic scenes of missile exchanges, which has nothing to do with the current conflict.
One video, posted on Twitter, claims to show Iranians watching the 2020 Armenia-Azerbaijan "war" at the border. It has been viewed more than 250,000 times.
However, a reverse image search shows it is actually from a military day event in Russia from November 2019.
People in the video are speaking Russian, and one person is wearing woollen clothing with the word "Russia" written on the back.
The user apologised for posting the video after finding out it wasn't legitimate, but it remains on Twitter.
There's also been footage from the popular military video game Arma 3, wrongly claiming to show the war.
It has been posted on many platforms such as Facebook, Twitter, YouTube and TikTok.
It was even used by an Indian TV news channel as "exclusive" footage of Armenia shooting down an Azerbaijani aircraft.
The original video, which has been edited into real footage of clashes, was first posted on YouTube by a Japanese channel in August 2020, with the disclaimer at the end that it is "fiction".
Are Syrian fighters involved?
There are claims that Azerbaijan has drafted in foreign mercenaries to bolster their forces.
The accusations are often targeted at Turkey, which backs Azerbaijan, claiming that it has facilitated the drafting of Syrian fighters into Azerbaijan's military.
The Turkish government has strongly denied these allegations, despite French President Emmanuel Macron and human rights organisations concluding that these fighters are present.
Turkey has previously sent Syrian fighters to another conflict zone, in support of the UN-backed government based in Tripoli, Libya, against rival forces.
BBC Arabic has contacted one man who says he was recruited in northern Syria "to guard military points" on Azerbaijan's borders.
Speculation has been heightened by a slew of viral videos on social media claiming to show Syrian fighters involved in the conflict. It is difficult to confirm if these viral images do indeed show Syrian mercenaries operating within the current conflict.
Posts about Armenian-Yazidi soldiers
There are baseless claims online that Yazidi fighters from Iraq are supporting Armenia.
There are ethnic Yazidis fighting for Armenia, but these are Armenian-Yazidis. They're not foreign fighters.
For example, there are plenty of Armenian accounts proudly sharing photos of Yazidi people among their forces.
There are around 30,000 Yazidis who live in Armenia.
Seeking international support
Online platforms have become a battleground for Azerbaijanis and Armenians looking to garner support and raise international awareness of their cause.
Social media activity has been bolstered by active users outside the region, and in particular by Kim Kardashian, who is of Armenian heritage and has one of the largest online followings in the world.
A BBC analysis of popular phrases on social media platforms has identified a significant increase in terms related to the clashes.
The countries' names "Armenia" and "Azerbaijan" have, over the past week, received more than 20 and 17 million engagements on Facebook, respectively.
There are also hashtags such as #WeWillWin, #DontBelieveArmenia, and #StopAzerbaijanAggression being used in English and in Armenian, Azeri, Turkish and other regional languages.
Both governments have also been weighing in. Azerbaijan's Ministry of Defence, for example, produces some of the most shared material, usually praising the military's accomplishments and showing attacks on Armenian defence forces. One video posted recently on its Facebook page had more than 100,000 views.
Some of the efforts to fight the "information war" involve large-scale co-ordination online.
In online conversations, Armenian social media users have discussed their failure to mobilise on social media during the clashes in June, and have bolstered their efforts in recent weeks.
There are private Facebook groups, with names such as "cybers armies" and "media fighters", in which supporters of Armenia are suggesting posts and hashtags, and co-ordinate to amplify the content.
One group, created two weeks ago, has more than 100,000 members.
Many Azerbaijani people have also been heavily sharing content.
While much of it is legitimately trying to generate support online, there are accusations of "inauthentic online behaviour", activity co-ordinated using fictitious accounts and personas.
The Australia-based International Cyber Policy Centre (ICPC) found a surge in the creation of Twitter accounts at the end of September associated with hashtags linked with the conflict.
The ICPC's report adds: "These efforts may include co-ordinated authentic activity by real users, as well as suspicious or inauthentic activity."
Facebook has taken steps to remove some accounts associated with Azerbaijan.
It says there were "589 Facebook accounts, 7,906 Pages and 447 accounts on Instagram that were involved in co-ordinated inauthentic behaviour."
It added: "This network appeared to engage individuals in Azerbaijan to manage pages with the sole purpose of leaving supportive and critical commentary.
"Their comments frequently touched on local and regional news and events, politics, government policies, tensions between Armenia and Azerbaijan."
BBC Monitoring's John Horan and Armen Shahbazian contributed to this report.
Nagorno-Karabakh - key facts
A mountainous region of about 4,400 sq km (1,700 sq miles)
Traditionally inhabited by Christian Armenians and Muslim Turks
In Soviet times, it became an autonomous region within the republic of Azerbaijan
Internationally recognised as part of Azerbaijan, but majority of population is ethnic Armenian
An estimated one million people displaced by war in 1988-1994, and about 30,000 killed
Separatist forces captured some extra territory around the enclave in Azerbaijan in the 1990s war
Stalemate has largely prevailed since a 1994 ceasefire
Turkey openly supports Azerbaijan
Russia has military bases in Armenia