France teacher attack: Seven charged over Samuel Paty's killing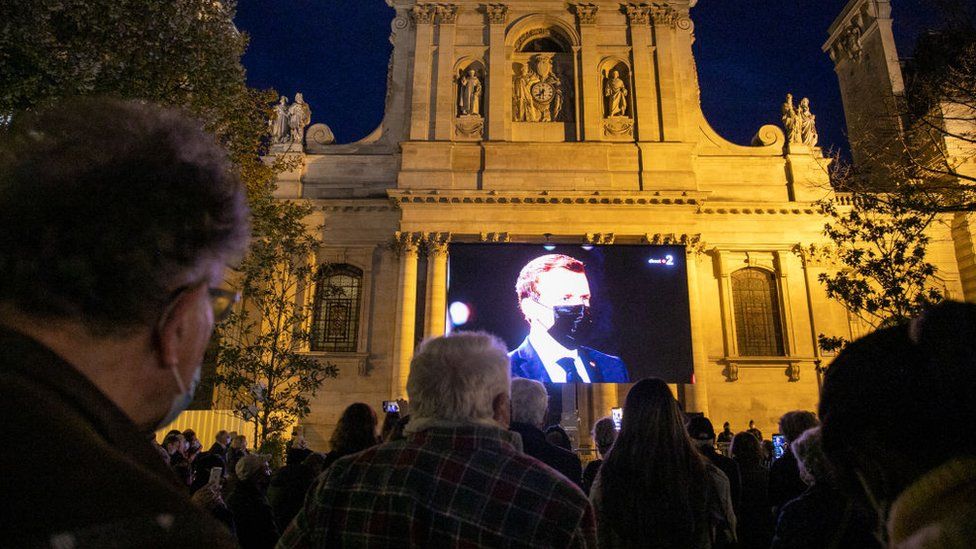 Seven people have been charged over the death of a French teacher who was beheaded close to his school last week.
Samuel Paty, 47, was targeted for showing cartoons of the Prophet Muhammad to his students.
His killer, 18-year-old Abdullakh Anzorov, was shot dead by police shortly after last Friday's attack.
But seven people, including two students and a parent of one of Mr Paty's pupils, were detained in the days following the killing.
On Wednesday, prosecutors said six of the suspects had been charged with complicity in a terrorist murder and placed under judicial investigation.
One man is accused of having close contact with the killer and faces the lesser charge of associating with a terrorist.
All of the suspects, other than the two students who are minors at just 14 and 15, are in custody.
Mr Paty's killing stunned France and led to an outpouring of support at memorial ceremonies and marches around the country.
On Wednesday evening, President Emmanuel Macron hailed Mr Paty as "a quiet hero" and "the face of the Republic" at an event in Paris.
He then presented the teacher's family with the nation's highest honour, the Légion d'honneur.
France's chief anti-terrorism prosecutor Jean-François Ricard announced the charges on Wednesday, and gave fuller details of the police investigation at a press conference.
Two teenage students, who cannot be named for legal reasons, were allegedly paid around €300 (£270; $355) by the killer to identify Mr Paty outside the school.
The killer told the students he wanted to "hit" and "humiliate" Mr Paty and "make him apologise for the cartoon of the Prophet [Muhammad]", Mr Ricard said.
The teenagers are alleged to have described the teacher to Anzorov and stayed with him for more than two hours until Mr Paty appeared.
A man named only as Brahim C, a parent of one of Mr Paty's pupils, is also under investigation. The 48-year-old is accused of orchestrating a hate campaign against Mr Paty and exchanging text messages with the killer before the attack.
On Wednesday, Mr Ricard said there was a "direct causal link" between the online campaign and Mr Paty's death.
Also in custody is Abdelhakim Sefrioui, a preacher and activist who was reportedly known to the French intelligence services for years.
Both he and Brahim C made videos in which they reportedly insulted Mr Paty and demanded his suspension.
Earlier, Interior Minister Gérald Darmanin told Europe 1 radio that the pair had "apparently launched a fatwa against the teacher".
Three friends of Anzorov are also facing prosecution. One of them allegedly drove him to the school, while another is accused of helping him purchase a weapon.
Both men have been charged with complicity in a terrorist murder while the third was charged with the lesser offence of terrorist association.
Meanwhile, on Thursday, it emerged that Anzorov had been in contact with a Russian-speaking jihadist in Syria before he carried out the attack.
Anzorov was born in Moscow and his family is from Russia's Muslim-majority Chechnya region in the North Caucasus. He had lived in France since 2008.
Why was Samuel Paty targeted?
The teacher had been the target of threats since he showed the cartoons of the Prophet Muhammad during a class on 6 October.
The issue is particularly sensitive in France because of the decision by satirical magazine Charlie Hebdo to publish cartoons of the Prophet Muhammad.
A trial is currently under way over the killing of 12 people by Islamist extremists at the magazine's offices in 2015 following their publication.
France's Muslim community, which is Europe's largest, comprises about 10% of the population.
Some French Muslims say they are frequent targets of racism and discrimination because of their faith - an issue that has long caused tension in the country.