Covid: Dutch king expresses regret over Greek holiday scandal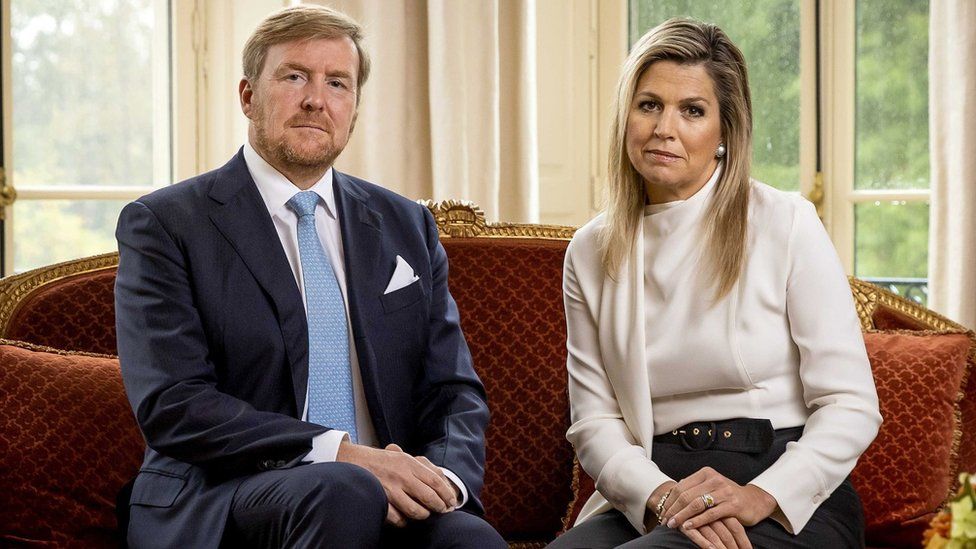 The Dutch king has said he regrets going on holiday to Greece after facing criticism for travelling during the coronavirus pandemic.
In a video statement, King Willem-Alexander said it "hurts to have betrayed" people's trust.
The royal family left the Netherlands on Friday as people there faced partial lockdown restrictions.
Although they did not break any rules, the royals came under intense criticism and cut their trip short.
King Willem-Alexander, Queen Maxima and their youngest daughter Ariane returned to the Netherlands on Saturday - a day after leaving the country.
Their two other daughters flew back on Tuesday, according to public broadcaster NOS.
"With regret in my heart I turn to you," the king said in the two-minute video message, broadcast with Queen Maxima.
"It hurts to have betrayed your trust in us," he said.
"Even though the trip was in line with the regulations, it was very unwise not to take into account the impact of the new restrictions on our society."
The message concluded with the king stating: "We are not infallible."
The royals flew out on a government plane on Friday and were immediately criticised for going on holiday when the population was being advised to stay at home as much as possible to curb the spread of Covid-19.
The royal couple flew back on a scheduled KLM flight on Saturday evening.
Prime Minister Mark Rutte conceded on Sunday that he "made the wrong assessment" by not intervening against the family's holiday plans.
In a letter to parliament, the prime minister said he had "realised too late" that the holiday "could no longer be reconciled with the increasing infections and the stricter measures".
Under the current rules, bars, restaurants and cannabis "coffee shops" have been ordered to close for four weeks.
It is not the first time the royal couple have been in the spotlight for their conduct. In August, they were pictured breaking social distancing rules with a restaurant owner during another trip to Greece.
Other European royals have also hit headlines during the coronavirus pandemic.