Covid-19: How the Czech Republic's response went wrong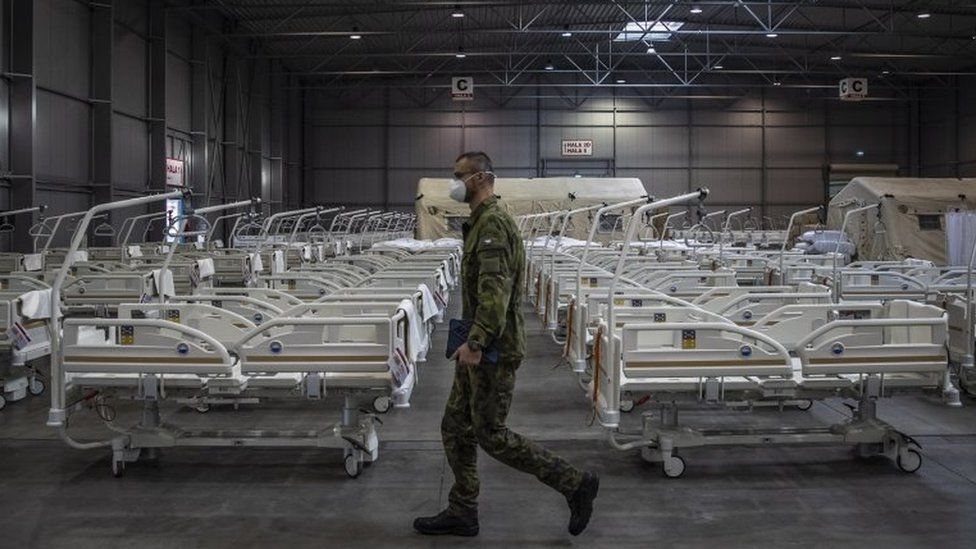 The Czech Republic was praised for its swift initial response to the coronavirus crisis, but seven months on it's now recording 15,000 new cases a day and has the second highest per capita death rate over seven days in the world. So what went wrong?
Letnany Exhibition Grounds on the northern outskirts of Prague is usually where you go to check out the latest caravans or fitted kitchens.
But its cavernous halls are now home to a ghostly field hospital, built by the army in just over seven days. On Sunday it was formally handed over to Prague's main infectious diseases hospital.
"Our task is to enhance the capacity of civilian hospitals," said Colonel Ladislav Slechta, commander of the Czech Army's Military Medical Agency which built the facility.
"This is to create conditions for them to accept more seriously ill patients and of course save their lives," he added.
The reserve facility has 500 beds, including 10 ICU units and an MRI scanner. If needed, it will be staffed by 200 army medical personnel - 20 doctors, 70 nurses and the remainder logistics troops.
Colonel Slechta is used to building such hospitals in Afghanistan or Iraq. Not on the outskirts of Prague.
"There's no time at this moment to think about emotions. But I'm sure they're coming, because it's really an unusual situation," he told me.
"We were discussing it, and going back in history, we think the last time this type of facility was deployed in this country was during the First World War."
As we spoke, mechanical ventilators hidden in green metal containers wheezed and groaned, connected to no-one, at least not for now. A gap in the wall offered a glimpse of an even larger hall, housing hundreds of empty hospital beds, arranged with military precision in rows.
Medical monitors at their heads beeped at each other, the sound echoing in the deserted hall. Like the soldiers, they're on standby.
A short drive away, in the centre of Prague, and it was a different world - a world of crowds strolling along the river embankment in the autumn sun, feeding the swans, thronging the farmer's market.
Everyone, it seemed, had a slightly different way of interpreting the authorities' pleas to stay at home except for essential shopping and exercise.
On Wednesday the government ordered most non-essential shops to close, leaving open supermarkets, grocery stores, chemists, pet shops and those providing goods and services essential to the economy such as computers and IT.
Restaurants, cafés and pubs are closed to seated customers and dissuaded from letting people linger outside. Takeaway and delivery service is allowed until 8pm.
All schools have gone online. Unlike in spring, border restrictions have not been reintroduced, although visiting the Czech Republic for tourism is forbidden.
"I mean it's like a general sickness we believe, so like a stronger flu," said one man, claiming that he'd studied the virus intensively since March, using the WHO and other sources.
"We're young, we're not afraid of it," said his companion.
"We're doing everything for our health, whatever we can. We take exercise. We eat properly. And I think that's a good weapon for it," she said.
Confidence at a low point
Czech efforts to fight the virus haven't been helped by the man who wrote the rules being caught by a tabloid newspaper in the act of breaking them.
Czech Health Minister Roman Prymula says he will resign as soon as his successor is named, after the tabloid Blesk published a photograph of him emerging maskless from a restaurant around midnight, holding his wallet.
All pubs and restaurants are supposed to be closed to customers, and can only provide hatch service until 8pm.
The restaurant was an upscale establishment located at Prague's Vysehrad Fortress, inside a building owned by the Church.
Mr Prymula spent most of Friday arguing he had merely walked through the restaurant to attend a meeting with a senior member of the prime minister's ANO party in a back room used by the Church, not the restaurant. The Church denied having any such room at its disposal.
Meanwhile the damage - to his ministerial career and public confidence in government restrictions - has been done.
Dr Marie Bourne, a GP in the city's Karlin district, said she understood people were tired of the pandemic. But they were becoming complacent, she said, at precisely the moment it was threatening to spiral out of control.
"It's really disappointing. I've felt very angry at times. Because all of the effort from springtime just seems to have gone down the drain. The virus is still here, and things have gone pretty badly since then," she told the BBC.
Dr Bourne trained in the UK and worked for 15 years in the NHS. She returned to her home country in February, a few weeks before the pandemic hit. Now, barely two months since she resumed work as a GP, she's been asked to help out in the hospitals.
However, she - like most doctors - doesn't believe the worst-case scenario will arrive. The Czech Republic, she says, has far more hospital beds per population than the UK for example. She believes the branch will bend, but not break.
Others, including many eminent scientists, are less optimistic. A few weeks ago, an online map of the country showing community spread by district was mostly green with a few red spots. It is now entirely red.
"Our estimate is that small hospitals will be overwhelmed within a few days, and big hospitals in a few weeks," said Petr Ludwig, a data scientist and best-selling author who divides his time between New York and Prague.
That prediction was repeated on television a few days later by the head of the Czech Medical Chamber, who said Covid was now the second most common cause of death in the Czech Republic.
They urge people to take individual responsibility regardless of government mandates - staying at home as much as possible and wearing masks everywhere.
If not, they say, their modelling shows the current death toll of more than 2,200 could reach 15,000 by Christmas.
It's a terrifying statistic. But of those 2,200 deaths since spring, half have come in the last two weeks.