Poland abortion ruling: Police use pepper spray against protesters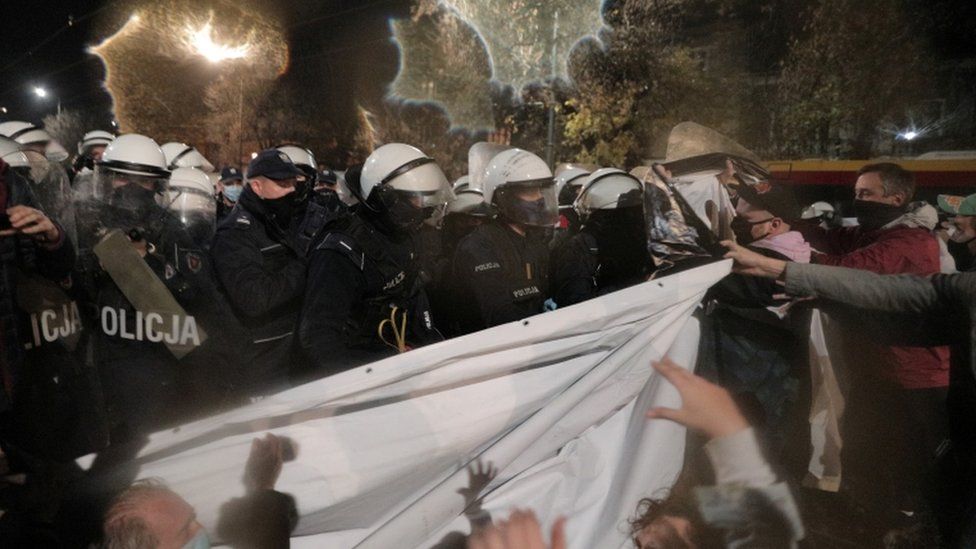 Police in Poland have used pepper spray against hundreds of people protesting in Warsaw against a court ruling that almost completely bans abortions.
Protesters clashed with riot police outside the home of Deputy Prime Minister Jaroslaw Kaczynski.
It follows Thursday's ruling from the top court that ending the life of a deformed foetus is unconstitutional.
It means abortion is only valid in cases of rape or incest, or to protect the mother's life.
Poland's abortion laws were already among the strictest in Europe and it is estimated that about 100,000 women seek a termination abroad each year to get around the tight restrictions.
The ruling by the Constitutional Tribunal led to protests in other cities across Poland on Thursday evening, including Krakow, Lodz and Szczecin.
In Warsaw, hundreds of people marched from the court to the home of Jaroslaw Kaczynski - who heads the governing Law and Justice party - to vent their anger at the ruling. Some held candles or carried signs with the word "torture" on them.
Current coronavirus restrictions limit public gatherings in Warsaw to just 10 people.
Police said officers used pepper spray and physical force when some protesters threw stones and tried to push through the cordon around the house. A spokesman said 15 people were detained.
The protest dispersed in the early hours of Friday but organisers called for further rallies later in the day.
Although Poland is one of Europe's most Catholic countries, opinion polls suggest there is a clear majority against making the abortion law stricter, the BBC's Adam Easton in Warsaw reports.
Rights groups had urged the government not to increase restrictions.
The Council of Europe's commissioner for human rights said the court's decision marked a "sad day for women's rights". Dunja Mijatovic wrote on Twitter: "Removing the basis for almost all legal abortions in Poland amounts to a ban and violates human rights."
However, Kaja Godek, a member of the Polish group Stop Abortion, welcomed the court's decision saying: "Today Poland is an example for Europe, it's an example for the world."
A 2014 opinion poll by Poland's CBOS research centre found that 65% of Poles surveyed were against abortion, 27% saw abortion as acceptable and 8% were undecided.
The legal challenge against the 1993 law allowing abortion in cases of severe foetal disabilities was launched by MPs from the nationalist Law and Justice party last year. A majority of the court's judges were nominated by the same party.
Ahead of the ruling, Polish sexual and reproductive health and rights activist Antonina Lewandowska told the BBC that the defence of the 1993 law was based on UN rules outlawing torture.
"It's inhuman, it's despicable honestly to make anyone carry a pregnancy to term, especially if the foetus is malformed, and 98% of legal abortions carried out in Poland are due to foetal malformations," she said.
You may also be interested in: