Belarus protests: National opposition strike gains momentum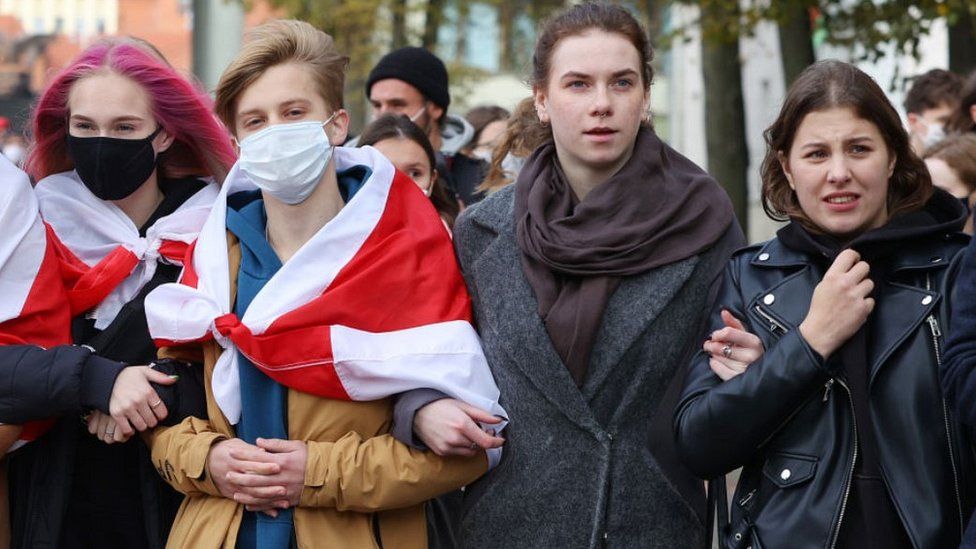 Groups of workers and students in Belarus have heeded a nationwide strike call by exiled opposition leader Svetlana Tikhanovskaya, to press for the president's resignation.
Workers at some state-run plants downed tools and chanted slogans outside the gates.
Hundreds of students also marched out of several universities in Minsk clapping, chanting and linking arms.
However, the government says key enterprises are still running smoothly.
President Alexander Lukashenko ignored the opposition's midnight deadline for him to step down. Protests have gripped Belarus since he claimed victory in an August poll widely viewed as rigged.
The interior ministry says police arrested 523 people during mass anti-government demonstrations on Sunday, 352 of whom are still in custody.
On Monday, at least 155 people were arrested for supporting the strike action in Minsk, Borisov, Brest, Grodno, Mogilev and Novopolotsk, human rights group Vesna reports.
The full scale of the protests on Monday is not yet clear, partly because of the authorities' media restrictions.
Videos posted to independent media site Tut.by show empty factories and students walking out of their universities.
A source in Minsk following the protests told the BBC that the strike was affecting some major state enterprises, including the Grodno Azot chemical plant and Minsk Tractor Plant, but they had not been brought to a standstill.
Dozens of shops, cafes and restaurants are closed in Belarus, in solidarity with the strike. Many other small businesses are also supporting the strike, our source says. But big supermarkets and public transport are still running normally.
Thousands of pensioners walked through central Minsk, eventually merging with a procession of students. Pensioners have held protest rallies every Monday. Students have also been very active, despite threats of expulsion.
Earlier an estimated 100,000 demonstrators marched for the 11th successive Sunday of protests. Many waved the opposition's red and white flags and chanted "strike" as they marched.
According to Russian news agencies, citing their correspondents at the scene, at least 10 stun grenades went off. There were also reports that riot police had fired rubber bullets.
Security forces also blocked roads in central Minsk and water cannon were put in place.
Ms Tikhanovskaya issued her ultimatum on 13 October, threatening a mass walkout by workers if Mr Lukashenko - who has ruled Belarus for 26 years - ignored their demands.
She said that Belarus had "had enough" after two months of "political crisis, violence and lawlessness".
She issued three demands from a location in Lithuania, where she has been in exile since August. In addition to Mr Lukashenko's resignation, she demanded an immediate end to police brutality and the release of all political prisoners.
Earlier anti-Lukashenko protests at state enterprises, in support of the opposition, were not sustained. There are reports of workers being warned they will lose their jobs if they go on strike.
The BBC's source in Minsk says fear is widespread, after many protesters were beaten up and tortured by police. It is common for masked men with batons to grab protesters, drag them into unmarked vans and drive off.