France targets radical Islamism amid Turkey row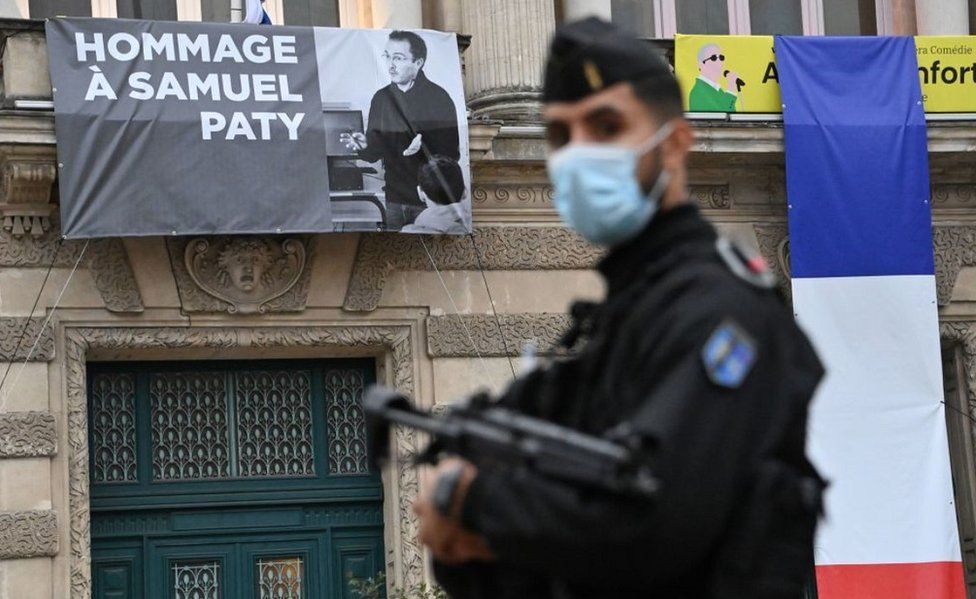 The mosque in Pantin, north-eastern Paris, was among the first signs that something this time was different.
The building, shaped like an aircraft hangar with tiny windows perched high up in its corrugated walls, stands empty and closed.
Outside is an official notice, taped in plastic against the rain, announcing its forced closure by the government for "involve[ment] in the Islamist movement", and for sharing a social media video targeting teacher Samuel Paty.
The French government's general crackdown on radical Islamism, in response to the beheading of the history teacher outside Paris this month, has been rapid and tough - a blizzard of inquiries, closures, plans and proposals that have sometimes been hard to keep track of.
"Fear will change sides," President Emmanuel Macron is widely quoted as telling his Defence Council last week.
The government has announced more than 120 searches of individual homes, the dissolution of associations accused of spreading Islamist rhetoric, plans to target terrorist funding, new support for teachers, and fresh pressure on social media companies to police content more efficiently.
Nothing on this scale happened after other attacks on President Macron's watch, despite the violent murder of some 20 people during his tenure, among them police officers, a young woman at a train station and shoppers in a Christmas market. So what's different now?
Jérôme Fourquet is a political analyst and a director of the IFOP polling agency. He believes that this attack was different, both in targeting a teacher and in its brutality, and that there has been a "shift in gear" within government.
"We are no longer dealing with organised jihadist networks," he said, "but a terrorist who came from our own country, an isolated individual who was radicalised.
"The government believes the response cannot only be about law enforcement. They also need to manage social networks and associations, because this tragic case shed light on a whole network which spreads hate speeches within the population. The system needs changing."
He said an IFOP survey two years ago suggested that a third of teachers had "self-censored" to avoid conflicts over secularism. He believes the government is right to challenge what he says are ideological threats to the Republic's laws, alongside security threats.
But Laurent Mucchielli, a sociologist at France's National Centre for Scientific Research, says that President Macron and his government have "overreacted" for political reasons; specifically, the presidential election in 2022.
"Macron is adding fuel to the fire," Mr Mucchielli said. "He doesn't want to appear on the back foot, compared to the right and the far right. His main goal is to get re-elected in 2022, [so] he needs to occupy the ground of the far right. And their themes, since the end of the 19th Century, have been immigration and security."
A poll last week suggested that the far-right leader, Marine Le Pen, is France's most trusted political leader in the fight against terrorism. Mr Macron trails her by four points. The two leaders could well find themselves facing each other in a presidential run-off in 18 months' time.
Security has widely been seen as the weak spot in President Macron's armour, trailing behind his strong image abroad and forceful economic reforms at home. But Marine Le Pen has also cast the peaceful public expression of Islam as a threat to French national identity.
Over his time in office, Mr Macron has taken great care to distinguish between security threats and secularism. For a long time, he would often side-step questions around headscarves, burkini swimsuits or halal school meals. But the febrile politics around religious expression in France has sometimes made subtlety feel like a luxury.
In September, Anne-Christine Lang, an MP from Mr Macron's liberal La République En Marche (LREM) party, walked out of the National Assembly after being asked to listen to testimony from someone wearing a Muslim headscarf.
"I can't accept that inside the National Assembly, the beating heart of democracy, we will accept someone turning up in hijab," she said.
Public servants - such as teachers and mayors - are required not to show any overt signs of religious faith, but members of the public face no such constraint under the law, even inside public buildings.
That hasn't stopped furious rows over whether parents in headscarves can accompany their child's class on school trips, or whether swimmers at the beach can wear a burkini; debates that are usually accompanied by accusations of appeasement from the Right, and of Islamophobia from the Left.
Into this political hothouse comes the current frenzy of activity after the murder of Samuel Paty, who was targeted for showing cartoons of the Prophet Muhammad to a class.
And whether or not the government's response is winning President Macron supporters at home, it's certainly rousing his critics abroad.
There have been protests in Libya, Bangladesh and the Gaza Strip, along with calls for a boycott of French products and a growing war of words with Turkey.
Turkish President Recep Tayyip Erdogan has backed the boycott, and publicly questioned Mr Macron's mental health, after the French leader defended France's secular values last week, saying the country would "never give up [its] cartoons".
France has now recalled its ambassador.
But, like many complicated relationships, this one has a long history. Mr Macron has already built up a long list of grievances against his Turkish counterpart, including Turkey's operations against Kurdish militia in Syria, gas exploration in the eastern Mediterranean and allegedly breaking a Libyan arms embargo.
Now one shocking murder and France's response to it have triggered fresh rows - both within France and outside - over the boundaries between religion and politics, and how they are used by those in power.