Joe Biden: Election fever and the Bidens' Irish relatives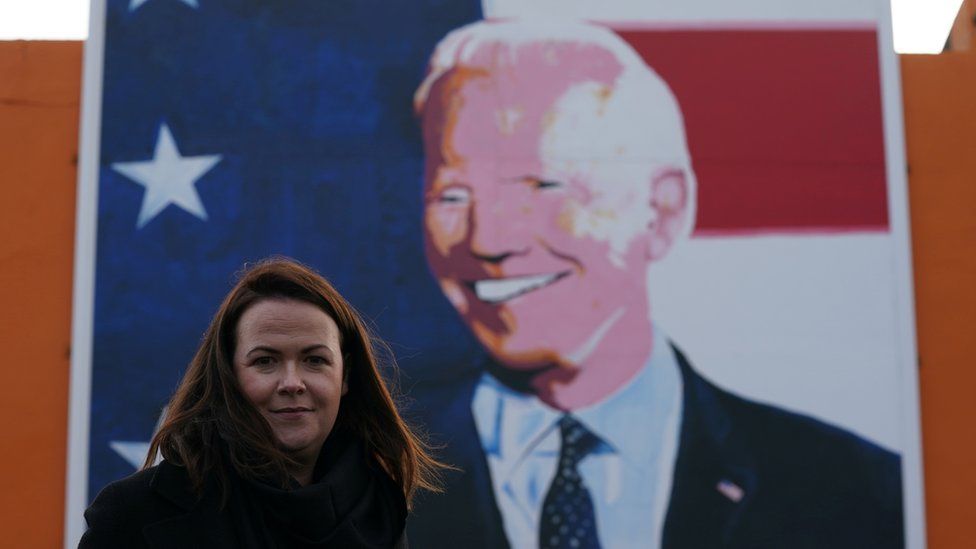 Joe Biden's performance in the US election will be watched with bated breath by two Irish communities with strong links to the presidential candidate.
His family roots stretch from the Cooley peninsula on the east coast of Ireland to the town of Ballina in the west.
"I've kept up a strong relationship with him since then," she told BBC News NI.
That included a visit to the White House in January 2017, when Laurita and her brother Joe Blewitt witnessed Mr Biden receiving the Medal of Freedom from President Barack Obama.
Ms Blewitt adds that in September 2017, Mr Biden flew to Ireland at her request to officially open the Mayo Roscommon Hospice, where she works as a fundraiser.
Earlier this year, she joined his campaign trail in Nevada, where Mr Biden invited her on stage, introducing her as "my Irish cousin".
She claims her link to Mr Biden through her father, Brendan Blewitt, who she says are distant cousins.
Her family have been aware of their connection to the US politician for decades, but Ms Blewitt says: "The media only began to take notice when he became vice president."
When he visited Ireland in that capacity in 2016, Mr Biden also already knew of his links to Ballina and Cooley.
But during that trip, he learned much more about how his Irish-born ancestors made their money and the forces that propelled them to seek a new life in America.
From selling "stinking" rotting seaweed along the County Louth coast to, quite literally, putting Ballina on the map in Mayo, the Bidens' forefathers were an industrious breed.
Shortly before his 2016 visit, the White House called the Irish Family History Centre, asking it to trace Mr Biden's ancestry and track down his closest relatives in Ireland.
Its director Fiona Fitzsimons and colleague Helen Moss spent weeks frantically searching through a huge array of historical documents, including parish records and land registers.
Their research was needed to plan where he would go and who he would meet just 10 weeks later.
Building on that research, Ms Fitzsimons and Ms Moss traced his family "back another five generations", pinning down his ancestors to an "exact" location.
Mr Biden's mother was born Catherine Eugenia Finnegan and their Irish ancestry is traced through her lineage.
Records show that Mr Biden's great-great-great grandfather, John Finnegan, married Mary Kearney in County Louth in 1813.
Both were from poor, subsistence-farming families but the Kearney clan "clearly had an entrepreneurial streak", according to Ms Fitzsimons.
The Kearneys had salvage rights on a small stretch of Louth coastline called Mara-na-trá - a place name of Irish origin which means "on the edge of the seashore".
Ms Fitzsimons says the family "ingeniously found a way to eke a bit of extra cash" by selling rotting seaweed to neighbouring farms. It was used as a form of manure to fertilise land.
By 1770, the Kearneys were selling kelp for as much as eight shillings per hundred weight to neighbouring farmers.
That was enough to spark the jealousy of their wealthy landlord, Blayney Townley Balfour, who wrote to his land agent complaining that he was not receiving any of the profits.
Ms Fitzsimons says their landlord lived in "palatial splendour" at Townley Hall, a large estate outside Drogheda.
In contrast, the Kearneys were harvesting "stinking" seaweed, which was "backbreaking" work.
"It seems very mean... Scrooge-like," she says, for Balfour who lived in "the lap of luxury" to complain about tenants who had found a way to make ends meet.
Kearney is still a very popular name in the Cooley peninsula and when Mr Biden attended lunch at a local restaurant in 2016, several members of the Kearney clan were there to greet him.
However, there is one branch of the Kearneys in particular that Mr Biden was very interested in.
However, she insists she is "very confident" there is no relation whatsoever between the Bidens' Kearney cousins and Obama's Moneygall heritage.
Since the Kennedy era, residents in several parts of rural Ireland have been thrilled when a connection to the White House suddenly puts their town or village "on the map".
Joe Biden's great-great-great grandfather, Edward Blewitt, certainly put his hometown of Ballina on the map in the early 19th Century.
'The Blewitts had the smarts'
Edward Blewitt worked as a land surveyor for the Ordnance Survey, a nationwide project which produced comprehensive, minutely detailed maps for the whole of Ireland.
He was one of three Blewitt brothers who worked on the survey from the 1830s and according to Ms Fitzsimons, this meant they were all well-educated men.
"The Blewitts had the smarts," she says, suggesting they needed not only a high degree of literacy but also a knowledge of "higher mathematics" to carry out the role.
In 1838, Edward's brother James Blewitt spotted an error in the Ordnance Survey's calculation system, which was reported and eventually corrected by the Royal Engineering School in Great Britain.
Writing in the Irish Lives Remembered magazine, Ms Fitzsimons describes Blewitt's discovery as "remarkable" because he identified a mistake which had been overlooked by "some of the most renowned mathematicians of the age".
In 1850, following years of famine which devastated Ireland, Edward Blewitt, his wife and their eight children emigrated to America, sailing together on a ship called the Excelsior.
The Blewitts settled in Scranton, Pennsylvania, where the future presidential candidate was born nearly a century later.
Their namesake, Laurita Blewitt, had hoped to be in the US for election night next week, but the pandemic scuppered her travel plans.
Covid restrictions in Ireland mean her family can not gather together in Ballina either, so she has to settle for watching at home on TV.
"I'll be staying up throughout the night waiting for the result," Ms Blewitt says.
So whether Joe Biden's Irish cousins are celebrating or drowning their sorrows, election night is likely to be a much quieter affair than usual.