Covid: Merkel warns of 'long, hard winter' as lockdowns return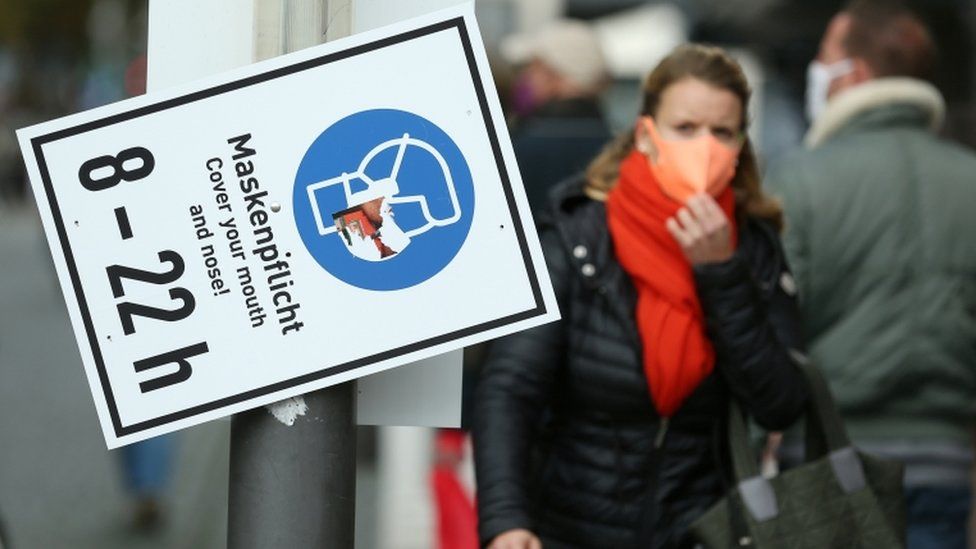 German Chancellor Angela Merkel has warned of a long, hard winter ahead as she defended the reinstatement of a national lockdown.
Mrs Merkel was heckled by right-wing MPs as she outlined the new measures in parliament.
Rising coronavirus infections and deaths are triggering tougher restrictions across Europe.
France restores a lockdown on Friday, ordering people to stay at home except for essential work or medical reasons.
President Emmanuel Macron said the country risked being "overwhelmed by a second wave that no doubt will be harder than the first".
Daily Covid deaths in France are at the highest level since April. On Thursday, authorities reported 47,637 new cases compared to 36,437 a day earlier and 235 new deaths, nine fewer than on Wednesday.
German health officials said on Thursday that another 89 people had died in the past 24 hours, with a record 16,774 infections.
Germany's new measures, which come into force on Monday, are not as far-reaching as in France, but they include the closure of restaurants, bars, gyms and theatres, Mrs Merkel said.
European Commission President Ursula von der Leyen said the continent was "deep in the second wave".
"I think that this year's Christmas will be a different Christmas," she said.
The first wave of the virus earlier this year hit some parts of Europe incredibly hard, while other areas were able to escape the worst.
Italy, Spain, France and the UK were among the worst-hit nations, with all imposing strict national lockdowns that over time brought cases, hospital admissions and deaths down to a very low level but ravaged economies.
Restrictions started to lift in the early summer, with non-essential shops, bars and restaurants reopening, and travel restarting. But in August cases began to rise again, with a major acceleration in recent weeks that has alarmed policymakers.
Countries that were not hit badly by the first wave - such as the Czech Republic and Poland - have not been spared this time, with experts warning of alarming infection rates across much of the continent.
What are Germany and France doing?
Addressing parliament on Thursday Mrs Merkel said that "winter will be hard - four long, difficult months - but it will come to an end".
"This pandemic brings the question of freedom to the fore. Freedom is not 'every man for himself', it is responsibility - for oneself, one's family, the workplace. It shows us we are part of a whole," she said.
During her speech, Mrs Merkel was heckled by members of the far-right Alternative for Germany (AfD) party who oppose the restrictions. Leader Alexander Gauland accused the government of "corona dictatorship".
In response, Mrs Merkel warned that disinformation and conspiracy theories undermined the fight against the pandemic.
While Germany has a lower infection rate than many other parts of Europe, the speed with which the virus has been spreading in recent weeks has alarmed the government.
Germany's partial lockdown will last until 30 November under terms agreed by Mrs Merkel and the 16 state premiers.
Bars and restaurants will close except for takeaway, but schools and kindergartens will remain open. Social contacts will be limited to two households with a maximum of 10 people and tourism will be halted.
In terms of economic help, smaller companies and the self-employed badly hit by the lockdown will be reimbursed with up to 75% of their November 2019 takings.
Meanwhile in France, Mr Macron said that under the new rules, people would need to fill in a form to justify leaving their homes, as had been required in the initial lockdown in March. Social gatherings are banned.
But he made clear that public services and factories would remain open, adding that the economy "must not stop or collapse".
"Like all our neighbours, we are submerged by the sudden acceleration of the virus," said Mr Macron.
Prime Minister Jean Castex told parliament on Thursday that all students aged six and over would have to wear face masks in class "to protect all our children, teachers and parents". Until now masks have only been mandatory for students aged 11 and older.
He said companies would be strongly urged to have their employees work from home "five days a week".
"We have to keep working as much as possible, but of course under strict sanitary conditions that stop the virus from spreading," he said, adding: "Unemployment and poverty can also kill."
He later gave more details on what was permitted under the new rules, including going out for food shopping, going to work, going to a doctor or to a hospital or responding to a judicial or administrative summons. People are also allowed out for up to an hour for physical exercise or to take pets out - but only for a distance of 1km from their home.
Ahead of All Saints Day on 1 November - an important day in France when families traditionally visit the graves of loved ones - the government said florists would be allowed to remain open until Sunday evening.
Unlike the previous lockdown, markets, parks and gardens will be allowed to stay open. Sports halls and gyms are to close.
What's the situation elsewhere in Europe?
Italy, which was the European epicentre at the start of the first wave of the virus, has already introduced new restrictions which will be in place for a month. All bars and restaurants across the country have to close by 18:00, although they can provide takeaways later. Gyms, swimming pools, theatres and cinemas have to close, but museums can remain open. Gatherings for weddings, baptisms and funerals are banned.
Spain began its nationwide curfew on 25 October after the government declared a new state of emergency. People in all regions, with the exception of the Canary Islands, have to stay at home between 23:00 and 06:00.
Belgium, which has Europe's second-worst infection rate per capita, has reported its highest number of hospital admissions for Covid-19 since a peak on 6 April. There are 5,924 patients in hospital with the virus, 993 of whom are in intensive care. In a national address on Wednesday night, Prime Minister Alexander De Croo described the situations as "critical".
The Republic of Ireland went into a second national lockdown earlier this month for a six-week period.