Vienna shooting: What we know about 'Islamist terror' attack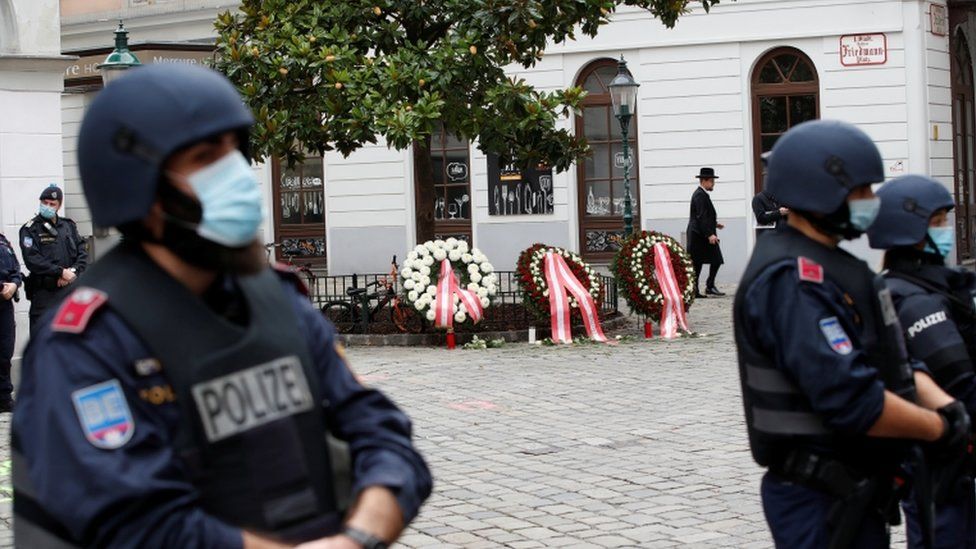 Four people have been killed and 23 others have been wounded in a gun attack in the Austrian capital, Vienna.
The gunman was shot dead by police.
Here's what we know about the attack.
The shooting began at 20:00 (19:00 GMT) on 2 November, when a heavily armed man opened fire on people in Vienna's popular nightlife area known as the Bermuda Triangle.
Many were out enjoying drinks and eating out before a looming midnight curfew, as Austrian restrictions were about to come into effect to try to stem rising cases of coronavirus.
Initially police were unsure how many attackers there were. Some witnesses spoke of two or more, and it took almost two days for police to go through thousands of hours of mobile phone footage to determine that the gunman was acting alone.
Members of the special forces quickly arrived at the scene. One police officer was shot and injured before the perpetrator, who was armed with an automatic rifle, a pistol and a machete, was shot dead at 20:09 local time. He was also wearing a fake bomb vest.
A major anti-terrorist operation then swung into action and police set up roadblocks around the city centre.
Meanwhile, police in the neighbouring Czech Republic said they were carrying out random checks on the border in case other suspects fled in that direction. Germany also stepped up checks at its borders.
In all there were six crime scenes, including opposite Vienna's main Stadttempl synagogue. The gunman was eventually shot dead near St Ruprecht's Church.
Two women and two men were fatally shot during the nine minutes of terror in the heart of Vienna:
A 21-year-old man originally from North Macedonia was shot first; Nedzip V. was described as a painter who loved football and played for years for local club FC Bisamberg
A 24-year-old German student was killed in front of the Salzamt restaurant on Ruprechtsplatz where she worked as a waitress; she'd been studying at the nearby University of Applied Arts
A 44-year-old Austrian woman was shot on Seitenstettengasse and died later in hospital of her wounds. Reports said she worked nearby for Vienna-based company Tribotecc
A 39-year-old Austrian man was shot in front of a bar and was later found dead on Franz-Josefs-Kai
In all 23 others were wounded, 13 of them by bullets.
What we know about gunman
The gunman was later identified as a 20-year-old "Islamist terrorist" who was released early from jail in December. Jihadist group Islamic State (IS) claimed on its propaganda outlet Amaq that it was behind the attack.
Interior Minister Karl Nehammer said he had been jailed for 22 months in April 2019 after trying to get to war-torn Syria to join Islamic State (IS) jihadists. He had travelled to Turkey in September 2018 and was held there before being returned to Austria and arrested as a "foreign fighter" in January 2019.
He was eventually named as Kujtim Fejzulai, who had both Austrian and Macedonian citizenship. He also had a previous conviction for terrorist association, Mr Nehammer said.
Police searched his home and seized video material, and arrested 14 of his friends and acquaintances.
Swiss police detained two more people, described by the justice minister there as "colleagues" of the gunman. "The three men also met in person," Karin Keller-Sutter told St Galler Tagblatt.
Fejzulai travelled to Slovakia in July 2020 in search of ammunition for an AK-47 but his attempted purchase was turned down because he had no gun licence, it has emerged.
Slovak police immediately informed their colleagues about the "suspects from Austria", but the interior minister in Vienna revealed that the case was not followed up properly by the BVT domestic intelligence agency. "Something obviously went wrong in communication," he said.
The Vienna attacker is believed to have spent time as a teenager at a notorious mosque in the Ottakring area of Vienna. Austria's Muslim community organisation IGGÖ has made clear it has nothing to do with the mosque, whose preacher is said to have led a German-speaking brigade to Syria before being killed in a drone strike
The dead gunman's original defence lawyer, Nikolaus Rast, told Austrian media that the gunman had come from a totally normal family but fell in with the wrong type of friends.
"He was a young man who was searching for his place in society, who apparently went to the wrong mosque. I'd never have imagined he could become a killer."
When Fejzulai was freed from jail in December 2019 under more lenient terms for young adults, the interior minister said it was because he had convinced authorities that he no longer held extremist Islamist views.
However, the Derad association that handles a de-radicalisation programme in Austria's jails rejected the minister's claim that the gunman had "fooled" its staff into granting him an early release. He was never assessed by his supervisor as "de-radicalised", the association insisted, but had been subject to strict parole conditions.