Vienna shooting: The night my safe city lost its innocence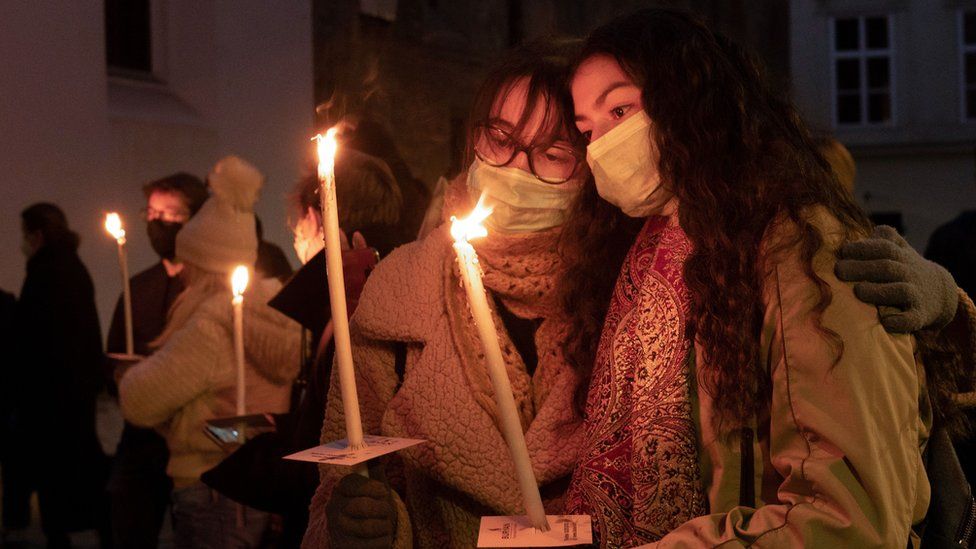 In recent years, Vienna has built up a reputation as a very safe city, a place where many women feel comfortable walking alone late at night.
For almost four decades it escaped the kind of large-scale attacks that have hit places such as Paris, London and Berlin.
That changed on Monday night, when a 20-year-old gunman, described by Austrian authorities as an "Islamist terrorist", killed four people and wounded more than 20 others.
He targeted an area that during the day appears quiet and sedate.
Its narrow medieval streets are home to Vienna's oldest church, St Ruprecht's, and to the city's main synagogue, the Stadttempl, the only Jewish house of worship to survive the Nazi Kristallnacht pogrom in 1938.
But at night, when its many bars and clubs open, it transforms into one of Vienna's most popular party zones. "It's called the Bermuda Triangle because you can get lost for days here, drinking and dancing," a friend told me when I first arrived here.
In the cold morning light, you could clearly see the smears of blood on the steps of the Salzamt restaurant, in an old cobbled square, three minutes' walk from the synagogue.
A young German student, who worked as a waitress at Salzamt, was one of the gunman's four victims. She studied at Vienna's University of Applied Arts.
Someone had placed a candle and a bunch of yellow roses on the doorstep.
On one of its outside tables stood an upturned bottle of wine in an ice bucket and several glasses of beer, some half-drunk, one hardly touched - the remnants of an evening out cut brutally short by a gunman with an automatic rifle.
Behind me I could hear a woman weeping bitterly, crouched on the ground.
Central Vienna is small. I go running past this area on most days.
The shootings began at 20:00 on Monday. It was a warm evening, and lots of people were enjoying a final night out before a second coronavirus lockdown began in Austria.
For nine terrifying minutes, the gunman ran through the streets near the synagogue, firing into bars and restaurants, before the police shot him dead.
A 44-year-old Austrian woman who worked at a nearby company
An Austrian man of Chinese origin fatally shot in front of a fast food restaurant
A 21-year-old Austrian man, who played for a local football club. He was a Muslim, originally from North Macedonia.
The authorities say the wounded included people from Austria, a Swiss-German woman, a Bosnian, two Slovaks, and a woman from China, as well as a man from Luxembourg, an Afghan and three Germans.
'I couldn't believe it was happening'
Interior Minister Karl Nehammer said the gunman had been born in Vienna to parents who also came from North Macedonia.
People here are in a deep state of shock.
The synagogue was the target of a deadly Palestinian militant attack in 1981. It has been heavily guarded ever since.
But Rabbi Schlomo Hofmeister said his first reaction when he heard the shooting on Monday night was that people were letting off fireworks.
Maximilian, a young Viennese, was out with some friends for a pizza. "It was one of the scariest moments in my life," he told me. "I couldn't believe it was happening in Vienna."
A political row has broken out over whether the authorities could have done more to prevent the attack.
The gunman had already served a prison sentence for trying to go to Syria to join Islamic State jihadists, but he was released early because of his youth.
Mr Nehammer said the attacker had managed to fool a deradicalisation organisation - a claim the organisation has denied.
However, he did admit that intelligence services failed to communicate information from Slovakia, that the attacker tried to buy ammunition there. And he accused his predecessor from the far-right Freedom Party of weakening Austria's main BVT intelligence agency.
Opposition parties say the government is trying to shift the blame.
Austria's Islamic community has strongly condemned the shooting, but there is deep concern that the attack will fuel anti-Muslim sentiment in Austria.
However, one man I spoke to at the Bermuda Triangle told me it would take more than a lone attacker to break Vienna's spirit.
"Look over there," he told me, pointing to where two women in hijabs were lighting a candle in front of the Salzamt restaurant.
"The guy was a loser," he said. "We are stronger. Who was it who helped rescue the policeman who was shot near here?" he asked rhetorically. "Three Muslims."
The men, of Turkish and Palestinian origin, have been reported about in the Austrian media.
Religious leaders joined a memorial service for the victims at Vienna's St Stephen's Cathedral, and students gathered at Morzinplatz, close to where the shootings occurred. They included people from Jewish and Muslim groups.
Many Viennese are taking comfort in defiant bad language. A man was filmed swearing at the gunman in thick Vienna dialect, A version of his words - unrepeatable here - is now doing the rounds on social media.
Another woman posted video of the orchestra in the Vienna opera house during the shootings, playing a Haydn string quartet to the audience, while they waited for the police to allow them to leave.
Nothing would ever stop the music in Vienna, she said.