Coronavirus: Italy imposes regional lockdown as Europe battles surges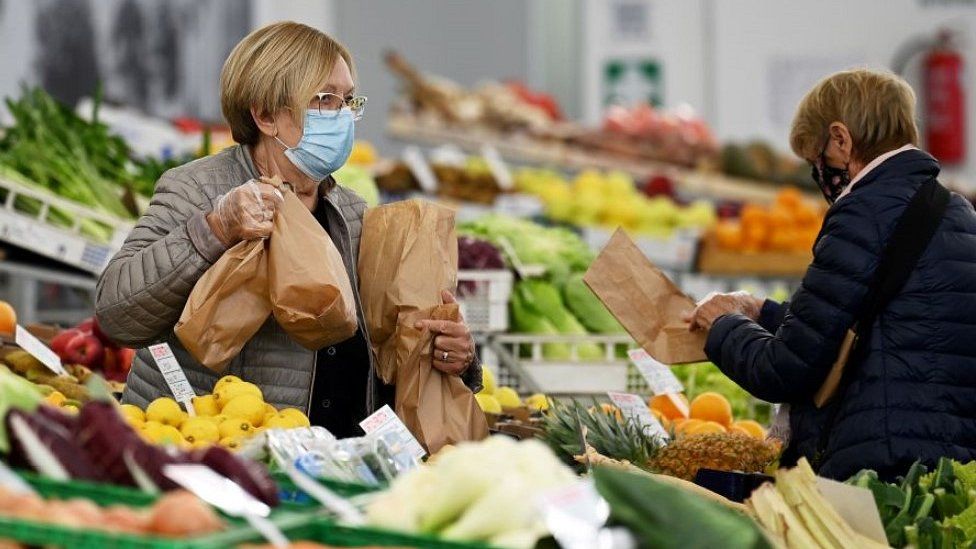 Much of Italy is now in lockdown, including the densely populated northern Lombardy region, after the Covid-19 death toll for 24 hours hit 445 - a six-month record.
Italy is now split into three zones: red for high risk, then orange and yellow. The red areas are Lombardy, Piedmont and Aosta Valley in the north and Calabria in the south.
The whole country has a night curfew.
In neighbouring Slovenia police clashed with violent anti-lockdown protesters.
Riot police used water cannon and teargas to disperse the crowd of several hundred outside parliament in the capital Ljubljana. Some demonstrators threw bottles, stones and smoke bombs at officers.
Slovenia is under partial lockdown, as coronavirus infections have spiked there as in much of Europe. Thursday night's violence was the worst in Slovenia for years.
In Italy's red zones, which cover an estimated 16.5 million people in a population of 60 million, you can now only leave home for work, health reasons, essential shopping or emergencies, but all non-essential shops are closed.
Bars and restaurants are also shut but people can exercise near their homes if they wear masks and hairdressers can remain open.
Lombardy, which includes Milan, was the worst-hit area in Italy's March crisis - and it was Europe's first coronavirus hotspot.
Nationally all older secondary school pupils in Italy are studying from home.
The orange - medium-risk - regions are Puglia and Sicily in the south. People there can move freely but not leave their home town or city, and shops remain open. In the yellow zone, including Rome, only the national restrictions apply, which involve a curfew from 22:00 to 05:00 local time.
French anger over books and schools
France has now been in nationwide lockdown for a week, but on Thursday it reported a record 58,046 people infected over 24 hours and a further 363 deaths. Paris is now banning food and alcohol takeaways and deliveries during the night curfew, between 22:00 and 06:00.
For three days French school students have been demonstrating in several cities, in some cases blocking traffic, as they argue that Covid hygiene measures in school are inadequate, putting them at risk.
There is also widespread anger at the French government's decision to close bookshops under the lockdown rules - more than 188,000 people have signed a petition to President Emmanuel Macron, deploring the closure in a book-loving nation.
The government has said it will cover the cost of postage for independent booksellers during the lockdown "to help them continue their activity by selling online".
The second Covid wave is also hitting several other countries hard:
For the first time in Germany the 24-hour total for people newly infected has gone above 20,000 - officially it was 21,506 on Friday
Russia also reported a new record high: 20,582 new infections and 378 deaths over the previous 24 hours
Denmark has imposed a lockdown in seven North Jutland provinces because of concerns over a coronavirus mutation found in mink that can spread to humans. Denmark has started culling all its mink, farmed for their fur - a population of as many as 17 million animals
Poland is to shut cinemas, museums and most shopping centres on Saturday, after new daily infections rose to a record of nearly 24,700.