Coronavirus: Fake test certificate gang foiled at Paris airport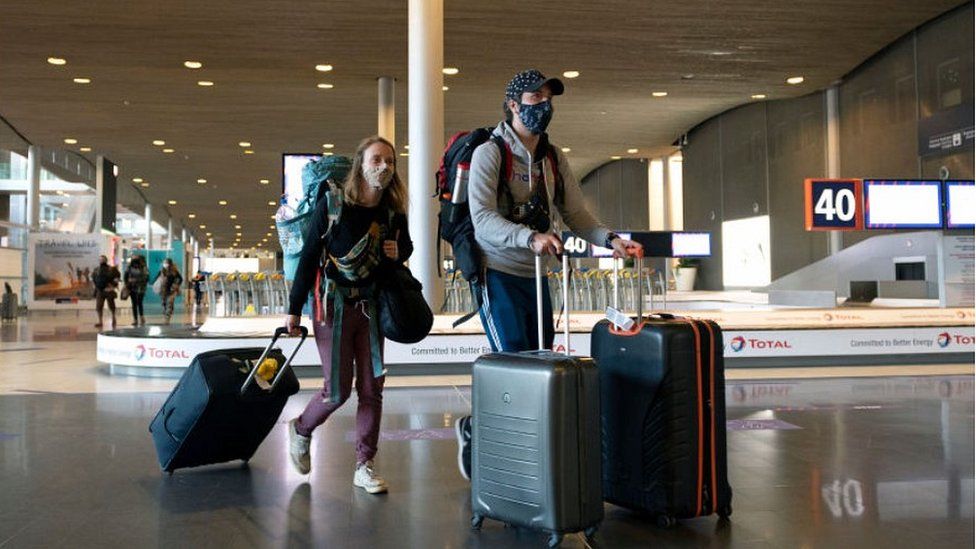 French police have arrested seven people accused of offering fake negative Covid-19 test certificates to departing passengers at Paris Charles de Gaulle airport.
The six men and one woman were found to have more than 200 counterfeit certificates on their mobile phones.
The fakes would have been sold for up to €300 (£271) each, prosecutors say.
The arrests came after the certificate of a passenger bound for Ethiopia was found to be false.
The fake certificates bore the names of real Parisian medical laboratories.
Some airlines and destinations now require passengers to show a recent negative test certificate, under tighter immigration rules.
The seven had been running an unlicensed business as luggage-wrappers, but that had suffered when passenger numbers crashed in the coronavirus pandemic, AFP news agency reported, quoting an airport source.
They face charges of forgery and complicity in fraud, which carry a maximum penalty of five years in prison and a €375,000 fine.
France last week imposed a new national lockdown as it aims to curb one of Europe's biggest coronavirus surges and ease the pressure on its hospitals.
The country has recorded more than 1.6m coronavirus cases and over 39,000 deaths.