Coronavirus: Denmark shaken by cull of millions of mink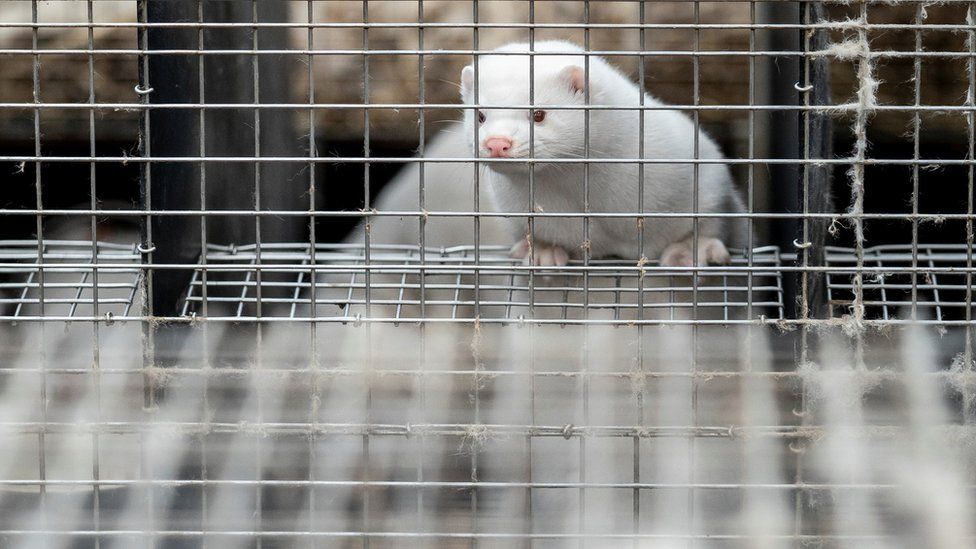 There was shock last week when Denmark decided to cull all its mink - up to 17 million animals - because of the spread of coronavirus. That national cull has turned into a political outcry, now that the prime minister has admitted the plan was rushed and had no legal basis.
Danish authorities worry that a mutated form of coronavirus found in mink could potentially hamper the effectiveness of a future vaccine.
As the politicians argue, mass graves have appeared in the Danish countryside filled with the slaughtered animals.
Police and the armed forces have been deployed and farmers have been told to cull their healthy animals too -but the task will take weeks.
"We have 65,000 mink. In the coming week all will be put down," says Martin From, pointing to rows of long huts housing thousands of mink on his farm in rural Funen. A Danish flag flies at half-mast in his garden.
Warning: You may find some of the images below upsetting
Overnight he has seen his livelihood wiped out. "It seems very unjust," he adds.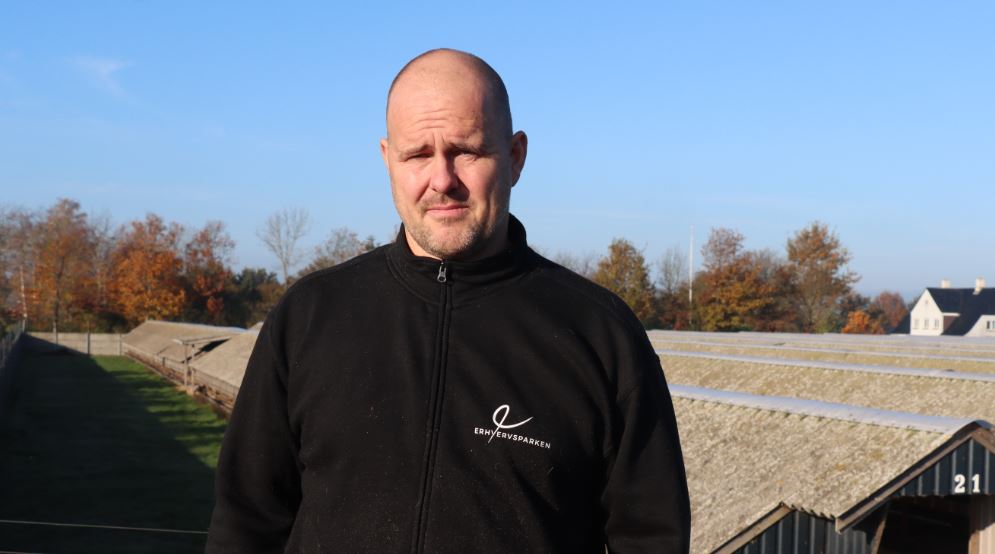 BBC
This is the end of our business with mink farming, we won't be able to start up again
Mr From is a third-generation fur farmer, and after 60 years of the family business, the cull has devastated him. He is not alone. Farmers have appeared on Danish TV in tears.
Denmark's mink cull has in fact been going on for several weeks, with 2.85 million already put down. By Tuesday, coronavirus had been reported on 237 farms in Jutland with further cases suspected on another 33.
The Danish Veterinary and Food Administration says the cull is complete on 116 farms and the work continues.
Denmark is not the first country to report outbreaks on fur farms but it is the world's biggest producer. Spain, Sweden, Italy, and the US have all been affected, as has the Netherlands, where mink farming will be outlawed by spring next year.
Here in Denmark, more than one in five farms have reported infections.
Scientists from Statens Serum Institute in Copenhagen first raised the alert after detecting mutations in strains of coronavirus found in mink. Then came the order for a mass cull last Wednesday and a four-week lockdown for people living in the northwest of the country.
"Mutation happens all the time, but once in a while these mutations happen in the spike protein," says Prof Anders Fomsgaard, SSI's head of virus research.
That spike protein of the coronavirus is the target of some vaccines in development. "So we are a little nervous once we see mutations that change amino acids and the shape of this protein," he tells the BBC.
Covid-19 originally came from a wild animal, it was then transmitted to humans and, later, passed on to farmed mink, before jumping back to a small number of humans.
Several different mutations have been discovered in the virus in mink that do not arise in humans. But one called "Cluster 5" is of particular concern and 12 people are known to have caught it in Denmark. More than 200 other people have contracted other mink-related strains of the virus.
Prof Fomsgaard stresses that the worry about a vaccine is hypothetical so far. But tests have found that patient antibodies responded less well to Cluster 5 and further laboratory investigations are being carried out.
"We are working hard to find if this has any biological effects and vaccine issues. Therefore we have to look into it immediately before this potential problem grows."
The infections have attracted widespread international attention, and prompted the UK to ban travellers from Denmark.
However there's also concern that Denmark may have overreacted and scientists at home and abroad have tried to assess the risk.
While scientists told Denmark's Berlingske Tidende newspaper that Cluster 5 had not been detected since September, the head of Denmark's health authority, Soren Brostrom, said the risk was too great when the virus was spreading among the mink population.
'Mistakes have been made'
The government admitted on Tuesday it lacked the legal framework for a nationwide order and only had jurisdiction to cull infected mink or herds within a safety radius.
"It is a mistake. It is a regrettable mistake," said Prime Minister Mette Frederiksen as she apologised to parliament.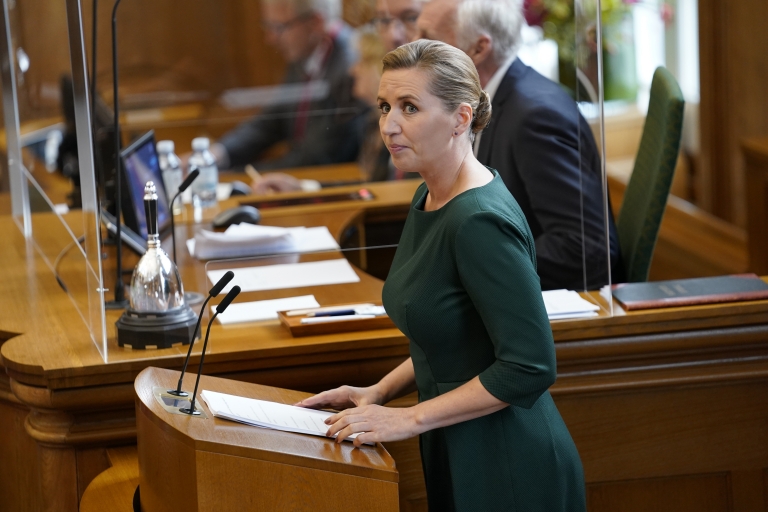 EPA
Even if we were in a rush, it should have been completely clear to us that new legislation was required, and it was not. I apologise for that
The government has tried to remedy that by rushing through emergency legislation, but opposition parties say they are unlikely to support the new bill and getting it through parliament could take time.
Liberal Party chairman Jakob Ellemann-Jensen called it "shocking" and criticised a lack of transparency. Compensation for farmers should have been in place first, he said. Even parties allied to the government have called for an investigation.
"Mistakes have been made," said Mogens Jensen, Minister for Food, Agriculture and Fisheries. "But that does not change the fact that there is a great risk of having mink breeding in Denmark under corona."
Farmers were recently sent papers telling them to cull their herds by 16 November but some have refused to co-operate.
But Martin From says with coronavirus spreading between farms he cannot afford to wait. "We are just carrying on. it makes no difference."
Is this the end of the mink business in Denmark?
Denmark is home to more than 1,000 farms, so the head of trade body Kopenhagen Fur has termed the nationwide cull a disaster.
"It is a de facto permanent closure and liquidation of the fur industry," said its chairman, Tage Pedersen, who predicted 6,000 jobs could be affected.
The industry had a reported turnover of almost $1bn (£750m) in 2018-19. Furs are sold to the garment industry but also used in some false eyelash products. China and Hong Kong in particular provide the biggest market.
Coronavirus outbreaks have already spelled the end of the mink industry in the Netherlands. The UK and Austria banned fur production years ago, Germany has phased it out and Belgium, France and Norway plan to as well.
Across Europe there are some 4,350 mink farms, with Poland, Finland, Lithuania and Greece also part of the sector.
Industry group Fur Europe insists demand for natural fur is still strong. "The market has already reacted to next year's reduced supply with higher pelt prices," it told the BBC.
But Danish animal rights groups believe it is time to follow the example of other European countries and phase out the trade completely.
"It's highly unacceptable to treat animals the way that mink are treated in the industry," says Birgitte Iversen Damm of Animal Protection Denmark.