New Kim: Racing pigeon from Belgium sold for record €1.6m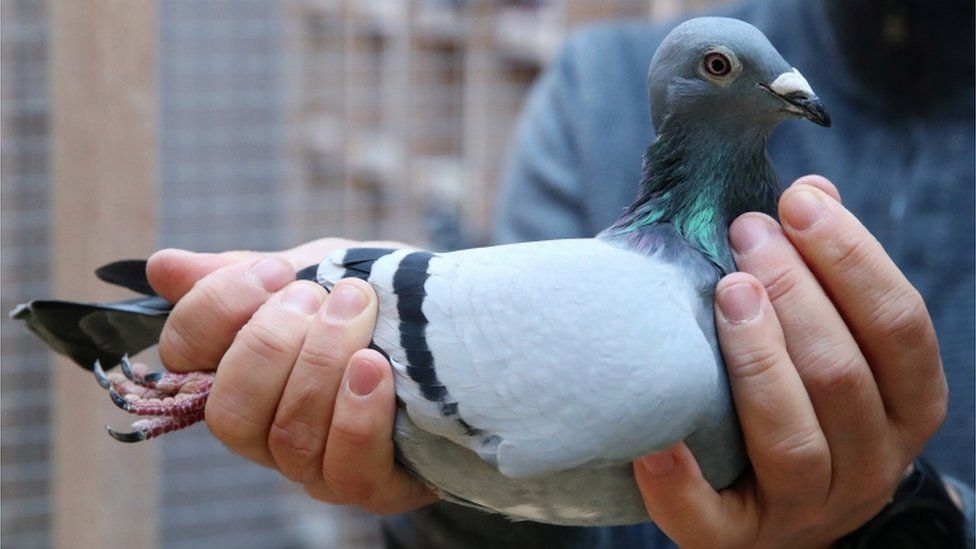 A racing pigeon from Belgium has set a new record after being sold for €1.6m ($1.9m, £1.4m).
New Kim, a two-year-old female, was initially put up for auction for just €200, but was bought by a bidder from China on Sunday for the record amount.
Kurt Van de Wouwer, whose family bred and owned the pigeon, said they were "in shock" at the news, according to Reuters news agency.
Champion racer Armando, who was nicknamed the "Lewis Hamilton of pigeons" after the Formula 1 world champion, was retired and had already fathered a number of chicks when he was put up for sale in 2019.
New Kim won a number of competitions in 2018 - including national middle-distance races - but has since retired.
Like Armando, New Kim was bought after a bidding war between two buyers from China, where pigeon racing has grown in popularity in recent years.
Racing pigeons can carry on having chicks until they are about 10 and it is expected that New Kim's new owners will use her for breeding.
But the auctioneers said this made the sale even more unusual.
"These record prices are unbelievable, because this is a female," Nikolaas Gyselbrecht, the CEO and founder of the auction house Pipa, told Reuters. "Usually a male is worth more than a female because it can produce more offspring."
Belgium has long been a home for pigeon enthusiasts, with more than 20,000 pigeon breeders in the country, according to Mr Gyselbrecht.