France's Macron asks Muslim leaders to back 'republican values' charter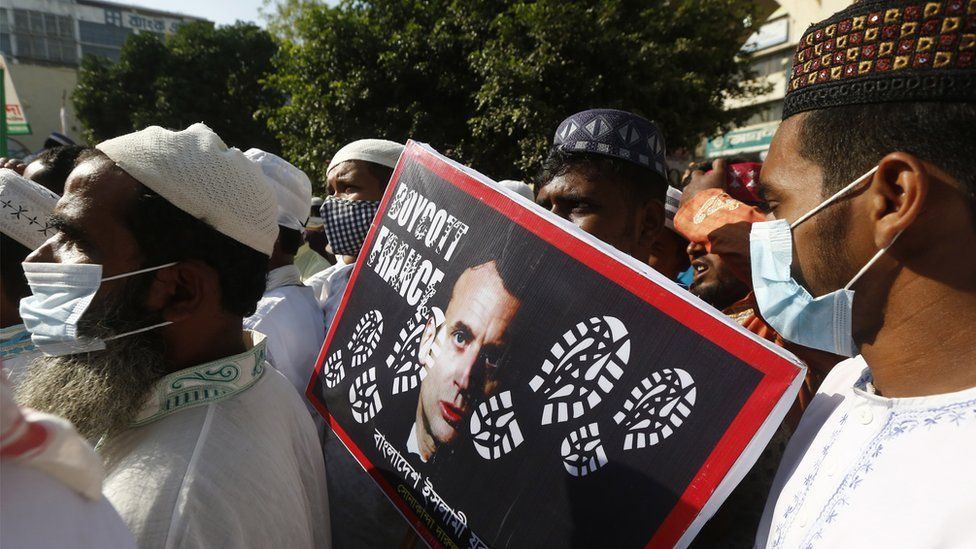 French President Emmanuel Macron has asked Muslim leaders to agree a "charter of republican values" as part of a broad clampdown on radical Islam.
On Wednesday he gave the French Council of the Muslim Faith (CFCM) 15 days to work with the interior ministry.
The CFCM has agreed to create a National Council of Imams, which will reportedly issue imams with official accreditation which could be withdrawn.
It follows three suspected Islamist attacks in little more than a month.
The charter will state that Islam is a religion and not a political movement, while also prohibiting "foreign interference" in Muslim groups.
Mr Macron has strongly defended French secularism in the wake of the attacks, which included the beheading of a teacher who showed cartoons of the Prophet Muhammad during a class discussion last month.
Late on Wednesday, the president and his interior minister, Gérald Darmanin, met eight CFCM leaders at the Élysée palace.
"Two principles will be inscribed in black and white [in the charter]: the rejection of political Islam and any foreign interference," one source told the Le Parisien newspaper after the meeting.
The formation of the National Council of Imams was also agreed upon.
President Macron has also announced new measures to tackle what he called "Islamist separatism" in France.
The measures include a wide-ranging bill that seeks to prevent radicalisation. It was unveiled on Wednesday, and includes measures such as:
Restrictions on home-schooling and harsher punishments for those who intimidate public officials on religious grounds
Extending to all children a national identification number (INE) that would be used under the law to ensure they are attending school. These numbers already exist inside the school system but would also include home-schooled children and those in some private schools. Parents who break the law could face up to six months in jail as well as large fines
A ban on sharing the personal information of a person in a way that allows them to be located by people who want to harm them
"We must save our children from the clutches of the Islamists," Mr Darmanin told the Le Figaro newspaper on Wednesday. The draft law will be discussed by the French cabinet on 9 December.
Samuel Paty, the teacher who was killed outside his school last month, was targeted by an online hate campaign before his death on 16 October.
Le Monde newspaper has published emails sent between Paty and colleagues in the days after he showed the cartoons in class.
"It's really distressing and particularly as it comes from a family whose child wasn't in my lesson and isn't someone I know," Paty wrote. "It's becoming a malicious rumour."
He later wrote in a separate email: "I won't do any more teaching on this topic - I'll choose another freedom as a subject for teaching."
Earlier this year, President Macron described Islam as a religion "in crisis" and defended the right of magazines to publish cartoons depicting the Prophet Muhammad. Such depictions are widely regarded as taboo in Islam and are considered highly offensive by many Muslims.
Following these comments, the French leader became a figure of hate in several Muslim-majority countries. Protesters have also called for a boycott of French products.
In France, state secularism (laïcité) is central to the country's national identity. Freedom of expression in schools and other public spaces is part of that, and curbing it to protect the feelings of a particular religion is seen as undermining national unity.
France has Western Europe's largest Muslim population.
Clarification 23 November: This article has been amended to make clear that identification numbers already exist for many school pupils, but under these plans would be extended to include all children.