Melania Trump's hometown in Slovenia hopes its fame will last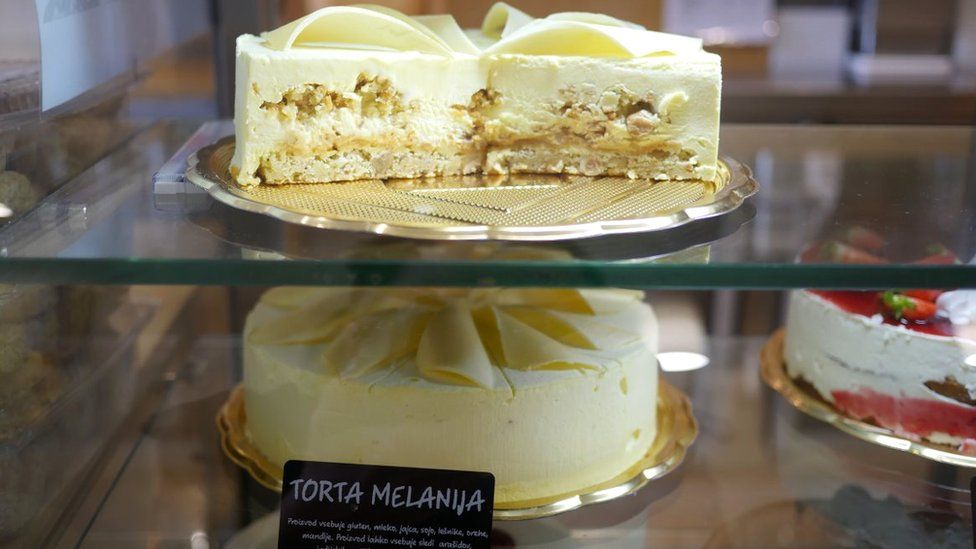 Torta Melanija takes pride of place in the display case of a smart patisserie attached to Sevnica's only hotel.
Waves of light, golden chocolate wobble atop an expanse of cream-covered white chocolate mousse - a colour scheme chosen in honour of Sevnica's most famous daughter, Melania Trump.
For the past four years, the people here have leveraged minor international fame to promote their central Slovenian town and its products. But now the Trump presidency is entering its final weeks, there is the sense of the end of an era for Sevnica as well.
"We wanted the cake to be elegant, to resemble Melania - with gold, because of the Trumps, and white because of the White House," says Nusa Vidmar, the owner of the Slascicarna Julija patisserie.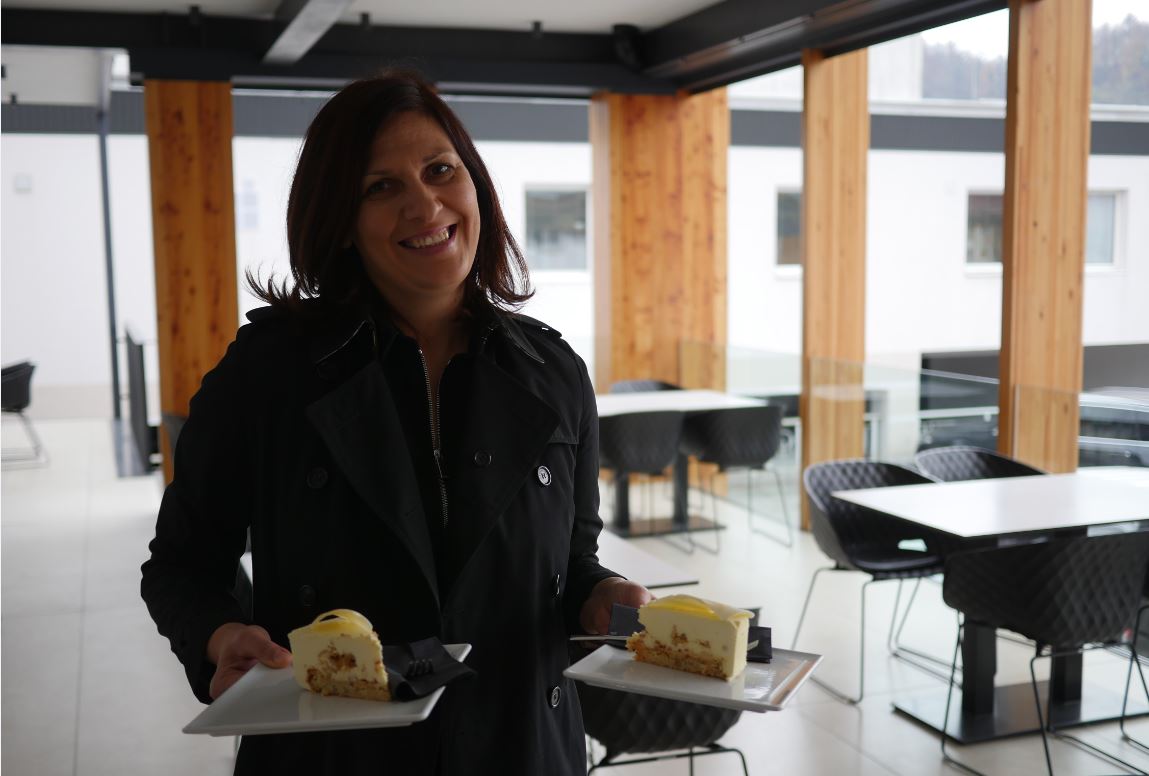 BBC
We wanted to catch the moment and make it great in our own way
It also contains nuts, which were a seasonal ingredient when Melania Trump became First Lady in January 2017.
Visitors arrive in this town of 5,000 people via a winding route that follows the River Sava through a forest and emerges at a sawmill, where logs are piled high on trailers.
On the banks of the Sava, a short drive out of town, a lumpen figure on a tree stump raises an arm - whether in distress or greeting is for the viewer to judge.
This is the second version of a statue simply called Melania. The original, wooden figure, which bore not even a passing resemblance to Sevnica's famous ex-resident, was burned by an unknown arsonist over the summer.
In Sevnica they studiously separate politics from their tangential connection to Washington DC.
"In our patisserie, we have a lot of people from all over the world - they all tried the Torta Melanija, but I don't think they just came for the cake," the owner remarks. "It was a big thing for us - a big thing for Slovenia as well. It was a historical moment - and I don't think that we will see such a moment again."
Find out more about Melania Trump and Slovenia
But that does not mean an end to the benefits the Melania connection will bring to Sevnica.
Inside the stout 16th-Century castle on the hill above the town, a collection of local products branded "First Lady" are on sale. To some it might seem like cashing in, and what Melania Trump might make of having a salami named in her honour is anybody's guess.
But developing a range of high-end, locally produced gifts - including wine, chocolate and beauty cream - involved a joint effort by local authorities and businesses.
Mayor Srecko Ocvirk says that unified approach reflects a community that is now confident in presenting Sevnica to the world.
"Sevnica is not a traditional tourist destination. But what happened four years ago had a very good effect on the recognition of the town," he believes. "That brought local people together and encouraged businesses to join forces and co-operate."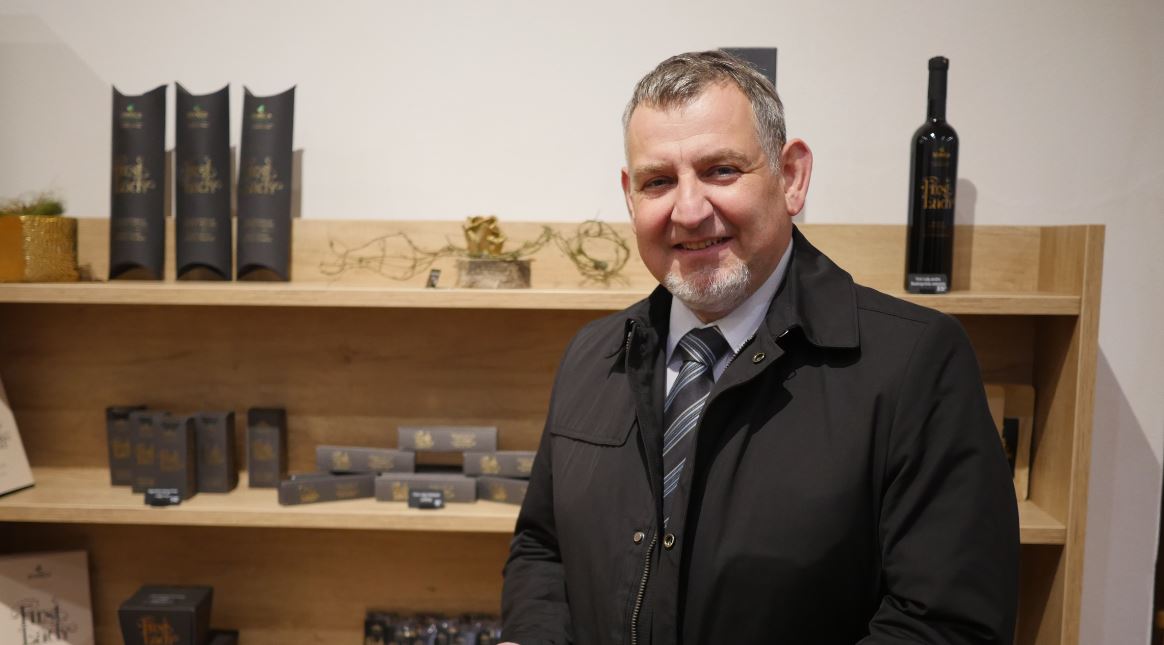 BBC
For local businesses that do business internationally, the name recognition of Sevnica has really helped
Despite Mrs Trump's impending departure from the White House, Sevnica has decided to continue to offer its First Lady products, and even add more items to the range.
Taking the air close to the Melania statue, local resident Smiljan Slukan confides that his father was Melania's form teacher at primary school. But that doesn't affect his view of the US presidential election's outcome.
"It wasn't a big deal for me personally when she became First Lady, and her departure probably won't make an impact on me now."
A strictly non-scientific straw poll on the streets of the town suggests this is a widely held view. But in the patisserie, Nusa Vidmar begs to differ.
"These four years will always be part of us," she declares. "Especially the cake."