Swiss vote to reject Responsible Business Initiative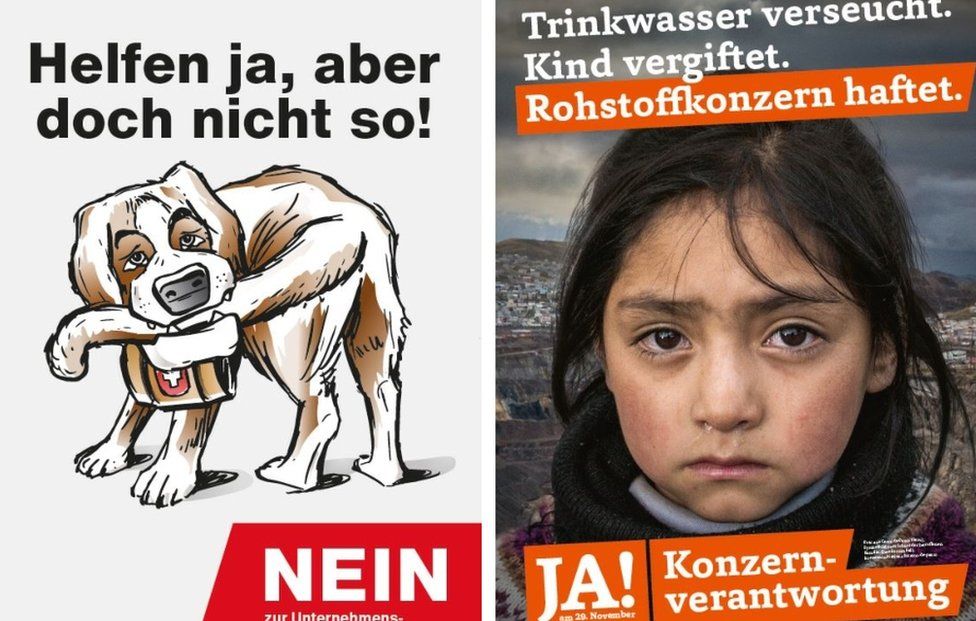 Swiss voters have rejected a proposal which would have made businesses liable for human rights or environmental violations they cause around the world.
Even though voters backed the initiative by a narrow majority, it failed to win support in a majority of Swiss cantons as required.
The government and many business leaders had come out against the plan.
Another proposal to ban public financing of arms manufacturers was also rejected.
The liability initiative gained 50.7% of votes nationwide, but only it gained a majority in about a third of the country's cantons. It is the first time in more than half a century that a referendum measure has failed on regional grounds, despite obtaining a popular majority in the whole country.
What was the Responsible Business Initiative?
The new law sought to allow victims of alleged human rights violations or environmental damage to sue Swiss companies in Swiss courts. The companies would have to prove they had taken all necessary measures to prevent any harm.
But many had criticised the Responsible Business Initiative (RBI) as unworkable, and worried that it would make Swiss companies liable for the actions of independent suppliers. They backed a more moderate version which would force companies to strengthen scrutiny of their operations and suppliers overseas.
A broad swathe of voters and some businesses had however indicated support for the RBI, with opinion polls suggesting church groups joining with urban and rural voters over the issue.
If passed the RBI would have hugely affected Swiss businesses. Companies such as Nestlé, Syngenta, Glencore or Novartis source products all over the world. Moreover, Switzerland is a world centre for commodity trading, with a third of all commodities consumed worldwide traded by companies based there.
Sigh of relief for business leaders for now
By Imogen Foulkes, BBC News, Switzerland
This was a hard-fought campaign, and in the end economic worries, exacerbated by the Covid-19 pandemic, influenced voters.
The Swiss government is already committed to introducing new mandatory checks on Swiss business operations overseas, but not, as in Sunday's proposal, to allow Swiss companies to be sued in Swiss courts for damage that happened overseas.
Business leaders may be heaving a sigh of relief for now - but the fact that this vote was so close with around half of all voters saying yes, is a clear sign to Switzerland's multinationals that the days of avoiding scrutiny are well and truly over.
Supporters and critics have both highlighted the divisive campaign leading up to the vote.
Lawmaker Christa Markwalder - who opposed the measure - told broadcaster SRF that it was "the most aggressive voting campaign I've ever experienced" in her 20 years as a politician.
Also on Sunday, voters rejected by a large majority a measure which would have banned banks and pension funds from investing in companies which manufacture weapons.
You may also be interested in: