How a lockdown 'sex party' doomed a Hungarian Euro MP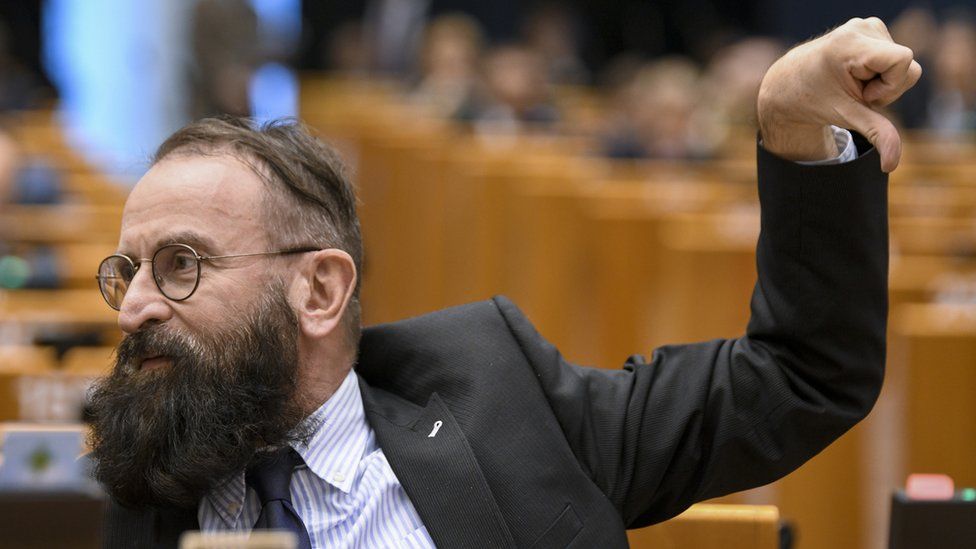 It's not hard to see how the misadventures of Hungarian politician Jozsef Szajer made headlines across the continent this week.
There are of course the public health implications of a public figure attending a gathering of 25 guests at a party that was a clear breach of Belgium's strict lockdown rules.
There is the hypocrisy issue: how could a man who drafted the Hungarian constitutional prohibition on gay marriage find himself in a room full of naked men at an event described in Flemish newspaper headlines as a "seksfeest" (sex party)?
And undeniably there is the Benny Hill element to the arrest of a senior member of the European Parliament as he attempted to flee the scene by climbing down a drainpipe and running away.
Mr Szajer, a founder member of the authoritarian, ultra-conservative Fidesz movement, said his "mis-step" was purely personal and it shouldn't be seen as a reflection on his homeland or political community.
There was little chance of anyone heeding that.
Fidesz is a party that troubles Hungary's more liberal European partners with its history of seeking to silence critical voices in the media, extend its control over the judiciary and limit gay rights in the field of marriage and adoption.
Mr Szajer himself drafted the Hungarian constitution which defines marriage as a heterosexual act.
He resigned as an MEP before the details of the case leaked out but once they were in the public domain it was easy to see why he'd immediately known that his political career was over.
How, after all, to reconcile the unsympathetic Fidesz stance on gay rights with the host's description of his soirées as reported in Flemish newspaper Het Laatste Nieuws?
"We talk a little, we drink a little, like in a café," said David Manzheley, "The only difference is that in the meantime we also have sex with each other. I don't see what's wrong with that."
The response from Fidesz leader Viktor Orban to the reports from Belgium was swift and chilly.
Mr Szajer's actions, said the Hungarian prime minister, "had no place in the values of our political family". While his party colleague's contribution to the development of Fidesz wouldn't be forgotten, his actions were "unacceptable and indefensible", Mr Orban added.
Mr Orban is a smart and effective leader who cut his teeth as an opposition activist calling for free elections and an end to the Soviet occupation of his country.
But that icy dismissal of Mr Szajer has an echo about it of how politically troublesome or embarrassing figures in the Soviet era could suddenly become "non-persons". And indeed that may now be Mr Szajer's fate.
The case illustrates a cultural gulf that persists between Eastern and Western Europe on issues like gay rights.
Polish President Andrzej Duda won this summer's election in part by arguing that what he called LGBT ideology was more dangerous than communism - quite a claim in a country occupied by the Soviet Union at terrible cost for more than 40 years.
The host of the party that led to Mr Szajer's downfall neatly illustrated the gulf in values when he complained about the way in which the Belgian police had conducted the arrest operation.
"The police were saying 'ID card, right now!' But we were not even wearing underpants. How were we supposed to show our identity card?"
It's hard to imagine Viktor Orban or Andrzej Duda having much time for that line of criticism of the police but David Manzheley wasn't facing any criticism for his sexuality or that of his guests - just for breaching public health guidelines.
That media treatment of the affair in Western Europe reflects a revolution in attitudes towards issues like gay rights which began in the 1960s in some countries but which has gathered extraordinary momentum in recent years, even in once socially conservative countries like Ireland.
So while it was hard to find any censorious note in Western European coverage of the affair as it related to the private lives of the party guests, even Mr Manzheley's protestation that he had nurses at the party to provide rapid tests for Covid-19 didn't spare him from criticism for breaching public health guidelines.
That's one issue perhaps on which no-one is feeling tolerant at the moment.