Germany starts Christmas lockdown amid Covid surge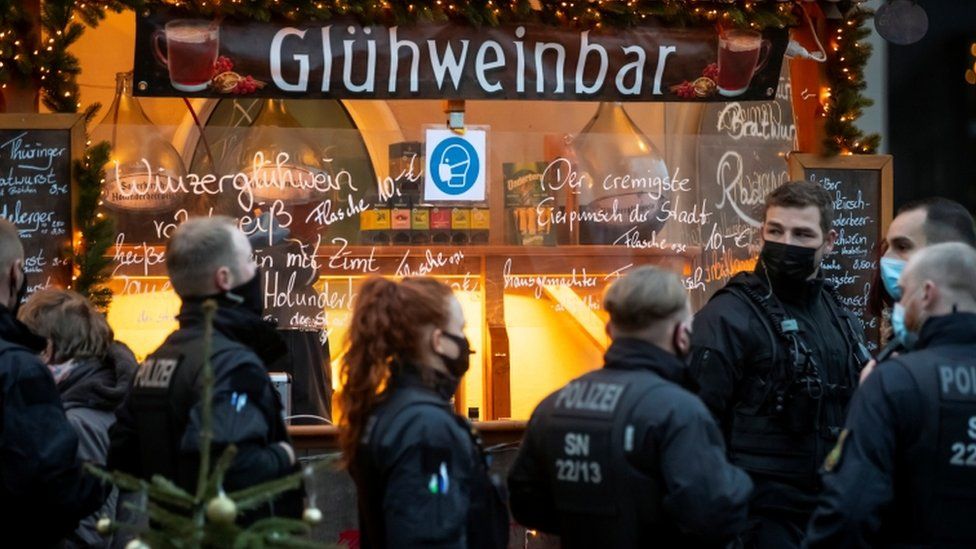 Few Germans had expected to enjoy all the trappings of a traditional Christmas this year but new countrywide restrictions, which come into force on Wednesday, will limit festivities to the smallest of family gatherings. No carolling, no parties and even Germany's much loved Glühwein stalls will close, as drinking outdoors is banned.
Announcing the measures at the weekend, Chancellor Angela Merkel said that an existing "lockdown light", which closed bars, restaurants, arts and leisure facilities at the beginning of November, had not done enough to tackle Germany's second wave.
The country has experienced record numbers of infections and deaths in the past fortnight and intensive care units are filling up.
What are Germany's lockdown measures?
From Wednesday, schools and non-essential shops will close
People must, where possible, work from home
Private gatherings will be limited to a maximum of five people from two households - with an additional four close family members allowed over Christmas
Some German states are going further with night-time curfews and a ban on going out for anything other than essential reasons imposed in some areas
There'll be no let-up over New Year either. No gatherings on the streets will be allowed, and the sale of fireworks is prohibited - many Germans like to celebrate Silvester, as it's called here, with a bang.
For a country that cherishes its Christmas traditions, there are precious few joyful tidings.
In normal times, Dresden's old market square would be crammed with people enjoying its world-famous Christmas market. The city's Christmas lights still twinkle but the streets are quiet and, even before shops here were ordered to close, business was hardly booming.
"It hurts," said Astrid Rademacher as she rearranged silver decorations and antique glassware in her shop. The government has promised more financial aid to affected businesses, and has taken on new debt in order to fund rescue packages.
But asked whether her business could survive, she's unsure. "I hope, I hope. We will see. If we get some help, we will see."
A few doors down, Mario Somplatzki, whose shop sells the elegant carved wooden figures and decorations for which this region is famous, said that, despite the economic pain, it was the right decision - one which, he said, should have been made sooner.
"I think it's a good decision because there are no other plans right now."
Recent surveys suggest that the majority of Germans support, if reluctantly, the measures described by President Frank-Walter Steinmeier on Monday as the most severe restrictions on public and private life in post-war German history.
But what's gone wrong for the country that came so successfully through the first wave of the pandemic?
Some blame Germany's regional leaders who, until now, have dithered, bickered and resisted Angela Merkel's calls for a tougher nationwide response.
And Prof Iris Pigeot, director of the Leibniz Institute for Prevention Research and Epidemiology, says that "people do not follow all the regulations that they're told. We had to reduce our contacts by about 75% but I think that didn't work".
She's concerned. "New Year's Eve and Christmas could be a complete nightmare with increasing numbers, increasing numbers of deaths."
BBC
I mean look at the death rate. In one week we have more deaths due to Covid-19 than in one year in 2019 due to traffic accidents
Impatience for German vaccine
Inevitably, as Britain and the US start vaccination programmes using a German-developed vaccine, there is growing impatience here that Germany is still, along with other EU countries, waiting for European regulators to approve it.
It's anticipated vaccination rollout can begin before the end of the year, with the health minister suggesting that 60% of the population could be vaccinated by the summer.
And already, among the snow-covered forests of south-west Germany, one family firm is working around the clock.
For decades, Binder GmbH has manufactured storage units for medical and scientific research facilities. Now its freezers, which can transport and store the Pfizer-BioNTech vaccine at the required -70C, are in demand, and not only from domestic customers.
"We are producing a high four-digit number of freezers a year," says CEO Peter Binder. "We are a handful of leading manufacturers in the world making that product but we have to serve the globe."
Hope, perhaps. But for Germany this Christmas, little cheer.