Germany and Finland bring home women from Islamic State camps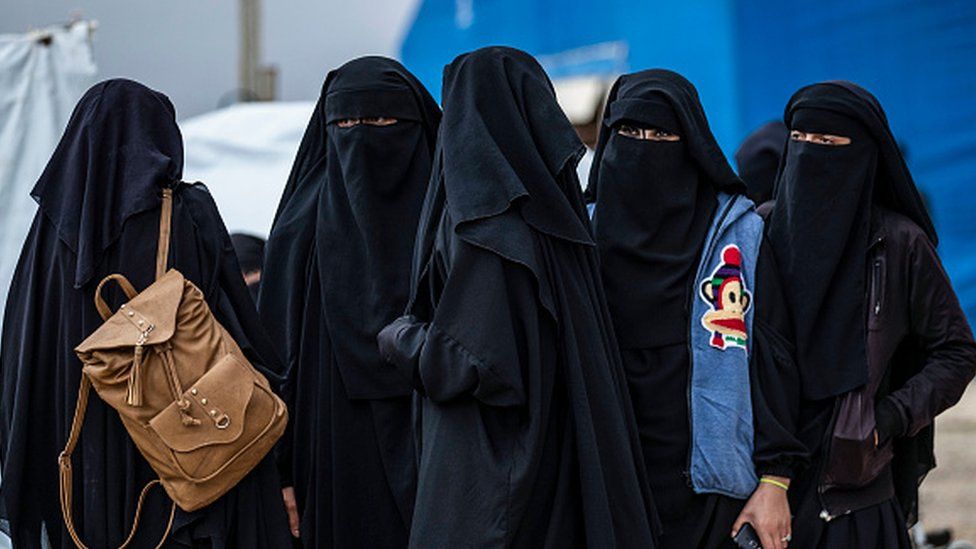 Germany and Finland have repatriated five women and 18 children from Syrian camps housing suspected family members of Islamic State (IS) militants.
The foreign ministries of both nations said the women and children were brought back this weekend for humanitarian reasons.
Three of the women were under investigation for allegedly belonging to IS, German media said.
Hundreds of Europeans who joined IS are in Kurdish-run camps in northern Syria.
They were moved there along with thousands of others who were displaced after IS was declared territorially defeated in Syria and Iraq in March 2019.
Many of them are suspected wives and children of IS fighters or sympathisers of the jihadist group.
Concerned about the security risk they pose, some European governments have been reluctant to repatriate their citizens from the camps.
But human rights groups have urged governments to take their citizens back, arguing that leaving women and children in the camps puts them at risk of illness and radicalisation.
On Sunday Germany's Foreign Minister Heiko Maas said he was "very relieved that we were able to repatriate another 12 children and three mothers from camps in north-eastern Syria yesterday".
Mr Maas said the repatriations were "humanitarian cases, primarily orphans and children who were ill" and their need was "deemed particularly necessary and urgent".
He said it was not legally possible to repatriate children without their mothers.
German broadcaster SVR said one of the female returnees had been arrested at Frankfurt Airport on suspicion of being an IS member, among other alleged crimes.
Prosecutors said the woman, from the central German state of Saxony-Anhalt, was believed to have travelled to Syria at the age of 15 and joined IS.
The three women were "wives of jihadists" of IS and "in very poor health," a spokesman for the Kurdish administration's foreign relations office, Kamal Akif, told AFP news agency.
"Under the constitution, Finnish public authorities are obligated to safeguard the basic rights of the Finnish children interned in the camps insofar as this is possible," it said.
The Finnish government estimates that more than 9,000 foreign women and children, two-thirds of them children, are still being held in the al-Hol and Roj camps in north-eastern Syria. Of those, about 600 children and 300 women are EU citizens.
"The camps in north-east Syria constitute a long-term security risk," the Finnish foreign ministry added.
"The longer the children remain in the camps, without protection and education, the harder it will be to counter radical extremism."