Halle synagogue attack: Germany far-right gunman jailed for life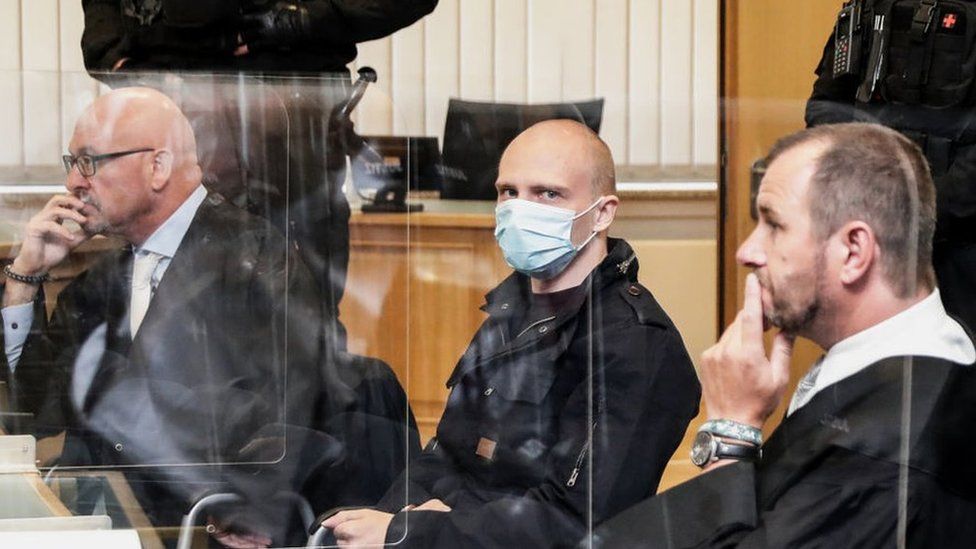 A German court has jailed a far-right gunman for life for his deadly attack on a synagogue in the eastern city of Halle last year.
Stephan Balliet, 28, shot and killed a female passer-by and a man at a kebab shop after failing to break into the synagogue on 9 October 2019.
Only a heavy, bolted door kept him from firing at 52 Jewish worshippers marking the Yom Kippur festival inside.
It nearly became Germany's worst anti-Semitic atrocity since the Nazi era.
Balliet expressed no remorse for the attack on the synagogue.
During his five-month trial, Balliet denied the Holocaust in open court - a criminal offence in Germany. He laughed when the Holocaust was mentioned in court.
He said that "attacking the synagogue was not a mistake, they are my enemies". He espoused a racist, misogynist ideology.
He wore combat fatigues on the day of the attack and filmed the shooting, broadcasting it for 35 minutes on the internet. His home-made gun repeatedly jammed.
The cantor who was leading prayer in the synagogue saw the gunman on a surveillance TV and quickly moved the congregation out of the main hall.
During the trial in Magdeburg, near Halle, American rabbi Jeremy Borovitz said "we are not afraid, we stand together".
Based in Berlin, he was visiting Halle for Yom Kippur - Judaism's holiest day - and was among dozens of Jewish witnesses who gave testimony at the trial.
Judges said Balliet was "seriously culpable", effectively barring him from early release. He was convicted of two counts of murder and multiple counts of attempted murder.
Balliet said his attack was inspired by Brenton Tarrant, the far-right gunman who killed 51 Muslim worshippers at two mosques in Christchurch, New Zealand.
In August, a New Zealand court sentenced Tarrant to life without parole for the killings - the first such sentence in the country's history.
In court, Balliet apologised only for shooting a woman passing by, saying he "didn't want to kill whites".
Psychiatrist Norbert Leygraf said of Balliet, in an evaluation, that he had symptoms of schizophrenia, paranoia and autism preventing him from having "empathy with others" while feeling "superior to others", AFP news agency reported.