The Blue Lotus: Rare Tintin painting sells for record €3.2m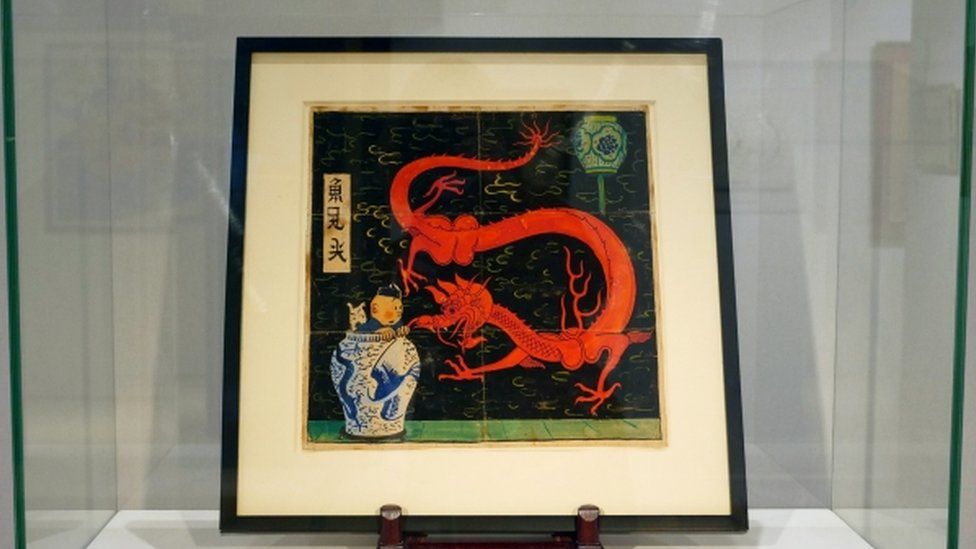 An original painting by Belgian illustrator Hergé has sold for a record €3.2m ($3.9m, £2.8m).
The illustration was painted using gouache, ink and watercolour and shows Tintin and his dog Snowy hiding in a porcelain jar.
It was initially intended to serve as the cover for Hergé's fifth book, The Blue Lotus, but was rejected due to reproduction costs.
A simplified version of the illustration was later used instead.
The painting was sold online by Parisian auction house Artcurial for a total of €2.6m plus fees. It had been expected to fetch between €2.2m and €2.8m.
Thursday's sale breaks the previous record for the sale of comic book art set by another Hergé artwork in 2014. The two-page illustration, which dated back to 1937, sold for €2.65m including fees.
The Blue Lotus was first published in 1936 and sees Tintin travel to China during the 1931 Japanese invasion.
According to the auction house, the illustration was a gift to the son of Hergé's publisher. But this has been disputed in French media, with experts arguing that the drawing did not include a dedication, unlike other artworks the illustrator gave as gifts.
Hergé, a Belgian whose real name was Georges Remi, created Tintin in the 1920s. The series has been translated into dozens of languages and sold more than 200 million copies.