Covid-19: St Patrick's Day Dublin parade cancelled for second year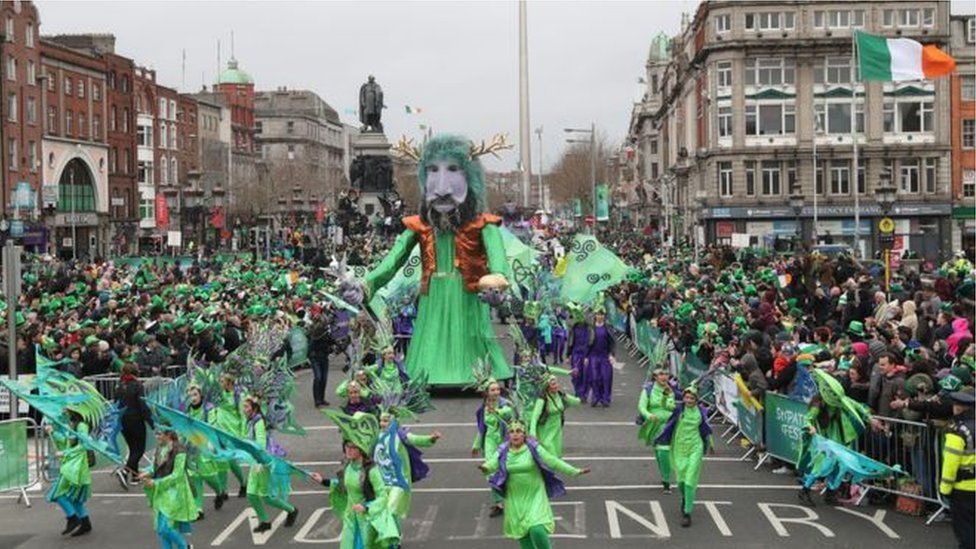 Dublin's annual St Patrick's Day parade has been cancelled due to the Covid-19 pandemic for the second year in a row.
Organisers of the Dublin festival said virtual events would be held instead.
The Dublin St Patrick's Festival runs from 12-17 March and the committee said that this year, while there would be no street gatherings, it will be "reimagining" the event.
People are being invited to "participate virtually and enjoy safely from their homes until we can come together again".
There will be a "rich and dynamic programme of festival events, created by hundreds of artists, musicians, performers, makers, creators, arts and live events workers and community organisations across Ireland, will run on the St Patrick's Festival TV online channel over six days and nights".
St Patrick's Festival organisers said they were partnering with Irish national broadcaster RTÉ this year for a virtual parade initiative.
The celebrations will be broadcast around the world to a potential audience of 80 million people, organisers said.
"The RTÉ /SPF Virtual Parade will provide a fun and safe 'at home' parade alternative for all the nation to enjoy on March 17th," they added.
St Patrick is the patron saint of Ireland and is celebrated across the globe every year on his feast day, 17 March.
Parades are held both in the Republic of Ireland and in cities and towns across Northern Ireland.
The day is celebrated on the international stage too.
Last year, more than 400 landmarks in more than 50 countries turned green to mark the occasion.
Dublin hosts the largest parade, attracting an estimated 500,000 people last year.
It usually costs €2m (£1.7m) with Fáilte Ireland providing half of the funding and the rest coming from Dublin City Council and the Department of Tourism.