Biden inauguration: Irish cousins celebrate with champagne and cake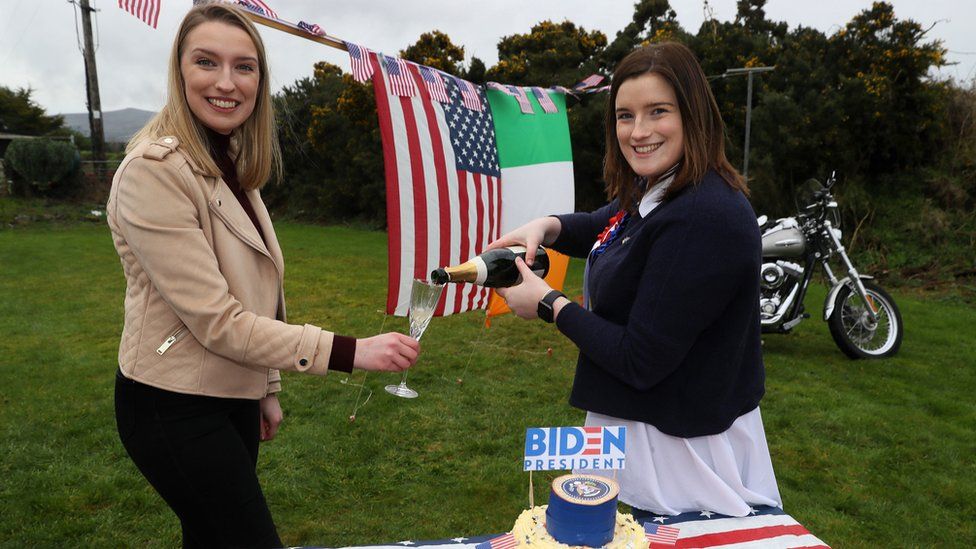 President Biden's ancestral homes on the west and east coast of Ireland have celebrated his inauguration with champagne and cake.
Locals waved Irish and American flags to mark the start of his presidency.
Mr Biden's heritage can be traced back to Ballina in County Mayo and the Cooley Peninsula in County Louth.
The celebrations came as Irish President Michael D Higgins offered "heartfelt congratulations" to the 46th US president.
Taoiseach (Irish prime minister) Micheál Martin also congratulated Mr Biden on his "immense achievement", saying: "He is one of us, part of our global family."
"As he takes the oath-of-office, I know that President Biden will feel the weight of history - the presence of his Irish ancestors who left Mayo and Louth in famine times in search of life and hope," he said.
"He will remember their descendants' hard struggle as they made their way in and their contribution to the United States. It is the story of Irish-America."
Andrea McKevitt, who is a fifth cousin of Mr Biden's, marked the inauguration with a low-key video call celebration as "cousin Joe" was sworn in.
"We didn't get to have the celebration we wanted but we were joined by uncles, aunties and cousins over Zoom to watch it all," said Ms McKevitt, who is a local councillor.
"We hope he gets the chance to visit the Cooley peninsula soon as we are all so excited to have him return.
"Joe has an affinity to Ireland, he will be a great friend to Ireland."
John Finnegan, from Carlingford, is a fourth cousin of Mr Biden's, and described the moment as an "emotional day".
Mr Finnegan welcomed Mr Biden when he visited County Louth in 2017.
"We watched the TV all day to see him arrive and be sworn in - it's a very proud moment that he once belonged here and now he's in the highest office in the world," he said.
"It's been an emotional day for everyone and we are all so proud of him."
Meanwhile, in Ballina on the other side of the island, locals gathered to take selfies under Mr Biden's mural in the town centre.
Mr Biden's great, great, great grandfather - Edward Blewitt - left Ballina for America during the Irish famine 170 years ago.
Posters in shop windows displayed "whau Joe", which is Ballina slang for hello.