Coronavirus vaccine delays halt Pfizer jabs in parts of Europe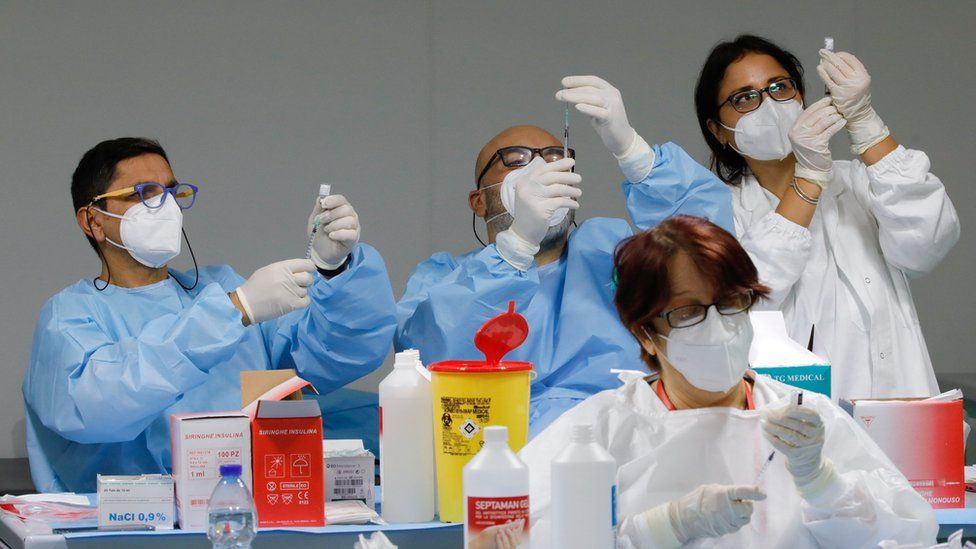 Vaccinations in parts of Europe are being held up and in some cases halted because of a cut in deliveries of the Pfizer-Biontech vaccine.
Germany's most populous state and several regions in Italy have suspended first jabs, while vaccinations for medics in Madrid have been stopped too.
The US pharmaceutical firm has had to cut deliveries temporarily while cases in many European countries surge.
Germany has reached 50,000 Covid deaths and Spain has seen record infections.
Italy and Poland have threatened to take legal action in response to the reduction in vaccines. Pfizer said last week it was delaying shipments for the next few weeks because of work to increase capacity at its Belgian processing plant. The EU has ordered 600 million doses from Pfizer and has also authorised the Moderna vaccine.
Responding to the delays, Hungary's right-wing Prime Minister, Viktor Orban, said the EU had to take some responsibility because of its slow approval of the Oxford-AstraZeneca vaccine, which may come at the end of next week.
Hungary has reached a deal with Russia to buy up large quantities of the Sputnik V vaccine, even though it has not received EU approval.
European Commission President Ursula von der Leyen said after an EU summit on Thursday night that quick delivery had to be ensured. "We are determined to provide more predictability and stability to the delivery process and we look forward to more vaccines and more doses coming on stream soon," she said.
How Europe has been hit by vaccine delays
Italy has been told to expect a a 20% cut in the Pfizer-BioNTech vaccine next week - it has already seen a 29% dip this week - and Rome is considering legal action. Special Covid commissioner Domenico Arcuri says jabs fell from 80,000 a day to an average of 28,000 last Saturday. Some Italian regions have seen a 60% fall in doses.
Germany, where BioNTech is based, has had several states struggle with vaccine deliveries. North Rhine-Westphalia, in the west, halted jabs in hospitals on Tuesday and paused first vaccinations in nursing homes too. Second vaccinations are continuing but special centres for the over-80s will not open now until next month.
Authorities in and around the Spanish capital Madrid have temporarily stopped vaccinating healthcare personnel this week, saying they had only received half the doses they were expecting. The national government is rationing distribution until Pfizer's deliveries improve. Spain reported a record 44,357 cases in one day on Thursday.
Romania has warned that its vaccine stocks could be down to almost zero by the end of the first week of February. The Czech government has warned that the reduction in distribution has created "huge complications".
Poland, which began by vaccinating healthcare workers and moved to care homes this week, saw a 50% drop in the number of vaccines delivered this week. Ministers say they have been promised normal service by mid-February. If that is not the case, Warsaw says it would consider legal action.
France requires negative test for arrivals
Ms von der Leyen suggested Covid hot spots could be labelled as "dark red" zones, requiring a negative test from travellers before departure. Hours later, European stock markets fell on Friday, particularly shares in travel companies.
France has said it will impose tighter travel restrictions for European arrivals from Sunday night, requiring a negative PCR test within three days of travel. Health Minister Olivier Véran has appealed to people to stop using home-made fabric masks - health officials are recommending that medical masks are worn instead.
Belgium is to ban non-essential travel for Belgian residents from late January to 1 March, other than for people living in border areas to go shopping. Anyone making an "essential" trip that lasts more than 48 hours will have to self-isolate and take two Covid tests after they return.
Denmark, meanwhile, is suspending flights from the UAE for five days because of a tip-off suggesting that pre-flight tests are unreliable. Denmark requires all air passengers to have tests taken in the 24 hours before a flight.
The total number of German Covid deaths climbed above 50,000 on Friday, but the number of infections has fallen in the past week. Leading virologist Christian Drosten has warned Germans that as increasing numbers get vaccinated there will be growing pressure to curb restrictions. "Then we won't be talking in terms of 20,000 or 30,000 infections a day but in the worst case scenario 100,000," he told Spiegel magazine.