Dozens of smuggled chameleons found in suitcase in Austria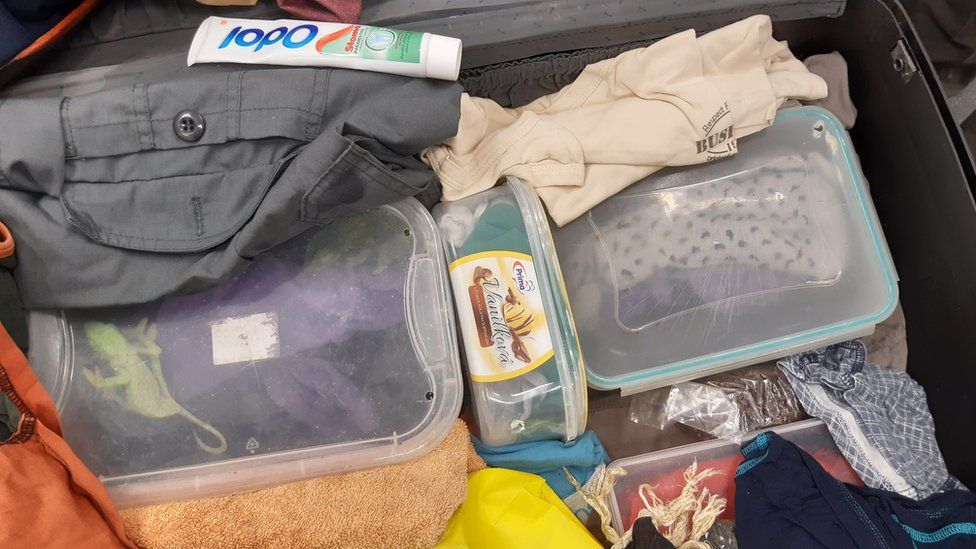 Dozens of protected chameleons are being nursed back to health at an Austrian zoo after they were discovered in a suitcase at Vienna airport.
The animals were spotted by security after an X-Ray of the suitcase appeared suspicious. Some 74 chameleons were found hidden in socks and boxes.
They would sell for about 37,000 euros (£32,850; $44,970) on the black market, officials said.
A 56-year-old man who had travelled from Tanzania was later arrested.
The man, who has not been identified by police, could face a fine of up to 6,000 euros, the finance ministry said.
"[Chameleons] can camouflage themselves well... but they ultimately did not outsmart the X-Ray machine," the ministry said in a statement.
The animals were immediately transported to Vienna's Schönbrunn Zoo, where they were examined by specialists.
Three of the chameleons did not survive the journey. They range in age from one week old, to adult specimens.
"According to the zoo's experts, they come from the Usambara Mountains, a currently very rainy and cool region in Tanzania," the finance ministry said.
The surviving chameleons are now being cared for at Schönbrunn Zoo.
You might also be interested in: