Covid: EU approves AstraZeneca vaccine amid supply row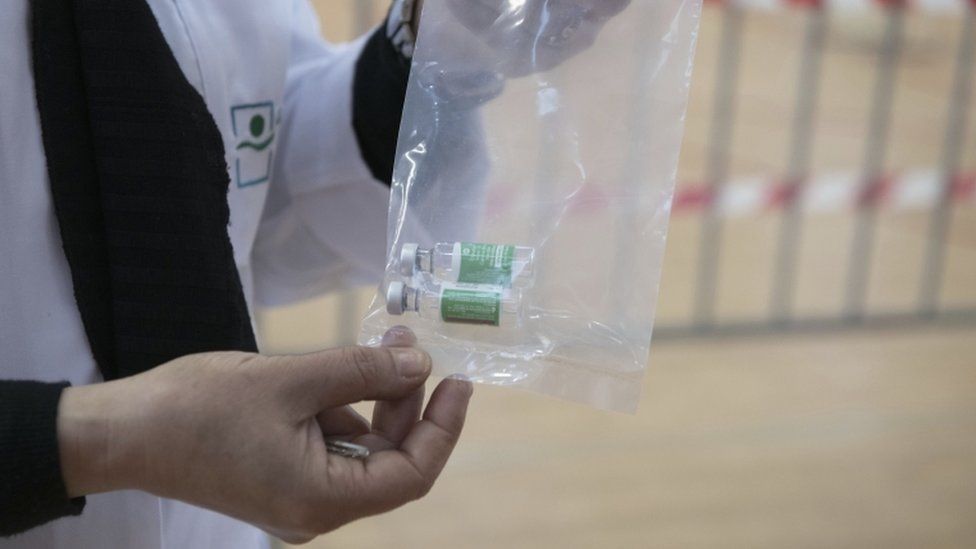 The EU's drugs regulator has approved the use of the Oxford-AstraZeneca Covid vaccine for all adults.
The European Medicines Agency (EMA) said the AstraZeneca vaccine was about 60% effective in the trials on which it based its decision.
The move comes amid a dispute over whether AstraZeneca is breaking its vaccine delivery commitments to the EU.
The European Commission has published its contract with the Anglo-Swedish drug-maker, hoping to show a breach.
The bloc agreed to buy up to 400 million doses of the AstraZeneca vaccine last year.
In a press conference later on Friday, Astra-Zeneca chief executive Pascal Soriot conceded that it had "teething issues" in the yield of vaccine at some production sites.
"We're talking about biology manufacturing here," he said, adding - "it's not like doing an orange juice."
Mr Soriot said AstraZeneca had millions of doses ready to ship to the EU, and was working 24/7 to increase capacity.
The European Commission has now given final approval for the vaccine.
Supplying vaccine will be the big test
It would have been very surprising if EU regulators had not given the go-ahead for this vaccine that they have been pre-ordering hundreds of millions of doses of. The UK approved it weeks ago, and millions of people in Britain have already received their first shot that should give them protection very soon.
Trials show it is highly effective at preventing severe illness and deaths from coronavirus. But there have been questions about how well it works in people aged 65 and above, because there isn't as much data for that age group - fewer than 10% of the trial volunteers were in this age bracket. However, there is other evidence to suggest the vaccine works very well in older adults.
Studies show that, like other age groups, the over-65s have a strong immune response to the vaccine. After receiving the shots their blood has plenty of the required antibodies that can fight the coronavirus. It will be up to individual countries to decide who - including which age groups - to offer the shots to.
The bigger question will be how soon EU nations can get large deliveries of the vaccine. Supplies of this and other Covid vaccines are in huge demand, but there is a limit to how much can be manufactured at pace.
What is the supply row about?
Last week AstraZeneca said vaccine supplies would be reduced because of problems in one of its EU factories.
The EU has said AstraZeneca must honour its commitments and deliver the jabs it ordered by diverting doses manufactured in the UK. The company said its contract for UK supplies prohibits that, since it must fulfil Britain's order before it can send supplies made there abroad.
But an EU source familiar with the matter told the BBC that AstraZeneca's UK facilities were legally obliged to do so, saying: "This is not an option, it is a contractual obligation."
The UK plants are not back-up facilities; they are part of the main network, the source added.
The company's CEO Mr Soriot said earlier this week that the contract obliged AstraZeneca to make its "best effort" to meet EU demand, without compelling it to stick to a specific timetable - an assertion disputed by the EU.
"There are binding orders and the contract is crystal clear," European Commission chief Ursula von der Leyen said in an interview with German radio on Friday morning.
"'Best effort' was valid while it was still unclear whether they could develop a vaccine. That time is behind us. The vaccine is there."
We have just authorised the @AstraZeneca vaccine on the EU market following a positive assessment by @EMA_News

I expect the company to deliver the 400 million doses as agreed. We will keep on doing all we can to secure vaccines for Europeans, our neighbours & partners worldwide

— Ursula von der Leyen (@vonderleyen) January 29, 2021
What is the EU doing about shortages?
The controls will affect some 100 countries worldwide - including the UK, the US, Canada and Australia - but many others, including poorer nations, are exempt.
EU Health Commissioner Stella Kyriakides told a news conference the aim was to ensure all EU citizens had access to vaccines, and to make sure all parties played by the rules.
"This approach is built on trust, transparency and responsibility," she said.
"Commitments need to be kept, and agreements are binding. Advance purchase agreements need to be respected."
The World Health Organization's Mariangela Simao, assistant director for access to medicines and health products, described the export controls as a worrying trend.
Northern Ireland's First Minister Arlene Foster branded the move an "incredible act of hostility".
How effective is the AstraZeneca vaccine?
Individual EU countries are free to decide who vaccines should be given to, once they have been approved.
However, the UK has been using the AstraZeneca vaccine in its mass immunisation programme for weeks now, and public health officials say it is safe and provides "high levels of protection".
Research has shown it is highly effective. No-one who received the Oxford vaccine in trials was hospitalised or became seriously ill due to Covid.
The vaccine is given via two injections to the arm, the second between 4 and 12 weeks after the first.
Confirming it had approved the AstraZeneca vaccine, the European Medicines Agency (EMA) said that most participants in the test studies were between 18 and 55 years old. It said that while there were not yet enough results to show how the vaccine will work in older people, "protection is expected, given that an immune response is seen in this age group and based on experience with other vaccines."
AstraZeneca has said a US study will shortly provide additional data on the vaccine's efficacy in older adults.