Coronavirus: German medics fly in to aid Portugal's hospital emergency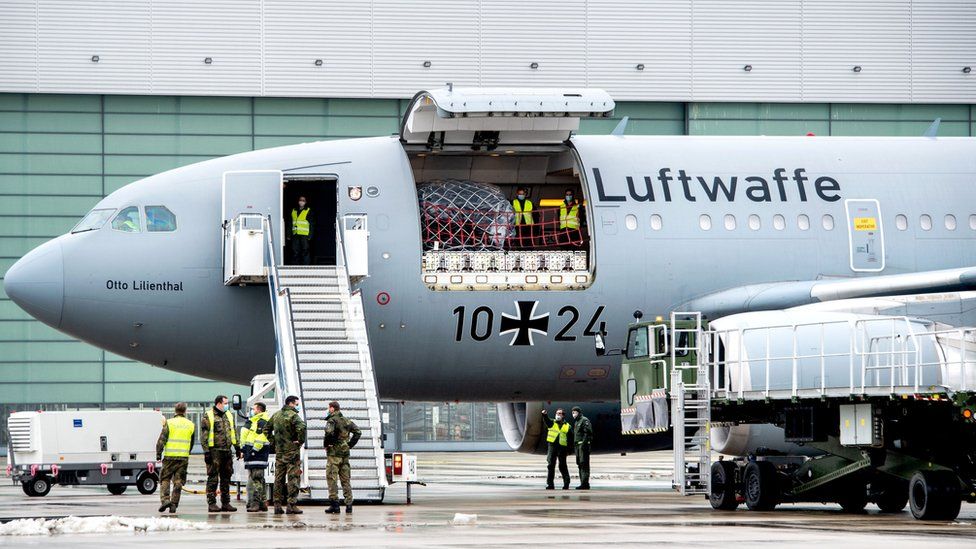 The sight of a German military plane touching down in Lisbon on Wednesday, carrying intensive care specialists and ventilators to help save lives in Portugal's embattled hospitals, recalls the early days of the Covid-19 pandemic in Europe.
Last spring, when Italy was overwhelmed by the first wave of infections, it was helped out by several other European countries taking in patients - even if many Italians felt it was too little, too late.
Now, almost a year on, it is Portugal's turn.
The country's national health service is overwhelmed. There's a shortage of beds and specialist nurses, and in one hospital last week, potentially life-threatening problems in an overburdened oxygen system.
Portugal got off relatively lightly in that first wave, although it later caught up in terms of confirmed cases relative to population.
Now, though, the situation here is dramatically worse, with a giant third wave in January that has seen the country top global rankings for new cases and deaths associated with Covid-19.
Daily new cases have recently been around 10 times their peak of last spring, and January accounted for 45% of all coronavirus deaths since the pandemic began.
The lockdown imposed in mainland Portugal on 15 January does now seem to be reducing the transmission rate, but there is still a huge number of active cases.
"However low the R [rate] is, if the number of cases is high it is very difficult to get them down," said Ricardo Mexia, president of the Portuguese Association of Public Health Doctors. "That's the problem now."
Hospital cases: 6,684; Intensive care: 877
Total number of vaccine doses (1st and 2nd): 350,945
Portuguese population: 10.3 million
Ricardo Mexia blamed the January surge mainly on the decision to ease coronavirus restrictions over Christmas, although he also noted the rapid spread of the UK variant that had brought significantly more younger patients into hospital with Covid-19.
The government, for its part, cited that more contagious variant, which now predominates among new cases, as its main reason for imposing a full lockdown.
In a sign of how fluid the situation is, just days after that announcement, it backtracked on its pledge to keep schools open, instead suspending face-to-face classes. With no date for schools to reopen, remote learning is to start up from 8 February.
Meanwhile, the number of patients in hospital with Covid-19 continues to set new records and is currently more than five times the peak of last spring.
With barely half a dozen intensive care beds free in Portugal, the issue is not so much a lack of beds as shortages of specialist staff and equipment.
The medical staff, 50 ventilators and 150 beds flown in from Germany will help, but it merely highlights the tens of thousands of Portuguese nurses - including many specialists - who have emigrated in recent years.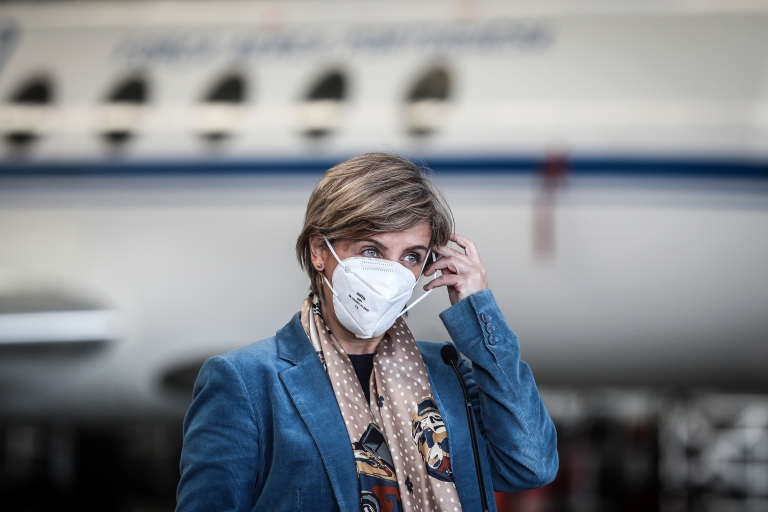 Reuters
Eight beds may not sound like much, but it is a lot for a health system under significant pressure
The situation is most acute in the Lisbon region, which is seeing around half of new cases and where hospitals have been struggling.
A hospital in Amadora, just north of the capital, last week had to hurriedly transfer dozens of patients to other units in the region because of its overloaded oxygen network.
Across the River Tagus, ambulances this past weekend queued for more than 12 hours outside the main hospital in Almada, as its emergency department struggled with the flood of patients. Civil defence forces have since set up triage tents to free up ambulances.
Prime Minister António Costa visited a Lisbon health centre on Wednesday to mark the start of vaccinations for people aged 80 and over who are not living in care homes. But that was later overshadowed by the resignation by the head of the vaccination taskforce.
Although Mr Costa has insisted that lockdown is now paying off, the minister of health, Marta Temido, has warned the public that the crisis is far from over.
"This will be another week with a lot of pressure in terms of admissions and the next two weeks will probably be very difficult where intensive care is concerned," she said.
More stories from Portugal