Romania baptisms: Six-week-old baby's death sparks calls for change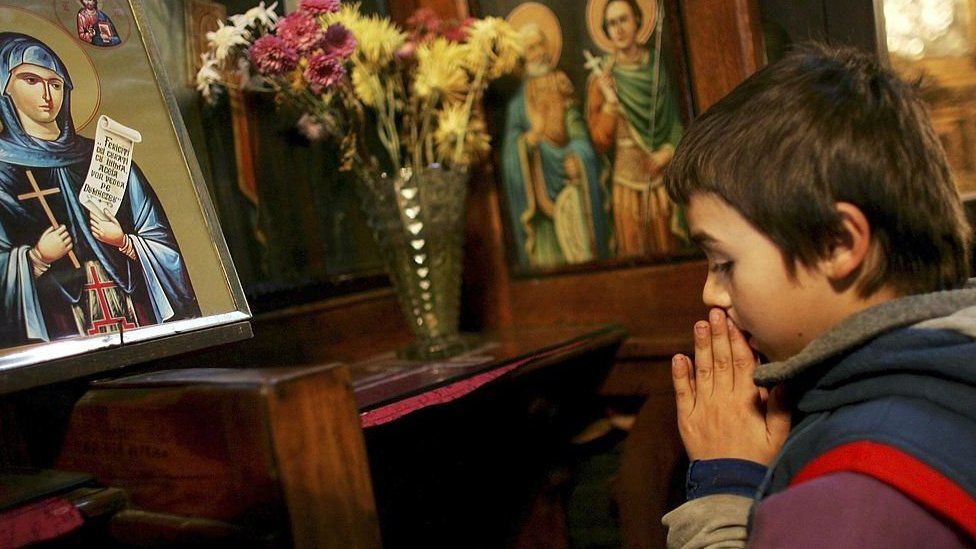 The death of a six-week-old baby hours after a baptism ceremony in Romania has prompted an Orthodox archbishop to say such rituals will be analysed to avoid further tragedy.
The baby had a cardiac arrest after he was immersed three times in holy water. He had a violent death and liquid was found in his lungs, an autopsy found.
Some 60,000 people have signed a petition calling for change.
Archbishop Calinic is the most senior member of the clergy to back reform.
He told Romanian website Adevarul that he believed in the future the practice of immersing a baby would be reviewed and "the most appropriate decision taken to respect [Church] ordinances and carefully avoid unwanted accidents".
A manslaughter inquiry has been opened by prosecutors into the priest who carried out the baptism in the north-eastern city of Suceava.
Can tragedy lead to reform?
By Stephen McGrath, Romania
If the baby's death leads to reform in the way baptism rituals are carried out then it would cause a rift within Romania's Orthodox Church.
Because while some Church figures have suggested an inclination toward change, others have been clear about wanting to keep this archaic ritual of immersing the baby's head into water.
Eminence Calinic, the Archbishop of Arges, is the most prominent voice so far who appears open to change. "In other icons, Jesus stands in the water up to his neck, and with his head bowed he receives baptism by pouring water over the top of his head," he was quoted as saying.
The Archbishop of Tomis, however, took a more belligerent stance. "We will never change the ritual. The canons of this religion have been in place for over 1,000 years," he said. "That is why we won't change. We are not intimidated."
Romania's powerful Orthodox Church is not known for reform, but this baptism tragedy may lead to change.
Archbishop Calinic himself recently conducted the high-profile baptism of the daughter of the former prince Nicholas of Romania and said in his interview that while immersion in holy water was appropriate for adults, other ways were available.
When he was a priest years ago in Transylvania, he said he would dip a baby's feet into holy water and sprinkle its head.
The petition calling for reform had attracted 60,000 signatures by Friday. The man behind it, Vladimir Dumitru, said baptisms had to be regulated to prevent unnecessary risks and the petition was aimed at being moderate and constructive.
The Orthodox Church in Romania is widely respected, but it has already come under scrutiny for its handling of the coronavirus pandemic.
In March last year, as Romanians were about to go into lockdown, priests in the northern city of Cluj gave communion using one shared spoon among a large group of worshippers.
You may also be interested in: