Chechnya: Escaped gay men sent back by Russian police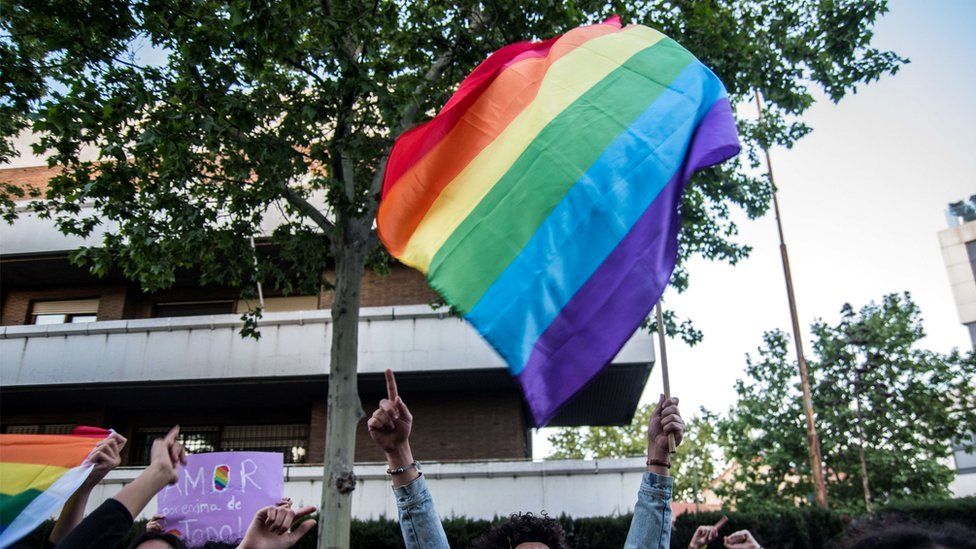 Two gay Chechen men who fled to Russia after allegedly being tortured have been returned to Chechnya and are in "mortal danger", a rights group says.
The Russian LGBT Network said Salekh Magamadov and Ismail Isayev had been seized and returned by Russian police.
The group said it helped the men escape to Russia last year to avoid arrest by Chechen police, officially for running an opposition Telegram channel.
The two men said they were tortured and forced to record a video apology.
Now the Russian LGBT Network says the pair were apprehended on Thursday by Russian police at their apartment in Nizhny Novgorod, 450km (280 miles) east of Moscow.
It is not clear why they were detained.
The group says they were later forcibly returned to authorities in Chechnya, a southern republic of Russia.
Gay people and other sexual minorities face systematic persecution in predominantly Muslim Chechnya, where homophobia is widespread.
The region's authoritarian leader, Ramzan Kadyrov, has consistently denied allegations of illegal detentions and human rights abuses.
He and other government officials have even suggested there are no members of the LGBT+ community in Chechnya.
Despite official denials, dozens have come forward with allegations that they have been detained and tortured by authorities because of their sexual orientation.
Mr Magamadov and Mr Isayev are among them.
The LGBT Network said the men had arrived at a police station in the Chechen town of Gudermes on Saturday.
"They are tired and frightened," a spokesman for the group, Tim Bestsvet, told AFP news agency.
In the custody of Chechen authorities, the men were in "mortal danger", Mr Bestsvet added.
The group has been monitoring alleged abuses in Chechnya since 2017, when dozens of gay people were reportedly detained.
A government spokesman dismissed that report as "complete lies".
He said he was subjected to torture - including electric shocks and beatings.